The Film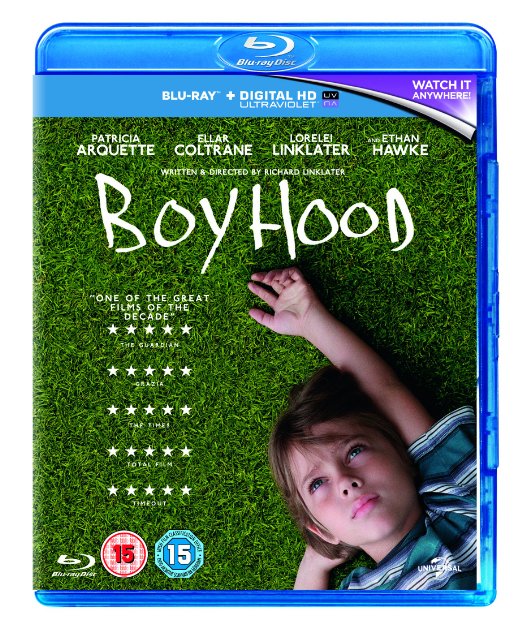 ***This is an A/V and Extras review only. For reviews on the movie from various critics, we recommend visiting HERE.***

Filmed over 12 years using the same cast, BOYHOOD is a ground-breaking story of growing up and a unique film experiment.

Ethan Hawke and Patricia Arquette lead the cast as the parents of Mason (Eliar Coltrane), who literally grows up on screen before our eyes. Exploring the rocky terrain of childhood like no other film has before and set to a chart topping soundtrack including Coldplay's Yellow and Arcade Fire's Deep Blue, BOYHOOD is both a nostalgic time capsule of the recent past and an ode to growing up and parenting.

Video


Major studio Universal Pictures have released Richard Linklater's coming-of-age story "Boyhood" on to Blu-ray in the United Kingdom in the original aspect ratio of 1.85:1. The feature is 1080p and receives an AVC MPEG-4 encode. Although a good transfer, it is far from perfect.

Shot on 35mm over a twelve year period, one of the more obvious aspects of this transfer is the inconsistent level of grain. Whilst most scenes have a fairly light layer of film grain, other scenes (such as in Hawke's apartment at 42 minutes) feature a much heavier grain structure. Dark scenes are where the grain is at its most prominent, though it never descends into feeling noisy and never appears unnatural. Blacks are also a little inconsistent, and are at times not as deep as they perhaps should be towards the beginning of the movie. Skin tones can appear slightly warm in some scenes but are generally natural looking, whilst other colours look fine, with strong clarity throughout. Close-up details often look fantastic, especially the minute contours of Marco Perella's skin. Mid-range details are quite average though, often lacking a certain sharpness, yet still exhibiting what the format is capable of, particularly during the final couple of time periods. The print is generally clean, though some light dirt and white spots can be spotted on occasion. There aren't any large or major blemishes though, and no obvious signs of DNR, edge enhancement, or aliasing.

The feature is uncut, and runs 165:37.

Audio


The following audio options are available:
- English DTS-HD Master Audio 5.1
- German DTS 5.1
- Italian DTS 5.1
- Japanese DTS 5.1
- Spanish (Castilian) DTS 5.1
- English Audio Descriptive Dolby Digital 5.1

For obvious reasons, I viewed the film with lossless DTS-HD Master Audio 5.1, and there are no issues. As with any Linklater feature, the soundtrack plays a huge part here, and the impeccable selection of music tracks sound perfect. The sound effects are quite heavily focused towards the front of the sound stage, though the more subtle effects do make competent use of the surrounds. The LFE is generally rather quiet, but then there isn't a huge amount of areas where it could be fully utilised, apart from the subtle rumblings of the bass from the music tracks. Dialogue is clear at all times and volume levels are consistent. Depth of the sound field is good, and channel separation fine. There are no issues with drop outs, scratches, pops, or background hiss.

Optional subtitles are available in Arabic, Danish, English HoH, Finnish, German, Hindi, Italian, Japanese, Norwegian, Potruguese, Spanish (Castilian) and Swedish.

Extras


The sole extra is a "Behind the Scenes" featurette which comes with a ridiculously short run time of just 2:35 and is presented in 1080p. It's essentially a quick outline of the plot from director Richard Linklater followed by small soundbites from various cast members against a back drop of some film and b-roll footage.

Overall


One of, if not the best film of 2014, receives a good Blu-ray release that is hugely lacking in the extras department.

| | | | | |
| --- | --- | --- | --- | --- |
| The Film: A+ | Video: B | Audio: B+ | Extras: E+ | Overall: B+ |