The Film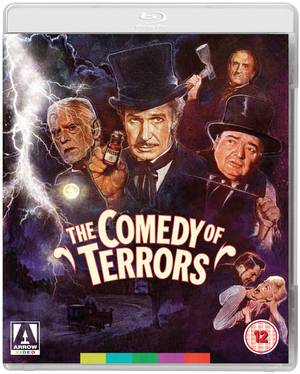 ***This is an A/V and Extras review only. For reviews on the movie from various critics, we recommend visiting HERE.***

From Jacques Tourneur, director of numerous horror classics including Cat People, I Walked with a Zombie and Night of the Demon, comes The Comedy of Terrors – a gleefully macabre tale which brings together genre greats Vincent Price, Peter Lorre and Boris Karloff.

Price plays Waldo Trumbull, a perpetually inebriated, down-on-his-luck undertaker who has struck on an interesting way to boost business – by hastening the deaths of those whom he buries. When landlord Mr. Black (Basil Rathbone) threatens to put him out on the street for falling behind with the rent, Trumbull, together with his reluctant and bumbling assistant Felix Gillie (Lorre), hatches an ill-advised plan to "kill two birds with one stone", so to speak…

The penultimate directorial effort from Tourneur, The Comedy of Terrors bears many of the hallmarks of the master filmmaker's earlier works, whilst adding a healthy dash of humour to the proceedings. Careful – you might just die laughing!

Video


Arrow Films have released the gothic "The Comedy of Terrors" on to Blu-ray in the United Kingdom (initially packaged with the DVD) in the original aspect ratio of 2.35:1. The transfer receives an AVC MPEG-4 encode, and is 1080p. It's a great effort for sure, but there is certainly room for some improvements.

Provided to Arrow by MGM, the transfer here isn't the cleanest MGM have licensed out from this era. Throughout the run time, there are numerous small specks of dust, as well as some other light blemishes. The level of dirt does seem to reduce as the film moves on, but it remains noticeable. However, it isn't bad enough to take away from the enjoyment of the film, and in many other areas, I was impressed. Although there is some very light crush in a couple of scenes in the shadows, black levels are consistently good. The gothic blues and reds impress, and the colours feel fresh and not faded or washed out. Details are also rather good, especially in the poppy design of Joyce Jameson's dress. Facial close-ups are great, and items in the backgrounds show good levels of sharpness, rarely looking clunky or fuzzy. There is a moderate level of natural film grain running throughout, and it is fairly consistent. I think that if MGM were able to do some in-depth work to remove the dirt, then "The Comedy of Terrors" could look top drawer. As it is, it can be a little disappointing, but it's a definite improvement on any outing the film has had before and still a worthwhile transfer overall.

The feature is uncut, restoring the one second that is missing when Vincent Price and Peter Lorre sit on the coffin that is missing in other releases (see comparison for details). The feature runs 83:08.

Audio


Arrow have provided us with a single English LPCM 2.0 Mono track for this release. There really is nothing to be concerned about with this track at all. Dialogue is clear and concise at all times, never sounding mumbled, and in one of the earlier scenes, when Joyce Jameson sings so high pitched that some glasses smash, there is no distortion or scratchy feel like I have heard in similar circumstances in other much more recent films. Considering the mono limitations, depth is surprisingly good, with Les Baxter's score and the above average sound effects coming together well, yet making sure to never overpower the dialogue. There are a couple of instances of very mild background hiss, but they last for very short periods only. There are no issues with drop outs, scratches, or pops.

Optional subtitles are included in English for the hard-of-hearing.

Extras


We start off the extras package with an audio commentary by Vincent Price historian David Del Valle, moderated by David DeCoteau from Rapid Heart TV. What a good commentary this is. Both Valle and DeCoteau are just full of great information, and there isn't a dead spot to be found. Del Valle takes charge, and has the more in-depth stories of the two, though I found DeCoteau was vital to keep things moving at a nice pace. Valle relives some of his personal stories from meeting some of Hollywood's greats in relation to some of the cast members, but never in 'bragging mode'. This is a fascinating commentary from start to finish, and I think it is better than the one Del Valle did for "The Haunted Palace" with Derek Botelho.

Next up, we have "My Life and Crimes" - an in-depth interview with the legendary Vincent Price clocking in at 51:40. Previously released on DVD in 2002 under the title "The Sinister Image", this alternate cut of that DVD extra was shot in 1987 with Vincent Price historian David Del Valle fielding the questions. Although the picture and audio quality is pretty poor throughout (as noted by Arrow before playing), the interview is a superb look at Price's long and varied career and essential viewing for anyone who is a fan of his. Price is a very good interviewee too, coming across as a very happy guy and enthusiastic about all aspects of his work.

"Whispering in Distant Chambers: The Nightfall of Jacques Tourneur" is a video essay by David Cairns, in which he charts the career of director Tourneur (16:57). Commissioned by Arrow specifically for this release, it takes a more academic approach to Tourneur and his career in general, looking at his influences, the type of shots he makes, moving from France to America where he started working with Val Lewton, and being hired at RKO to direct Cat People. This is a great overview of Tourneur, though the narration can be a little monotonous.

The "Richard Matheson: Storyteller" featurette, is a closer look at The Comedy of Terrors writer (9:37). Matheson starts off by telling us how the studio wasn't a fan of having the word comedy in the title, and giving us a brief overview of the film. He goes on to talk about how everyone was happy with the script, and that Rathbone was originally going to play the part Boris Karloff played, but his bad legs meant they swapped roles. Matheson obviously has good memories of working on this film, and he has some interesting tidbits of information to share here.

The on-disc extras finish with a theatrical trailer (2:34).

The release also comes with a collector's booklet featuring new writing on the film by Chris Fujiwara, author of Jacques Tourneur: The Cinema of Nightfall, illustrated with original archive stills and posters and a reversible sleeve featuring original and newly commissioned artwork by Paul Shipper.

Overall


The transfer isn't the cleanest, but the overall presentation is good, and the extras package includes some vital viewing material. Recommended.

| | | | | |
| --- | --- | --- | --- | --- |
| The Film: B | Video: B- | Audio: B | Extras: B+ | Overall: B |