In the House of Flies
R0 - America - Parade Deck Films
Review written by and copyright: Eric Cotenas (13th April 2015).
The Film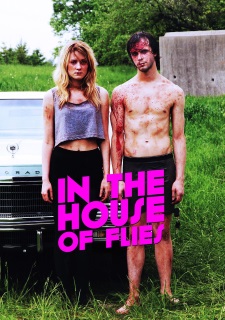 In the summer of 1988, young lovers Steven (Ryan Kotack) and Heather (Lindsay Smith) are abducted and wake up disoriented in a cramped basement sell with four locked suitcases and a rotary telephone with no dial. The only window is far too small to climb out of, the concrete walls seem impenetrable, and the trap door in the ceiling is weighted down. Over a grueling twenty days, their abductor phones in and parcels out twisted philosophy on man's endurance, access to the contents of the suitcases (including a gun with one bullet for Russian Roulette) through a series of challenges involving physical pain inflicted upon themselves or one another, and taunts Steven over his inability to provided food and shelter for Heather and her unborn child. Severely weakened by starvation, Steven descends into hopelessness but Heather remains determined to find a means of escape (even as their tunneling through a concrete wall reveals that they are not the first victims). Only as their moods shift with Heather in despair and Steven furious do they figure out a way to turn their abductor's underlying anger and frustration against him.

Described by the packaging as a "new retro '80's thriller", the plot of In the House of Flies does not really bring to mind any specific eighties movies about characters in the more suggestive end of torture porn-y captivity; however, the eighties does not seem to figure all that much into the scenario (other than possibly to suggest how much harder it was to track people down before the internet, smart phones, GPS, and so on). Such a minimalist film in terms of setting and cast of characters is really dependent on performance to maintain viewer interest, and Kotack and Smith give compelling performances for characters who could have become whiny or shrill very quickly. The kidnapper is credited as "Mr. Arm" although we never hear him addressed as such and – although he is meant to be unseen by his victims – much of his onscreen running time may have been reduced to a brief bit before the credits, the climactic scene, and then a flashback bit over the end credits. The voice of the abductor, however, belongs to rocker/spoken word artist Henry Rollins who makes the unseen character suitably loathsome for the viewer to identify with the building rage of his captors. Gore is sparingly but effectively deployed with certain aspects tastefully left offscreen. Although the resolution is a bit rushed, the final scene does raise intriguing questions about how the surviving characters can move on from that point. While perhaps not a sleeper hit, In the House of Flies is better than the glut of Saw-patterened direct-to-digital movies lacking interesting characters, capable performers, and restraint to parcel out the nastiness.

Video


This DSLR film is framed at the strange 2.00:1 aspect ratio, although it does not appear cropped and was probably matted rather than using an anamorphic adapter (the deleted scenes are in 1.78:1). The matting and the post-production brightness and contrast adjustments contribute to the sense of width and depth in the compositions more so than the focus and depth-of-field. The HD-lensed presentation seems to be free of artefacting with only the expected minor level of edge-enhancement that comes with some encoders downscaling algorithms.

Audio


Although the end credits specify a 5.1 mix, the only option here is a Dolby Digital 2.0 Surround track that nevertheless gets the job done with a mainly front-heavy mix that spreads out to the rear with the sounds of rain and howling outside the basement window and the footsteps and dragging above the heads of the two characters. An English HoH track is also included, although it starts to lag a little behind the dialogue very late into the film.

Extras


The back cover states the presence of a "Director & Writer Commentary" but none is present. What is included is a behind the scenes (39:23) featurette that includes footage from the 2011 Los Angeles recordings sessions for Rollin's voice overs, production designer Vincent Moskowec discussing the set (made of real stone and wood rather than studio flats within a larger basement of a home considerably more suburban than that of Mr. Arm), cinematographer Claudio Manni on the challenges of lighting and framing action in such a cramped set (as well as Kirill Belousov on the similar challenges to recording sound in such an environment), make-up artist Dera Veinot on the jaundiced make-up for the leads, and so on. The World Premiere: Spain (7:29) features footage of a Q&A at the Bilbao International Film Festival with writer/director/editor Gabriel Carrer and producer Chad Archibald as well as snippets of sightseeing and local entertainment.


Nine minutes of deleted scenes - playable individually or all together - include more pessimistic behavior for Steven and frustration from Heather, and a trailer (1:34) and photo gallery (2:16) round out the extras.


Overall



| | | | | |
| --- | --- | --- | --- | --- |
| The Film: A | Video: A | Audio: B+ | Extras: B+ | Overall: A- |

---
DVD Compare is a participant in the Amazon Services LLC Associates Program and the Amazon Europe S.a.r.l. Associates Programme, an affiliate advertising program designed to provide a means for sites to earn advertising fees by advertising and linking to amazon.co.uk, amazon.com, amazon.ca, amazon.fr, and amazon.de.