Vengeance of an Assassin AKA Rew thalu rew (Blu-ray) [Blu-ray]
Blu-ray A - America - Well Go USA
Review written by and copyright: Eric Cotenas (5th April 2015).
The Film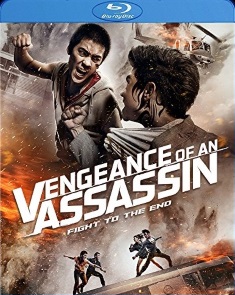 Since the deaths of their parents, Natee (Dan Chupong) and Tara (Nantawooti Boonrapsap) have grown up in the care of their Uncle Norm (Ping Lumprapleng) who runs an out of the way garage. Tara has believed the stories that their parents were good Samaritans who were randomly murdered, but Natee is haunted by half-remembered childhood memories of the crime and has pressed his uncle for the full story. When he breaks into his uncle's office to discover the truth, they argue and Natee takes off in search of answers himself. He crosses paths with Tong (Sompep Wongkok) who worked for the secret police but switched sides to combat the enemy after Natee's parents were killed. Natee gets Tong to train him to become a top assassin (in all of five minutes before Tong himself is killed in a shootout with no one in particular) in order to track down his parents' murderers. While Natee takes on professional hits (and asks no questions pertaining to his own investigation), Tara also gets curious about his parents and discovers videotapes of his father's (Taraa Silsarn) assassin training maneuvers and does some private training of his own.

When Tara is hired to avert the kidnapping of Chief Shane's niece Ploy ( Nisachon Tuamsoongnern) ordered by gangster Mr. Chai (Kowit Wattanakul) on behalf of a mysterious female client, Chai's psychotic son Pod (Chatchapol Kulsiriwoottichai) - you can tell he's nuts because of the combination of a badass facial tattoo and ridiculously-styled hair – is eager to prove his worth over the incompetent top hitmen Natee so easily wiped out. Compromising the Ploy's grandfather, Pod and his cut-throat (literally) girlfriend Jay (Kessarin Ektawatkul) track down Natee and Ploy. When Natee is seriously wounded in yet another action set-piece, Ploy takes him to Chinese doctor Si Foo (Ooi Teik Huat) who miraculously heals a through-and-through impalement by rusty pipe. Si Foo's office no longer safe after another ambush by Chai's men (averted by the aged but wily doctor), Ploy and Si Foo take Natee back to Uncle Norm's garage to recuperate, bringing the wrath of Chai and Pod down upon Natee's family who get to demonstrate some moves of their own.

Vengeance of an Assassin is a series of ludicrous, simultaneously painful-looking and hilarious, yet exciting action set-pieces with little in the way of transitional material (the villains and the heroes appear at random deserted warehouses without any indication of how they determined the other was hiding out there). The action sequences themselves often resemble video games with a Steadicam tracking behind Natee in long takes through incredibly spacious environments with expendable gunmen popping up from behind columns and crates or dropping down from eaves, but they also make neat use of unusual weapons from license plates and metal fans to blindingly spicy plates of Thai vegetables and jagged chicken drumsticks. The fight choreography is generally accomplished but there are a few instances where it seems like the performers move more gingerly with the female and older characters. The CGI gets more and more ridiculous as we move towards a climax involving a downed helicopter and a train flying airborne bent tracks, but it's to be expected from the films of Ong Bak stunt coordinator-turned-director (Panna Rittikrai). Overkill is the name of the game for this film, even to the point of making deaths that should be poignant laughable (the dramatic aspects also fall pretty flat with the brothers interchangeable in temperament and their chemistry with clothes-horse Ploy); but it's certainly not a bad way to spend ninety brainless minutes.

Video


Well Go USA's BD25 MPEG-4 AVC 1.78:1 transfer is a mostly solid-looking rendition of a moderately-budgeted production with heavy digital post-production. CGI projectiles (from splashing water droplets and flying hot coals to building shrapnel) and kicking feet fly at the screen in a manner that suggests 3D - although I do not believe the film was produced or post-produced as such - while some minutely fuzzy instances may be less about the encode and more about lagging focus during the Steadicam coverage of the fight scenes.

Audio


Audio options include an exciting Thai DTS-HD Master Audio 5.1 track that spreads gunfire, splintered stone and metal, and the music to the surrounds. A Dolby Digital 2.0 stereo downmix is also included. The optional English subtitles have some peculiarities (Natee is called Thee, Tara is referred to as Than) as well as one noticeable typo ("His condition is sever").

Extras


There are no extras apart from the film's theatrical trailer (1:28) and start-up trailers (also available from the main menu as "Previews") for Supremacy, These Final Hours, and Killers.

Overall



| | | | | |
| --- | --- | --- | --- | --- |
| The Film: B- | Video: B+ | Audio: A | | Overall: B+ |

---
DVD Compare is a participant in the Amazon Services LLC Associates Program and the Amazon Europe S.a.r.l. Associates Programme, an affiliate advertising program designed to provide a means for sites to earn advertising fees by advertising and linking to amazon.co.uk, amazon.com, amazon.ca, amazon.fr, and amazon.de.