Beside Still Waters
R0 - America - Tribeca Film / Cinedigm
Review written by and copyright: Eric Cotenas (16th April 2015).
The Film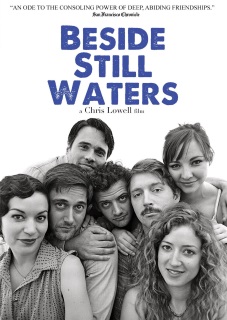 Having lost both of his parents in a car accident, Daniel (Ryan Eggold) invites his childhood friends – none of who showed up for the funeral – for a last weekend at the now foreclosed family cabin. Unable to deal with any more condolences and eager to recapture simpler, happier days of his youth, Daniel finds that his friends have brought along their own baggage. Boorish gay lawyer Tom (Beck Bennett) – who inadvertently relieves himself on the site of the accident – has just been fired from his father's firm (and told by his mother that hers is not hiring), Martin (Will Brill) hopes the weekend will jump start his sex life with wife Abby (Erin Darke) who has tired of financially supporting her unemployed husband, actor James (Brett Dalton) who wants to know what everyone thinks of his move to an admittedly terrible reality TV show, and ornamental horticulture graduate Charley (Jessy Hodges) has "a history with everyone in the room." The least tactful, however, turns out to be Daniel's ex-girlfriend Olivia (Britt Lower) who has brought along her fiancι Henry (Reid Scott). Over dinner, a drunk Daniel snipes at Henry – who the others have taken to surprisingly well – until Olivia calls him on what she refers to as his "victim routine" whereupon Daniel realizes that she is "the one" and confides this to Tom. Tom, Charley, and James – put off by Henry's honest assessment of his show – conspire to undermine and alienate (and roofy) Henry; but as the night moves from party games to the aggressive "whiskey slap" and skinny dipping, secrets and long-held resentments come out and illusions are shattered with more inner devastation waiting for Daniel when the sun comes up.

Co-written and directed by actor Chris Lowell, Beside Still Waters – not to be confused with the execrable Spanish/American horror film Beneath Still Waters – is a warm comedy/drama with an ensemble of engaging performers who might not be familiar to most viewers (I only recognized Saturday Night Live actor Bennett from AT&T's amusing "It's Not Complicated" ads from not so long ago). At seventy-seven minutes, the Big Chill-esque plot does seem stripped-down to a number of set-pieces filled in with montage sequences to indie music just as the characters are also reduced to certain familiar traits. The climax is also a little underdeveloped with a short blow-up from Daniel and the other characters realizing that they have become fair weather friends; however, the film does give us a different take on the idea of "the one" (unlike so many sitcoms and indie rom-coms modeled after How I Met Your Mother). The film remains funny, entertaining, and well-made – with the Super 16 cinematography (with 8mm inserts) refreshingly filmic rather than film-like – even if it privileges laughs over some of the cathartic tears needed to really identify with the protagonist's emotional trajectory.

Video


Tribeca Film's single-layer encode of this wonderfully grainy and warm-toned Super 16 film (with 1.33:1 inserts from 8mm) does evince some edge-enhancement but is generally an attractive standard def presentation (not realizing early on that the movie was shot on film, I first assumed a few grainier inserts were digitally enlarged in post).

Audio


Audio options include a suitably enveloping Dolby Digital 5.1 track with atmosphere and music (particularly the latter in the case of the silent 8mm inserts) giving presence in the surrounds to a largely front-oriented mix of a dialogue-heavy film. The Dolby Digital 2.0 stereo downmix is a perfectly suitable alternative. English closed-captions are also included for the dialogue.

Extras


Extras start off with an informative audio commentary by co-writer/director Chris Lowell and co-writer/producer Mohit Narang who reveal that they did watch every ensemble cast film they could think of in preparation for the film and knew that chemistry would be the challenge in casting. They touch upon the script's references to Gertrude Stein and Ernest Hemingway (whose Michigan house was next door to the chosen location which turned out to be infested with chipmunks), the backstory of Daniel's parents and the eccentric artwork on display, as well as the influence of 's Jules and Jim on intertwined and playful friendships of the characters. Lowell reveals that the photographs glimpsed throughout the film in flashy cutaways are his own actual photographs of family and their friends at his family's Georgia lake house, and that they received sponsorship from Founders Beer who did not want their product involved in any drinking-and-driving scenes (so they invented a fake beer brand). Lowell and Narang also provide optional commentary on an alternate ending (1:26), an extension meant to be a bit more optimistic because of the way the final scene in the film felt on paper. They realized once the film was edited that the actual ending in the film does indeed have that hopeful note.


The behind the scenes (10:49) featurette is a montage of the cast and crew joking around, singing, and shots of the director and some crew beginning their days with a skinny dip intercut with some sound bytes, and comparisons of rehearsal footage and finished scenes (as well as some 8mm bits not used in the film). It is not very informative, but it does convey the likely mood on the set and the director's affection for the cast. The two deleted scenes are only minute extensions of scenes in the film, giving the actors involved a little more extra room to distinguish their abilities as well as a look at the ungraded picture (shot on film, it still looks nicer than the RAW video we usually get with HD-lensed indie films).

Packaging


The cover makes use of an attractive monochrome ensemble shot that we see Lowell pose and shoot in the behind the scenes segment.

Overall
| | | | | |
| --- | --- | --- | --- | --- |
| The Film: B+ | Video: A | Audio: A | Extras: A- | |

---
DVD Compare is a participant in the Amazon Services LLC Associates Program and the Amazon Europe S.a.r.l. Associates Programme, an affiliate advertising program designed to provide a means for sites to earn advertising fees by advertising and linking to amazon.co.uk, amazon.com, amazon.ca, amazon.fr, and amazon.de.