Supremacy (Blu-ray) [Blu-ray]
Blu-ray A - America - Well Go USA
Review written by and copyright: Eric Cotenas (20th April 2015).
The Film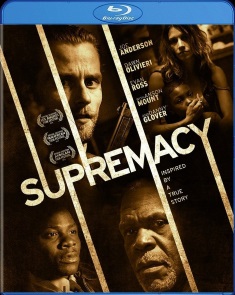 Loosely based on the true crime story of Robert Walter Scully, a parolee out just five days before he murdered a deputy sheriff and took a Santa Rosa family hostage, Supremacy finds number three in the Aryan Brotherhood Garrett Tully (Joe Anderson ) freed from Pelican Bay State Prison after completing a fifteen year sentence and meeting up on the outside with his leader Sobecki's (Anson Mount) girl Doreen (Dawn Olivieri) to carry out a job. When Doreen's truck is stopped by a black cop (Mahershala Ali), Tully shoots the officer (offscreen) and the pair are soon on the run. With the entire force on the road and in the air, Tully and Doreen drive into the woods, ditch her truck, and invade the farmhouse of Mr. Walker (), his wife Odessa (Lela Rochon), and stepchildren. They take the family hostage while Doreen calls her contact and arranges a rescue. An ex-con himself, Walker is no more fond of cops and promises his family's compliance despite Tully's racist verbal abuse. Tully takes daughter Cassie (Robin Bobeau) and threatens the lives of her toddler son (Alex Henderson) and newborn daughter to keep him informed about any plotting among her family. On the outside, Walker's police officer son Raymond (Derek Luke) is part of the manhunt, but his estranged relationship with his father makes him slow to realize that anything is amiss during the house-to-house search. The verbal and physical abuse gets a rise out of Odessa's teenage son Anthony (Evan Ross ) who wants to jump Tully and rebukes Walker for what he sees as weakness. Walker has insight into the prisoner mindset and the fear behind Tully's actions – as well as the ignorance behind his abuse – and urges Anthony to fight with his mind.

Home invasion movies are usually claustrophobic and character driven, and Supremacy has mostly excellent performances that give the ending's restrained action an emotional resonance (although I'm guessing the real-life counterpoints to the family held hostage and the family, friends, and co-workers of the murdered officer would probably be uninterested in whether the film's protagonist takes a step towards redeeming himself or not). The cutaways to the manhunt outside, however, open up the scenario while regularly dissipating the film's tension unnecessarily. The inclusion of Walker's son as a cop (although true to the facts of the case) and his fractured relationship with his father adds little to the film other than to reveal that Walker has his own prejudices about white people (Julie Benz has a single short scene as Raymond's understanding wife), and the apparent reconciliation at the conclusion barely registers following the final exchange between Walker and Tully. Intentionally underwhelming is the appearance of the prominently-credited Mount's Aryan leader Sobecki whose telephone communication with Tully is in cooperation with the FBI, carefully worded in front of the warden, and managed by his lawyer (lending support to his "It's a business" remark upon cutting off ties with Tully). The structure is deceptively simplistic in its move from Tully getting out of prison to his seemingly abrupt killing of a cop with a cut from day as Tully drifts off to night and the fateful encounter; but a series of flashbacks (which do not detract from the suspense) show that more happened in between while and contribute to an understanding of Tully shooting the cop without justifying the act, as well as giving some depth to Doreen's brittle nature. While somewhat hit-and-miss as a thriller, and more "inspired by" than "based on" true events, Supremacy does have moments of fine acting and assured direction.

Video


Supremacy was shot in Super 16mm and mastered in 2K and given a BD25 encoding with no glaring issues. The strong grain suits the gritty atmosphere from the woodsy environs to the shadows, burnished woods of the farmhouse, and the lending a certain harshness to close-ups of the sneering Anderson and the more weathered Glover and Oliveri.

Audio


As usual for Well Go USA, audio options include the 5.1 track in lossless DTS-HD Master Audio and a stereo downmix in Dolby Digital. As with a lot of character-driven features, the stereo downmix is an okay alternative but the lossless 5.1 has more presence and depth with subtle use of the surrounds. Optional English SDH subtitles are also provided and appear free of any obvious errors.

Extras


Extras are pretty scant here, consisting of a brief behind the scenes featurette (8:33)and the film's trailer (2:00), as well as previews for upcoming releases (which also play as start-up trailers).

Overall



| | | | | |
| --- | --- | --- | --- | --- |
| The Film: B | Video: A | Audio: A | Extras: C+ | |

---
DVD Compare is a participant in the Amazon Services LLC Associates Program and the Amazon Europe S.a.r.l. Associates Programme, an affiliate advertising program designed to provide a means for sites to earn advertising fees by advertising and linking to amazon.co.uk, amazon.com, amazon.ca, amazon.fr, and amazon.de.