The Film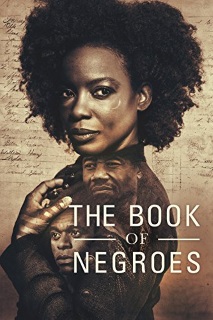 The Book of Negroes is the story of Aminata Diallo – played as a child by Shailyn Pierre-Dixon and as an adult by Aunjanue Ellis – or rather, it is Aminata's story of the history of her people. As the daughter of a jewelry maker (Andile Gumbi) and "baby catcher" (Thishiwe Ziqubu) in the African village of Bayo, Aminata dreamed of becoming a djeli (storyteller) who carried and could recite the village's entire history. When her parents are killed and she is snatched by the "man-stealers", Aminata is branded and placed on a ship to South Carolina along with young Chekura – Siya Xaba and then later Lyriq Bent – who helped the slavers only to then be sold himself. Having been taught to read and write by her Muslim convert father and learned a number of tribal languages while learning her mother's midwifing trade, Aminata ends up assisting the ship's doctor (Nick Boraine) while also arming her fellow captives (whose names she recites and commits to memory as the first part of her history) with makeshift weapons for a failed revolt. She spends the next several years at an indigo plantation continuing to speak and read English under housemaid Georgia (Sandra Caldwell) while attempting to avoid the attentions of her owner Robinson Appleby (Greg Bryk). Appleby rapes Aminata when he learns that she has been secretly seeing Chekura, who has been sold to a neighboring plantation. Aminata and Chekura marry but his visits are few and far between. In the meantime, Aminata becomes friendly with the wife (Amy Louise Wilson) of Solomon Lindo (Allan Hawco), an English Jew who has come to the plantation to grade Appleby's indigo. When Aminata becomes pregnant with Chekura's child, Appleby brutalizes and degrades her in front of the other slaves and then sells her newborn daughter May to another family, and then her to Lindo.

Under Lindo, Aminata has her own room, is allowed to read, keeps his accounts, and is allowed to see Chekura when he visits. When Lindo's wife and newborn child die from smallpox, he decides to go to New York and takes Aminata with him. Things deteriorate between the two when Aminata discovers that Lindo arranged the sale of her child who he tells her also died from small pox. In New York, Aminata encounters blacks living freely in Canvas Town and is determined to escape Lindo and eventually make her way home to her village in Africa with the help of tavern owner Black Sam (Cuba Gooding Jr.). The American revolution provides the perfect opportunity with Lindo rushing back to Charles Town and his business. She serves as midwife in Canvas Town while also working at the tavern for Sam, who brings supplies to the rebels serving under General Washington (Rick Roberts). Aminata does not trust either side but Chekura sides with the British as the lesser of two evils, especially since they are offering freedom to negroes who take up arms against the rebels whereas the Patriots are sure to return runaway slaves to their owners if they win the war. Aminata continues to work for Sam – who can see both sides of the issue – and teach the residents of Canvas Town to read and right, all the while worrying about the fate of Chekura and serving as midwife to the prostitutes and mistresses of the British army. When the Americans win the war and the British troops are set to withdraw, it seems that they will not keep their promise and the slave owners in the southern colonies are free to recover their property; however, British abolitionist Captain Clarkson (Ben Chaplin) approaches her with his plan to resettle black loyalists in Nova Scotia. Aminata is tasks with registering those that served the British for at least a year – including soldiers, blacksmiths, nurses, and "lusty wenches" – in "The Book of Negroes" (another chapter in the story of her people) which also includes the identities of former owners so that the British may provide compensation to them for those slaves who they have liberated. Aminata and Chekura secure passage to Nova Scotia – which she sees as another step on her way back home to Africa – but they and many others are under threat of recapture by bounty hunters sent by slave owners.


Based on the novel by Lawrence Hill – adapted by Hill and director Clement Virgo – and the historical document of three thousand former slaves who sided with the British, The Book of Negroes is an ambitious, sprawling, and handsomely designed co-production between the BET Network and the Canadian Broadcasting Corporation filmed in South Africa and Nova Scotia. The story provides insight into the precarious position of those who were freeborn and those who were determined not to be enslaved again. The account is fictionalized - Aminata is the middle name of Hill's eldest daughter - but meticulously researched and dramatically satisfying even if the six hour-long episodes betray a certain episodic nature to the plotting in which certain plot complications hastily resolve themselves before the end of the hour. Performances from the cast of American, Canadian, and South African performers – a few of them veterans of other film and TV work by director Virgo – are mostly fine, including Gooding Jr. whose post-Oscar career has been mostly disappointing. The lensing of Giulio Biccari is exquisite, as are the costumes and production design with only a few digital matte paintings spoiling a sense of authenticity. The cast also includes Louis Gossett Jr. as Daddy Moses, the blind preacher of the Birchwood settlement in Nova Scotia, and a barnstorming Jane Alexander as the Shelburne print setter who keeps indentured servants and stirs the locals up into an angry mob against the Birchwood settlement.

Video


The series' six episodes (approximately forty-four minutes each) are spread across two dual-layer DVDs in an interlaced but superficially anamorphic 1.78:1 widescreen transfer. The image tends to look a bit flat in long shots (where edge enhancement is more apparent) while the contrasts of color and shading lend more of a sense of depth to closer shots. With the work that went into the production, it kind of demands to be seen in high definition but the series is suitably engrossing in terms of story, production design, and cinematographic style that the DVD presentation is more than sufficient to take the film in for the first time.

Audio


Audio comes in English Dolby Digital 5.1 only, and the surround mix has an enveloping atmosphere throughout from the wilds of Africa to the war-torn colonies with additional support from the score and source music. Dialogue and narration are clear and crisp throughout, as are directional effects in the front channels and the rear. Some dialogue in various African languages is translated with subtitles printed on the image in different colors to distinguish the changes between them. When Aminata transitions from her own language to English or the other way around in the African scenes, we realize that she is still speaking her native language but the scenes are in English for the benefit of the audience. There are no subtitles, but closed captions capably transcribe the English dialogue with a few misspellings of surnames and a few African terms (in one scene where Chekura uses the term djeli, it is captioned as "diary" even though the term is captioned correctly elsewhere).

Extras


Although there is a third disc of bonus features, some other extras are spread between the first two discs with the six episodes. Disc one includes two short featurettes providing historical context on the Amistad schooner (1:07) and the Black Loyalists Society (8:41) while disc two features about twenty deleted scenes (30:54) that are mostly short extensions as well as a few short scenes. The scenes were wisely left out, not because they are inferior but because they are made redundant by Aminata's narration interludes which keep the story moving as opposed to short scenes depicting Clarkston telling Aminata that they had managed to register twelve hundred negroes for the Sierra Leone venture and toasting it.

Disc three features two-and-a-half hours of interviews (151:35) – playable all together or separately – with cast members Aunjanue Ellis (20:59), Lyriq Bent (13:22), Louis Gossett Jr. (25:13), Cuba Gooding Jr. (15:00), Sandra Caldwell (14:29), Greg Bryk (23:22), Amy Louise Wilson (13:02), Allan Hawco (14:59), Ben Chaplin (7:20), and Shailyn Pierre-Dixon (3:47). Ellis expresses her admiration for the character and some of the qualities she envies (she is a writer as well but not as confident in her abilities), as well as the defiant acts of the character that she describes as political in the ways that they upset ways of doing things (both in terms of the laws as well as her own culture). Bent read the book upon hearing that it was going to be made into a movie and started developing the character even before he received the audition sides. Gossett Jr. discusses his acting roots, his Eracism foundation, comparisons of The Book of Negroes and Roots, and the lessons present in the series in contrast to more mainstream media. In his interview, Gooding Jr. focuses on the characters and the struggle for Aminata and Samuel to connect spiritually despite other tensions (including a degree of physical attraction). Caldwell describes elements of her character that go a way towards explaining her open defiance of Appleby (such as a suggested relationship with his father not really hinted in the film itself) as well as doing homework on Georgia's background and upbringing (explaining her choice of dialect).


Bryk discusses trying to play a monster and the notion of his character's obsessive love for Aminata (and its irrationality) including some comparisons with his own marriage (his wife thought he was a natural for Appleby upon reading the book). Wilson talks about her character's Jewish background and its context during the film's period as well as working out her relationship with the actor playing her husband. Hawco also discusses the difficulty of being Jewish in the period, his character's moral ambiguity (including his assumed superiority to Appleby), as well as the fun of delving into dark emotional places as an actor. Chaplin concedes to not being truly clear on his character's mission in life and working off of his character's interactions with Aminata in the script. Lastly, child actress Pierre-Dixon is understandably not as contemplative about her character motivations and confesses a combination of excitement and nervousness at scenes which have yet to be shot.

In the "Lawrence on Set" featurette (11:17), the author recalls not knowing anything about Black Loyalists or their experience in Nova Scotia until finding a book – James Walker's The Black Loyalists – on the The Book of Negroes document belonging to his human rights activists parents. He notes that Canada likes to ignore its history of slavery and that much of what he learned about slavery and civil rights has to do with American and South African history than Canadian. He also notes that the book was retitled Someone Knows My Name because of issues American audiences might have with the term "negroes", and that the retitle is derived from the notion of stripping away identity by renaming (and Aminata committing to memory the names of her fellow captives and insisting on the use of her own name rather than "Meena"). In Conversation with author Lawrence Hill (23:45), the author discusses the use of a female protagonist in the book, family friend Walker and his aforementioned book, the long period of developing the book into a feature film and then as a series with director Virgo (as well as how concepts were reshaped by his meetings with the cast and what they had to bring to the roles), as well as tangential scenes deleted from the novel that he got to include in the series (for instance, the meeting with George Washington). Also included is an illustrated booklet with an essay by Hill on the shoot.

Packaging


The three discs are packed in a digipack housed in a handsomely-designed cardboard slipcover with black and white and sepia images (apart from a strip of color stills on the back). Like most of these cases, it is prone to dings and dents along the edges once the shrink-wrap comes off but it remains a striking design. The menu screens are similarly simple yet elegant.

Overall
| | | | | |
| --- | --- | --- | --- | --- |
| The Film: A | Video: B- | Audio: A | Extras: A | Overall: A- |