The Film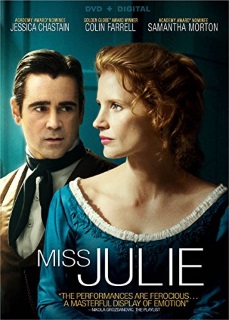 August Strindberg's play Miss Julie has been much adapted on the screen – including Alf Sjöberg's 1951 Swedish version, a 1972 British TV version with Helen Mirren, Mike Figgis' comparatively modest yet exquisite 1999 version, a 2011 French TV adaptation with Juliette Binoche (who Figgis originally wanted to cast alongside Nicolas Cage), and a Swedish adaptation set in the twenties the year before this version – and reinterpreted on the stage in a number of contexts (including one most recently set in the South with Julie as a plantation owner's daughter). It seems a safe choice for actress-turned-director Liv Ullmann to choose the prestigious play to mark her return behind the camera following her previous effort being the Ingmar Bergman-penned Faithless in 2000 and Bergman's own last film being a TV adaptation of Strindberg's "The Ghost Sonata" (which was not as widely distributed as 2003's Saraband which had been touted as Bergman's swan song). Nevertheless, romantic longing and forbidden loves populate Ullman's short filmography as a director that also includes the Danish drama Sofie about a Jewish woman to marries the man her parents wish for her rather than the gentile artist she loves, and the medieval Norwegian Kristin Lavransdatter about a landowner's daughter whose love for a night leads to scandal and tragedy. Regardless of the subject matter and source, Ullmann as a director cannot completely escape the shadow of Bergman - especially with Miss Julie's opening sequence of Ullmann-esque Jessica Chastain gliding a bedroom with Cries and Whispers-esque red wallpapering and white drapes; but one soon forgets the influence (or at least is pressed to seek it out) amidst deliberately theatrical performances and the exquisite camera of Mikhail Krichman.

The daughter of an Irish baron, Julie (Chastain) stays behind at home while her father leaves town for a Midsummer Night celebration and scandalizes her own reputation by dancing at the pub with the gamekeeper and then throws herself at her father's handsome valet John (Colin Farrell). John returns to the seeming safety of castle's kitchen and expresses to his fiancée Kathleen (Samantha Morton) the cook his revulsion at Julie's behavior as well as conflicting feelings of attraction that seem to spill out spontaneously. Overhearing some of John's more vulgar comments, Julie enters the scene and engages the two of them in game that is part flirtation and part domination as she asks him to dance with her again in the barn with the other celebrating servants. With a trace of contempt, John expresses concern about what the servants will think of her, causing Julie to command him to dance with her (at the same time politely asking Kathleen if she may steal her fiancé). As Julie tries to manipulate John into seducing her, John continually reminds her of her position to the point where he states that she must order him to do the things she requests of him. As midsummer night – the night "when lovers can open their hearts and loins" – wears on and Kathleen retreats to the safety of her bedroom, the seemingly insurmountable divide between mistress and servant starts to erode with Julie confessing her feelings of helplessness and imprisonment and John confessing the ways in which he has tried to better himself so as not to end up like his parents and the siblings that died in hunger as well as his long unrequited love for her; but are the motives of an ambitious servant and the daughter of a man-hating mother as pure as they appear outwardly to one another?


Like the play, much of the film still takes place in the castle's kitchen with a few excursions down the impressive hallways and into the sleeping quarters of the three characters, and Ullmann resists fleshing out that take place prior to the story proper or off screen. Although the Norwegian/British/Canadian/American/French/Irish production has two hours and ten minutes to explore its adaptation of the play, it does drop some details like Julie's broken engagement (and the incident relayed by John of witnessing Julie trying to make her fiancé jump over her whip like a dog being taught to hop) as well as the song mocking Julie that she and John overhear sung by the drunken servants (a scene rendered in split-screen with John making love to Julie in the Figgis version which the director would then fully exploit the following year in the gimmicky Timecode) in favor of drawing out the three characters' feelings about class distinctions. The revelation that the aristocracy are no different than they are angers John who struggled to rise above his origins and still struggles; but Kathleen already knows this and instead feels that they should be treated like children, taking into account the Baron's failing health after his wife's death and blaming John for the seduction (not entirely justified when women tend to attack each other over affairs but she feels that Julie is not responsible for her actions). Julie tries to be friends with John and Kathleen, and imagines herself held in equal regard by the other servants (until in the play she overhears them mocking her), but always falls back on proclamations of her superior breeding when rejected or hurt.


That Farrell's John starts out far more insolent than the character in the play, resenting the baron's and Julie's unintentional but nevertheless condescending attempts at kindness – in the former case, the baron gives John a folder travel brochures as if he could ever afford to travel like his employer) and suggesting a sense of self-loathing rather than masochism necessary to play the role of servant – keeps the film early on from seeming like another dreary period drama mounted solely as award bait. The drawing out of the drama over two hours does expose a certain degree of repetition as John goes back and forth between daring and regret (even though the characters do move back and forth between love and hate so rapidly), but Farrell's seeming jitteriness with his accent betrays his character's lack of confidence in the identity he has tried to form independent of his position as valet (the mere sight of his master's boots has him falling back into a servile demeanor). Chastain has the more difficult character, however, and is quite good in the more "theatrical" moments even when her outbursts sometimes seem more calculated than abrupt. Morton reigns it in for so long as to make almost no impression until the climax, in which there is a wicked trace of malevolance beneath the seeming pity her character expresses for Julie. The finale is compelling enough in terms of performances that the usage of Schubert's Trio in E-Flat (familiar to fans of Barry Lyndon, The Hunger, or The Piano Teacher) seems unnecessary and even pretentious in a film where Ullmann – who cameos as Julie's mother in a locket miniature photograph – seems otherwise content to let the audience interpret the film's obvious symbolism without emphasis like Julie's caged bird or the once-treasured dog Diana who Julie no longer wants after it has "played the fool" to the gamekeeper's mongrel. The end result is not a triumphant return for Ullman, and it may frustrate fans of the play even though its adaptation innovations have been more conservative than other versions; but it is not a bland prestige production so much as timely resurrection of a classic play that is still relatable in its discussion of class, and that it may also frustrate those just looking for a pretty period "forbidden love" film is actually a good thing.

Video


LionsGate's dual-layer, progressive, anamorphic 1.78:1 transfer of this 35mm film unfortunately leaves its viewers wanting a Blu-ray release which will surely be deprived of Region A-locked viewers. There is a degree of edge enhancement but this is not a film that is afraid to look softish, partially from privileging the performances over precise focus in scenes where the actors are more concerned with each other than their marks.

Audio


The excellent Dolby Digital 5.1 track is mostly front-oriented but never quite quiet in the surrounds with environmental sounds and softly-rendered musical interludes. Optional English SDH and Spanish subtitles are included.

Extras


Extras are rather sparse on this edition, considering of two interviews and the film's theatrical trailer (1:32). The interview with director Liv Ullmann and actress Jessica Chastain (9:55) in which the actress explains that the chance to work with Ullmann was more important than her love of the Strindberg play. Chastain describes working Ullmann's protective nature while guiding her through the script's most emotional scenes. Ullmann expresses her confidence in the ability of the actors and that the on-set rehearsals were mostly technical since she had worked with Chastain and Farrell closely before production, as well as how audiences can still relate to classic plays in that they spur reflection things differ or are still the same. In the solo interview with actress Jessica Chastain (8:36), the actress muses on how much an actor gives of themselves for a role as well as Ullmann's sensitivity to it (for example, delaying a pivotal scene because she felt the actors were emotionally worn out). The interviews as DVD extras nevertheless feel like a rather halfhearted effort for a film of this pedigree. The previews are the same trailers as those that appear at start-up.

Packaging


Not knowing how to promote the film other than the presence of its stars Chastain (looking more glamorous than she does in the film), Farrell, and Morton (with Ullman only mentioned in the extras listings and the credits block), LionsGate trots out trailers for a couple period pieces.

Overall
| | | | | |
| --- | --- | --- | --- | --- |
| The Film: A- | Video: B+ | Audio: A | Extras: D+ | Overall: B+ |