Jonah Lives
R0 - America - Wild Eye Releasing
Review written by and copyright: Eric Cotenas (18th May 2015).
The Film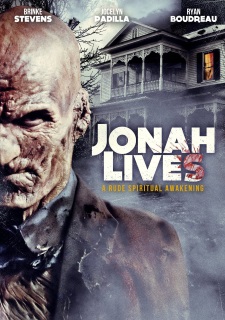 Not looking forward to yet another Friday night in his basement with his friends – girlfriend Barbara (Jocelyn Padilla), her blunt friend Lydia (Nicole Lasala) and her boyfriend Tony (James Barrett), dorky Jessie (Aaron Peaslee), and pal Johnny (Rob Roy) – while his parents' (David Nuovo and Bernadette Oliveira) throw a party upstairs, school jock Francis' (Ryan Boudreau) suggests a new kind of diversion in a genuine spirit board he bought from a gypsy. Reasoning that while two players can merely "fiddle with the spirit plane of existence" but six players can penetrate that plane and control it. Tony, however, wants nothing to do with this "devil bullshit" and sits out the séance in which they seem to successfully contact the spirit of a murdered man named Jonah. Emboldened by the spirit briefly speaking through Lydia, the five use the board to call Jonah to cross into their realm and seem to become jointly possessed. A horrified Tony breaks the contact by smashing the board's planchette, but not before Jonah Matthias (Cesar Pereira) has dragged himself out of the grave at the local cemetery. Their cries for help muffled by the wild party upstairs, the six barricade themselves in the basement against an unstoppable being who cannot be outrun or beaten back. While a hysterical Lydia resigns herself to death (and even welcomes Jonah's embrace), Barbara – pregnant with Francis' child – rallies the other survivors to try to use the board to send Jonah back; but he may not be so willing to go until he has settled a score with his wife Zora (Brinke Stevens) who loves him more dead than when he was alive.

Although a well-intentioned and modestly constructed piece of throwback horror, Jonah Lives fails to sustain interest after a prologue that turns out a teaser for a later sequence. Although each of the six main cast members have moments of okay acting, performances are distractingly uneven, scuttling the momentum of the many group scenes (the best moments find the characters off on their own whether under immediate threat of death or just taking a breather from the others). While it is refreshing to have the two jock characters Francis and Tony also relatively well-read enough to have strong opinions on the occult (even if they do end up making the same mistakes as any other horror film characters who play with a Ouija board), the otherwise underdeveloped characters are not sufficiently interesting nor the actors engaging enough to make the monotonous escape attempts and doublings back to the basement room interesting. Jonah's look is distinctive, but he is pretty much just a shambling boogeyman with no compelling backstory; and there's no mystery as to the identity of his wife since we see her name mentioned on his gravestone and the opening credits give Stevens a prominent "as" credit. A few jump scares do work, as does a tense sequence in which the survivors make for the basement steps while not quite believing that they have succeeded in sending Jonah back to the grave. Were Jonah Lives a more ambitious film, it would be easy to write off; but hopefully on the basis of its few modest accomplishments, it might portend a more interesting follow-up from Luis Carvalho.




Video


Relatively polished in its Arri Alexa lensing, the film looks a little flat in its single-layer, progressive, anamorphic encoding at a little less than mid-range bitrate (a usual annoyance with Wild Eye discs), but post production color tinkering may have also done away with some available detail.

Audio


The Dolby Digital 2.0 track gives a proficient rendering of a not particularly adventurous stereo mix (the end credits sport an older Dolby Stereo logo but I doubt it was originally a matrixed surround mix).

Extras


Extras are actually very limited for this release, including a behind the scenes teaser (0:54) and another short behind the scenes (3:50) revolving around the shooting of Brinke Stevens' scenes. The "Fall River Celebrates the Arts" Screening (1:51) consists of some remarks from the filmmakers before the screening and autograph signings afterward. Besides a teaser (1:31) and only slightly longer trailer (2:15) for the film, the disc also includes trailers for several Wild Eye titles including the previously covered Hi-8: Horror Independent 8.

Overall

---
DVD Compare is a participant in the Amazon Services LLC Associates Program and the Amazon Europe S.a.r.l. Associates Programme, an affiliate advertising program designed to provide a means for sites to earn advertising fees by advertising and linking to amazon.co.uk, amazon.com, amazon.ca, amazon.fr, and amazon.de.