The Film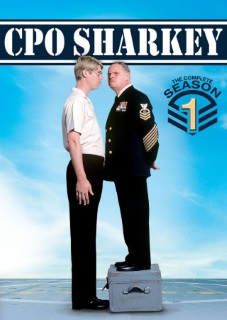 A regular guest on Hollywood Squares, The Tonight Show, The Dean Martin Show and most of Martin's celebrity roasts, and a number of guest spots on episodic television, insult comedian Don Rickles finally landed his own sitcom with The Don Rickles Show in 1972 which lasted a scant seven episodes. Four years later, he would get another chance with CPO Sharkey – created by Aaron Ruben of The Andy Griffith Show and Gomer Pyle: USMC – as acerbic (what else?) Otto Sharkey, Chief Petty Officer of Company 144. While Rickles' racial comedy would never make it to network TV these days (either as a new show or in syndication of this show) and it is startling just how far he goes here, it is never mean-spirited and one of the recurring themes throughout this first season of fifteen episodes is his realization that his insults belittle rather than toughen up his recruits. For all of his griping about how the recruits in today's Navy are coddled, Sharkey presses for leniency when any of his men are facing disciplinary action from the higher-ups. Although concerned with how the recruits' conduct reflects on him in the eyes of his superiors – including Quinlan and the nosey Whipple – Sharkey also assumes responsibility for things that often go on behind his back. Sharkey often gets involved in his recruits' personal issues and resolves them more often by dumb luck as his schemes inevitably go awry.

Sharkey's foil is African-American Captain Robinson (Harrison Page) who calls him out on his treatment of the recruits and seeming insensitivity, tries to drag him into the modern age when he feels out of touch, and knows exactly how to respond to his bigotry. Other regulars include Seaman Pruitt ( Peter Isacksen ), a dim Southerner whose 6'7" height towering over Sharkey's 5'6" is a recurring sight gag, officious Lieutenant Whipple (Jonathan Daly) who is right more often than not about the mischief going on in the barracks before Sharkey and crew pull the wool over his eyes, and five of the regular sub-Sweathog recruits (filled in with a few revolving background extras) whose broadly-characterized ethnicities make them rife for abuse: Polish Kowalski (Tom Ruben), Jewish Skolnick (David Landsberg), Puerto Rican Rodriguez (Richard Beauchamp), Italian Mignone (Barry Pearl), and jive-talking African-American Daniels (Jeff Hollis). The series would last only two seasons and thirty-seven episodes, it's overfamiliar sitcom situations and twists were enlivened considerably by Rickles' insults; in fact, the studio audience laughter during the first episode's opening scene seems nervous and polite but becomes raucous once Rickles lights in on the recruits (throughout the series, there are instances where the performers crack up without breaking character). While otherwise not as envelope pushing as some of the shows contemporaries, it is quite refreshing now amidst shows that try to shock with racial and sexual jokes crafted by people who possess no sensitivity.

Season One Episode Breakdown:

1.1: "Oh Captain! My Captain!" (25:34) – Chief Petty Officer Sharkey is ready to retire when he feels out of touch with his new recruits and a woman replaces his commanding officer (Elizabeth Allen).

1.2: "Shimokawa Ships Out" (22:15) – One of the recruits (Evan C. Kim) goes over the fence when he feels singled out for abuse by Sharkey, but Sharkey is hurt when he overhears the men imitating him.

1.3: "The Dear John Letter" (22:34) – When Sharkey tries to help a recruit (Stanley Bennett Clay) feign dumping the sweetheart who has broken up with him, a misunderstanding has Robinson believing Sharkey has "jungle fever".

1.4: "Goodbye Dolly" (25:02) – Whipple thinks Sharkey has smuggled a lady friend aboard ship when Mignone's blow-up doll winds up in the CPO's locker and bed.

1.5: "Skolnick in Love" (25:35) – Sharkey hears wedding bells when he plays matchmaker with bookish Skolnick and waitress Jackie (Suzanne Zenor), but the announcement has Skolnick's mother (Bea Silvern) spinning in her grave… and she's still alive!

1.6: "Mignone's Mutiny" (25:25) – Mignone goes on a sick out when the Navy life fails to live up to the promise of world travel and a girl in every port.

1.7: "Kowalski, The Somnambulist" (24:30) – After an incidence of sleepwalking, Kowalski faces discharge unless Sharkey can get to the root of his problem with the help of the base psychologist (Dick Van Patten).


1.8: "Sunday in Tijuana" (24:42) – Sharkey heads south of the border to bail out his recruits when they wind up behind bars for cheering the underdog… er, bull at a bullfight.

1.9: "Rodriguez and His Mamacita" (24:54) – Amidst concerns over sailors sneaking prostitutes aboard, Sharkey must hide Rodriguez's girl Rosita (Sandra Gallardo) from Whipple's watchful eyes.

1.10: "Sharkey Boogies on Down" (25:00) – After a series of gag gifts make Sharkey feel his age, Robinson drags him out to the Disco Cave to hang loose and get funky!

1.11: "Sharkey Finds Peace and Quiet" (24:56) – Sharkey moves off base when the recruits' problems impinge on his extracurricular activities, but the ever-helpful Pruitt has given out his new address and problems follow him to "home, sweet home."

1.12: "Sharkey The Marriage Counselor" (24:34) – It's black eyes and beef steak all around when Sharkey involves himself in the marital troubles of seaman Plunkett (Wes Stern) and his wife (Christina Hart).

1.13: "Sharkey's Secret Life" (24:51) – A surprisingly enlightened pre-"Don't Ask, Don't Tell" discussion about homosexuality has the guys questioning the nature of Sharkey's mysterious "big change". Audiences may recall Jack DeLeon's fey characterization from his recurring role on Barney Miller.

1.14: "The Pizza Party" (25:24) – The recruits' graduation and Sharkey's career is threatened when he looks the other way on a midnight pizza party that turns into a brawl.

1.15: "A Wino is Loose" (24:50) – A wino (Larry Storch) follows the recruits the guys back from a night on the town and refuses to leave on the day of an important inspection.

Video


Video quality on the three dual-layer discs is not so hot, but what can one expect with a seventies video-taped TV sitcom. The digitization and sharpening looks pretty severe with ringing around just about everyone and everything.

Audio


The Dolby Digital 2.0 mono track fairs much better than the video (this is one of those sitcoms where actors sometimes stop themselves and pause for the audience laughter to die down). English closed captions are also included for all of the episodes.

Extras


The sole video extra is a funny clip from The Tonight Show with Johnny Carson (3:34) in which Carson discovers his cigarette box broken. Upon learning that Rickles broke it the night before when he had a guest host, Carson drags the cameraman with him to the adjoining studio and interrupts the taping of CPO Sharkey. The insert sheet has a list of the episodes and their air dates as well as a letter from Rickles about the show and his real life experience in the navy.

Packaging


Two of the three discs are packaged in a hinged insert and the third on a spindle on the rear inside of the case. The cover art highlights one of the show's recurring visual gags, but it might not be eye-catching to viewers unfamiliar with the show.

Overall
| | | | | |
| --- | --- | --- | --- | --- |
| The Film: B+ | Video: C+ | Audio: B+ | Extras: B+ | Overall: B |