The Film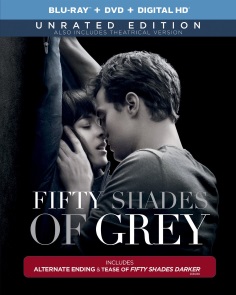 Washington State University Vancouver English literature student Anastasia Steele (Dakota Johnson) travels to Seattle in place of her sick journalism student roommate Kate (Eloise Mumford) to conduct an interview with young billionaire businessman Christian Grey (Jamie Dornan) of telecommunications firm Grey Industries for the school's paper since he will be giving the commencement address. Ana – blushing virgin that she is – stumbles her way through the intrusive questions, and Christian – whose icy exterior surely hides an inner warmth since he exploits First World talent while feeding the Third World – soon turns the interview around on her. When he shows up at the hardware store where Ana works – while ostensibly on business in Portland – and purchases some suspect materials for a guy who does not seem disposed to manual labor, he not only agrees to pose for an original photograph for the newspaper article but also asks her out for coffee. He questions her incessantly about her family and relationships but cuts the date short when she attempts some amateur psychology on him in regards to his hinted-at rough childhood and adoption, warning her that he is dangerous for her (although that does not stop him from gifting her first editions of Thomas Hardy's "Tess of the D'Urbervilles" with a quotation from the novel that, as an English major, she should probably recognize as signifying "don't say you weren't warned"). When Ana drunk dials Christian from a club during the post-exam celebrations, he tracks her phone and swoops in to protect her virtue (even though she seems more than capable of fending off a kiss from childhood friend José [Victor Rasuk]). The next morning, she wakes to a paternalistic lecture about putting herself at risk ("If you were mine, you wouldn't be able to sit down for a week") and his admission that he cannot resist her.

Flying her back to his Seattle penthouse on their bonafide first date, Christian makes her sign a non-disclosure agreement (which she signs without reading) before showing her his "playroom" and presenting her with a detailed BDSM contract. Ana seems more disturbed by Christian's rules regarding separate sleeping arrangements and not being able to touch him or make eye contact than soft and hard limits ("What are butt plugs?"). Upon realizing that Ana is a virgin, he rectifies the situation but their morning after domesticity is short lived. Ana takes the contract home with her to research and is scared off by the details. When she decides to cut off all ties with Christian, he appears in her apartment and gives her a taste of submission (in a scene that the music and soft lighting suggests is supposed to be romantic). Hopelessly in love with Christian, she attempts to negotiate the terms of the contract (he concedes to a weekly date "like normal people"), but his controlling nature and what he deems as punishable offenses has her doubting that he can return her love. When Christian is unable to offer up an explanation of himself other than "this is what I am", Ana asks him to show her the worst of what he can do to her.


Although I have not read the E.L. James source novel and was not even aware of its existence until I saw a woman reading a copy of it on the train, I have to admit I went into the film prepared to hate it based on its reputation of as the "mommy porn" equivalent of obnoxious, overhyped young adult novels like the Twilight from which Fifty Shades of Grey has its origins as a novel-length piece of fan fiction with the names changed. While certainly a handsome-looking and –sounding production, this supposedly truthful and empowering look at female sexuality is problematic and may have viewers (well, male viewers) pining for the return of Emmanuelle in any of her incarnations while otherwise being the low woman on the totem pole compared to Secretary, The Image or even the prettified The Story of O or 9 ˝ Weeks despite all of the ballyhoo. While cheaper examples of softcore (and hardcore) exploitation do are not exactly masterful storytelling, the good ones give us elevating or unforgettably bad performances, visuals, or dialogue that resonate. With its two stars and their characters completely lacking in chemistry, Fifty Shades of Grey merely ticks off its plot points with little to savor. The film presents the BDSM lifestyle as shameful and practiced by emotionally damaged control freaks rather than role play (Christian is the son of a crack whore who burned him with cigarettes who was adopted into a wealthy family and was a submissive in a teenage relationship with an older woman). Much has been written about the controlling and abusive nature of the central relationship in the book (as well as the equivalent relationship in Twilight), and the paternalistic lecture she receives about herself at risk by getting drunk at a club with her friends ("If you were mine, you wouldn't be able to sit down for a week") as well as the alcohol, drug, and dietary prohibitions of the contrast may be creepier in the film than what amounts to stalking (including tracing her to the club in the first place and surprising her in her apartment after she cuts ties with him), if only because director Sam Taylor-Johnson couches the latter scenes in chick flick-y photography and compilation soundtrack scoring. While it seems as if Ana is supposed to be intrigued by Christian's peculiar desires, it seems more as if they are something to be either dodged or endured in order for her to understand and redeem him as worthy of the love she so quickly feels for him. Perhaps the "redemption" aspect of the relationship might have worked had Christian suddenly felt shame in his desires when it came solely to Ana, but we are told that no one knows this side of him and he has those he tells about it sign non-disclosure agreements. Ana asks all the right questions during the climax, but the only explanation the film can offer for Grey is that he's "fucked up" (make that "fifty shades of fucked up"). There actually seems to be the seeds of a better "erotic thriller" in the film; had it been more balanced in its depiction of a supposed shifting power balance, we might be able to buy Christian's "I'm incapable of leaving you alone" and "It's you who is changing me" as fear-tinged admissions of an icy character who may be experience love for the first time rather than emotional manipulation (it also could have been more interesting if the story had conceded that the character was indeed manipulating her).


Johnson is visually fetching but the character seems to require a restricted range while Dornan, whose Irish accent slips a couple times, looks uncomfortable as the supposedly heartless dom (that may at least work in the context of his character being uncomfortable engaging in certain acts without Ana having signed the contract). Introduced to the film for seemingly no purpose other than to make the world of Ana and Christian seem less insular (which it probably should be in a story of obsessive lust) are Ana's stepfather (Callum Keith Rennie) who expresses no reservations about Ana's boyfriend, her mother (Jennifer Ehle) who is on husband number four (Dylan Neal), her aforementioned friend José (Victor Rasuk)) recedes into the background after an aborted attempt at seduction, her co-worker Paul (Anthony Konechny) who does not even get that far before he is forgotten, Christian's adoptive parents (Marcia Gay Harden) and (Andrew Airlie), ne're-do-well stepbrother (Luke Grimes) and stepsister (Rita Ora) whose return from Europe seems a matter of some importance only for her to have two lines of dialogue and no close-up, and Christian's stoic valet (Max Martini). Presumably these characters have more to do in the other two novels, but the film seems to merely checks off their presences for the benefit of the fans even if they have no bearing on anything that happens, thoroughly wasting the scant screen time of Harden, Ehle, and Rennie. While I'm admittedly more interested in the sequels for how they might involve any of these other characters than the central duo, hopefully the hype around the books and films might result in a more open attitude by readers and Hollywood for more daring and honest works of erotica.

Video


The film can be viewed in either the R-rated theatrical cut (125:19) or an unrated version touting alternate ending (128:27) on the Blu-ray (the DVD has the theatrical cut only). In keeping with Universal's treatment of other new titles, the MPEG-4 AVC 2.40:1 widescreen presentation is flawless enough to snark about their treatment of much of their catalog titles. While I did not notice any additional shots during the sex and BDSM scenes (and the hype around this movie seems like it might have made an NC-17 rating even more commercially viable than an R), the alternate ending de rigueur montage of the good times following the theatrical version's superior closing shot (which references the conclusion of the couple's first meeting to different emotional effect) just feels unncessary; as such, it is a good thing that this release contains the version seen in theaters.

Audio


The theatrical cut can be viewed with English, French, or Spanish DTS-HD Master Audio 5.1 options (or an English Descriptive Video Service track in Dolby Digital 2.0 stereo) while the unrated cut can only be viewed with English DTS-HD Master Audio 5.1 (although English SDH, French, and Spanish subtitles are available for both cuts). The surround mix is state-of-the-art with enveloping surround activity throughout (although only the score and some reverberating slaps reach the rears during the playroom scenes).

Extras


Although Universal's disc seems fairly stacked with extras, they are all of the press kit variety with nothing in the way of critical reflection or analysis. The World of "Fifty Shades of Grey": Christian Grey features profiles for the character (2:46) in which director Taylor-Johnson remarks on disagreement over whether the character is damaged or just "complex" while Harden offers considerably more background information on Christian's upbringing under her character than in the feature film (presumably this will be brought up in the sequels). In the profile for actor Dornan (2:29), he, Taylor-Johnson, Harden, and Johnson recall the audition process and the flurry of excitement once he was cast in the role. Christian's Apartment (8:25) is the most interesting of the featurettes as production designer David Wasco and set decorator Sandy Reynolds-Wasco discuss the daunting task of designing a setting that has been thoroughly visualized by the book's fanbase, design aspects of Christian's apartment (a massive set on two sound stages) - including the infamous Red Room (given better exposure here than in the film) - the custom-made furniture, and the art pieces acquired through Taylor-Johnson's contacts in the art world. Christian's Wardrobe (3:22) finds Mark Bridges discussing the rationale behind the color choices in the character's wardrobe and the subtle changes to complement the character's moods. A Rich Man's Toys (2:49) focuses not on the toys in Red Room but on Christian's cars, helicopter, and glider.

Similarly, The World of "Fifty Shades of Grey": Ana consists of talking head remarks about the character. In All About Ana (2:17), Taylor-Johnson remarks on how Ana has experienced life through books and sees the world in those terms. In the finished film, I can see how we are supposed to see her character that way, but it is not effectively conveyed despite the references to Thomas Hardy. The Dakota Johnson Profile (2:51) includes discussion of Johnson's acting pedigree as the granddaughter of Tippi Hedren and daughter of Melanie Griffith and Don Johnson. In Ana's World (4:55), property master Dan Sissons describes the painstaking process of furnishing Ana's and Kate's apartment with props indicative of their studies and interests (including hand-me-downs and thrift store finds). In Ana's Wardrobe (3:46), Bridges returns to discuss the contrast of Ana's wardrobe with that of Christian. Also in the same vein is The World of "Fifty Shades of Grey": Friends and Family features a series of one-to-two-minute sound bytes by actors Mumford (2:04), Martini (1:34), Harden (1:58), Grimes (1:37), Ehle (1:54), Rasuk (1:42), and Ora (1:44) which suggest they have no idea how little of their characters survives in the finished film. Interestingly, the rehearsal footage seen in these featurettes reveals some more playful line readings that might have been more effective.


In "Behind the Shades" (19:28), director Taylor-Johnson, producer Dana Brunetti, and writer James discuss the importance of a realization of the film that would satisfy the book's fanbase. Taylor-Johnson relates to the book's fairy tale and "coming of age" elements while executive producer Marcus Viscidi recalls the heavy secrecy around the Vancouver location shooting (under a phony title) and keeping images of the sets and costumes from being leaked. The production designer and set decorator discuss the locations as well design elements added to existing locations (as well as their psychological implications) and subliminal elements carried out through the locations leading up to the Red Room. Also an obvious topic for discussion are the sex scenes and the importance of establishing comfort between the actors before shooting them towards the end of the schedule. In "E.L. James & Fifty Shades" (5:45), the author describes the influence of Twilight, discovering fan fiction and deciding to give it a try. She recalls the thrill of publishing the fan fiction version a chapter at a time, its increasing popularity and her concern that someone would copy it, and the word-of-mouth success that drove the enormous print-on-demand sales. In "Fifty Shades: The Pleasure of Pain" (8:42), Taylor-Johnson and BDSM consultant Liam Helmer discusses the practice's literary tradition as well as the context of the film's contracts and limits. "Christian's Apartment: 360 degree Set Tour" is an interactive photographic tour of all rooms in which your remote's arrow buttons can explore the rooms and highlight various props. Despite tracks from Annie Lennox (doing a cover of "I Put a Spell on You" over the opening credits) and Beyonce - along with some The Rolling Stones and Frank Sinatra cues - in a mostly forgettable compilation soundtrack (and an even more forgettable Danny Elfman underscore), the disc features music videos for "I Know You" (5:05) by Skylar Grey and "Earned It" (4:40) by The Weekend, as well as a behind the scenes segment for the latter video (4:49).


A teaser for the sequel Fifty Shades Darker (0:29) - not set for release until 2017 - features only Dornan (although he apparently may not be reprising the role), but it could just as easily be outtakes from the first film or a separate promotional piece rather than any footage shot for the sequel. The main menu is preceded by several start-up trailers, most of which are quite uninspiring with the exception of Cronenberg's Map to the Stars, but it does include the more conventional stalker movie The Boy Next Door which I will be sure to miss if at all possible. The DVD side of the package includes only the Friends and Family interview, the behind the scenes segment, and the same start-up trailers. Target, Walmart, and Best Buy all have exclusive editions. Target has two editions with an additional half-hour of extras (the deluxe version with a journal and pen), Best Buy has a steelbook with different cover art, and Walmart has different artwork and a collectible photo book.

Just as the film features subtitles in English, French, and Spanish, so too do all of the extra features (subtitles for the extras are enabled from the main setup or your remote). The set-up menu also allows viewers to turn the annoying metallic button sound on or off as well as the ticker that appears on the menus advertising other Universal product via BD-Live (which seems to slow down the loading of the menu elements when on).

Packaging


Considering the plentiful promotional images and alternate posters for the film, Universal could have used a more stylish image for the cover (both the disc insert and the slipcover), and they did for the aforementioned store exclusive editions.

Overall
| | | | | |
| --- | --- | --- | --- | --- |
| The Film: C+ | Video: A | Audio: A | Extras: C+ | |