Barber (The) (Blu-ray) [Blu-ray]
Blu-ray A - America - Arc Entertainment
Review written by and copyright: Eric Cotenas (18th May 2015).
The Film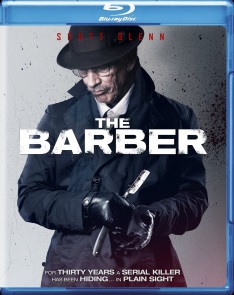 Suspected of the disappearances of seventeen young women, the last of which was discovered after she had been buried alive, Francis Visser was arrested but released soon after on insufficient evidence while the investigating detective (Thomas Calabro) killed himself in disgrace after an internal affairs probe for suspicion of fabricating evidence. Twenty years later, the detective's son – posing as drifter John La Rue (Chris Coy) – arrives in the small town of Moraine and confronts kindly barber Eugene Van Wingert (Scott Glenn) with what he believes to be his true identity and gives him a minor wound with a switchblade. John does not want to expose Eugene, however, since he tells Chief Hardaway (Stephen Tobolowsky) that he thought Eugene was his father who abandoned him. The next time they meet up, John professes his admiration for Visser and wants to learn from him; but Eugene insists that John has the wrong man and leaves him in the woods outside of town. John is picked up by local waitress Kelli (Olivia Taylor Dudley) who he takes back to his motel room and drugs. John summons Eugene to his room to see his handiwork, at which point a stunned Eugene recovers himself and promises to take John under his wing once he gets rid of the body. Eugene's lessons about being observant and invisible ("white noise") prove frustrating and too didactic for John, but applies them effectively and manages to subsequent disappearances and disposals more effectively than his first which Eugene tells him was witnessed by the motel clerk. When a woman's body is found torn apart by coyotes in the next county, Hardaway starts leaning on John while identification is pending; but John soon finds he has two more immediate threats. When Eugene's barber shop protégé Luis (Max Arciniega) mouths off one time too many and is fired, he persecutes John who he perceives as his replacement in the shop and discovers something incriminating about him that might sway Eugene's favor back towards him. John's girlfriend Audrey (Kristen Hager), an undercover Chicago PD cop, has discovered his interest in Francis Visser and followed him to Moraine against her superior's (Tim De Zarn) orders. Carrying out her own investigation on Eugene while posing as a hooker, Audrey's observations take her further away from John's findings and sharing the same doubts as his father's colleagues. Even if Eugene is indeed Francis Visser, does that make him an ingenious serial killer who has evaded capture for twenty years or a lonely old man in need of some particularly warped company after his own persecution?

With twenty-five years of more prominent roles between The Barber and Silence of the Lambs, Glenn's own turn as a possible serial killer is an impressive studied half of a dual character study (rather than what the cover/poster art of a trench coated razor-wielding Glenn suggests), the nuances of which enliven a neat cat-and-mouse script populated by less-than-interesting secondary characters. Just as John may be looking for some vindication for his dead father, it could be just as likely he is resentful of his father's failure to catch the killer and suicide and looking for a replacement father figure. Similarly, Eugene's adages to troubled Luis who he has taken under his wing is comparable to those he parcels out to John in his schooling, equally applicable to being a serial killer or a moral life (advising both to be mindful of what you leave behind). The ending twist is dramatically satisfying if a little too tidy in its theatrical cut version (the alternate ending on the Blu-ray release extras is not only shorter but includes a last line of dialogue that brings things full circle). Not a perfect character study, but definitely more interesting than your average serial killer manhunt procedural.

Video


A perfectly respectable job from Arc Entertainment with their single-layer MPEG-4 AVC 2.35:1 encode of this slickly-lensed HD production.

Audio


The English DTS-HD Master Audio 5.1 track is a relatively restrained affair with some atmosphere in the surrounds, but TV composer Freddy Sheinfeld's mostly understated score occasionally bursts across all channels effectively. Optional English SDH subtitles are also provided, which might help for some of Glenn's softer-spoken moments for the hard of hearing (although they are well balanced in the mix).

Extras


Extras include a series of deleted scenes, extended scenes, and an alternate ending (3:19); the latter of which is the only one not wisely deleted, indeed it is superior to the extension seen in the finished cut of the film. The deletions and extensions do, however, show that the filmmakers did privilege the overall flow and tone of the film over moments that would flatter the performers. Also included are the film's trailer (2:20) and start-up trailers for Something Wicked, Zarra's Law, and RPG (Real Playing Game).

Overall




---
DVD Compare is a participant in the Amazon Services LLC Associates Program and the Amazon Europe S.a.r.l. Associates Programme, an affiliate advertising program designed to provide a means for sites to earn advertising fees by advertising and linking to amazon.co.uk, amazon.com, amazon.ca, amazon.fr, and amazon.de.