The Film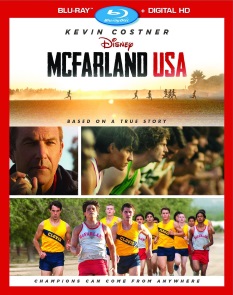 Fired from his last coaching job for his temper and verbal abuse that he considered character-building, high school football coach Jim White (Kevin Costner) is out of options when he moves his wife Cheryl (Maria Bello), teenage daughter Julie (Morgan Saylor), and younger daughter Jamie (Elsie Fisher) from Idaho to the Bakersfield-adjacent town of McFarland, the "Fruit Bowl of California" to teach at a predominantly Latino high school teaching life science, physical education, and serving as "overqualified assistant coach" to coach Jenks (Chris Ellis Jr.) for a terrible football team. Unable to get his class enthused about sports – and unwilling to get involved in their lives outside of class despite the urgings of sassy but earnest fellow teacher Maria Marisol (Vanessa Martinez) – he has them run laps and notices their speed and endurance. Jim pitches the idea of starting a Cross Country team at the school to Principal Camillo (Valente Rodriguez), countering his objections to the "country club sport" with the reasoning that the kids carbo-load on beans and rice, use their feet to get everywhere, and spend hours picking fruit and vegetable in extreme heat. When it comes to the financial concerns, he points out that the government pre-approved six sports for immediate funding for new lockers and equipment, including Cross Country. The idea turns out to be a harder sell on his team prospects – Thomas Valles (Carlos Pratts), José Cardenas (Johnny Ortiz), Johnny Samaniego (Hector Duran), Victor Puentes (Sergio Avelar), and the Diaz brothers: David (Rafael Martinez), Damacio (Michael Aguero), and Danny (Ramiro Rodriguez) – as well as their parents who need their help in the fields before and after school just to get by. Although they perform poorly on the first invitational meet in Palo Alto and are further dispirited by the pointed trash talk from their more privileged competitors, they persevere under Jim's guidance while Cheryl and the kids find themselves adapting to the town and making friends. As Jim struggles to keep the boys on the team – including volunteering himself to pick fruit and vegetables with the Diaz brothers to make up for the time taken away for practice and attempting to help Thomas through his problems with his unemployed father – he realizes that coaching does extends beyond the end of the school day and that he cares more about offering them a future than just winning a competition. The town also begins to rally around the Cross Country team now known as the "McFarland Cougars" as the scores improve, and the Whites discover a sense of family with the community that they have never had elsewhere; but a sudden act of violence may destroy all of the trust and good will built between Jim and the community before the first state championship.

An uplifting film based on an inspiring true story, the problems with McFarland, U.S.A. lie not with the amount of creative license was taken with the true story (White had actually been teaching at the school for seven years before the championship and in the district since the sixties) so much as they way it fall into the sports movie clichés – especially the youth sports movie clichés – and the way it shoehorns in the racial aspect of Jim's character arc into an already cluttered story. Despite the leisurely two hour plus running time, the film cannot encompass backstory for each of the seven runners beyond vagaries of the stresses of economic hardships and family issues, and actually seems to take pains not to be specific for fear of turning any of the into Latino stereotypes negative or otherwise; it is really only through the amiable performances of the young cast – particularly Pratts whose character has the most emotional angst – that we empathize with what little with which they have to work. The underdog character making a decisive point also comes into play here with overweight Danny Diaz's steady performance as the team's anchor figuring into Cross Country's combined scoring system where placement is decided by the summation of the finishing places of the team's first five finishers (which perhaps makes the sport even more of a good metaphor for unity in teamwork than in other sports movies). A good amount of the running time is devoted to White's bewilderment at the kindness and generosity of the town's Latino community and apologizing for his presuppositions about them – particularly Victor's ex-con uncle (Rigo Sanchez) – that it is not such a surprise that he will overreact when his daughter is more scared than hurt after a run-in with out-of-nowhere gangbangers (after the Quinceañera his friends help him throw for her after he forgot her fifteenth birthday). A few remarks from the more socio-economically advantaged white runners in the opposing team is more trash talk than bigotry, so it may be refreshing that the actual threat to the runners does not come from sabotage but from overtaxing their own bodies to prove themselves; nevertheless, the climactic championship race is lacking in suspense not because viewers familiar with the true story know they won (and the target audience for a Disney sports film is not ready for the personal growth in spite of a major loss narratives) but because the filmmakers stylistic take on it. In the end, McFarland U.S.A. may be a mostly well-made and well-intentioned feel-good film, but I am not certain how likely it is to really drive and inspire its young viewers rather than just gratify them for the duration of its running time.

Video


Disney's BD50 1080p24 MPEG-4 AVC 2.35:1 widescreen presentation is state of the art and faithful to the film's deliberately warm and sometimes washed out sweltering southern California look, tanned and sunburnt skin tones, and deep blacks in the night exteriors.

Audio


The original English 5.1 track in lossless DTS-HD Master Audio 5.1 is admirably restrained with surrounds that are more atmospheric than directional most of the time in keeping with both the tone of the film. Other audio options include and English Descriptive Video Service track in Dolby Digital 2.0 stereo, as well as Portuguese and Spanish Dolby Digital 5.1 dubs and a Thai Dolby Digital 2.0 stereo dub.


Although the cover states the presence of English SDH and Spanish subtitle tracks, the menu also lists English, Portugese, Korean, Thai, and two Chinese subtitle options, and additional Indonesian and Malaysian subtitles are selectable from the subtitle button.

Extras


Extras seem plentiful but are actually not all that comprehensive. McFarland Reflections (8:27) is a conversation between Costner, White, and the original McFarland seven at a family gathering that is lacking in depth (if only because the parties are all so honored to be in each others' company). Inspiring McFarland (2:01) is more like a promo of clips and comments from director Niki Caro and a few of the actors on how inspirational the story and the characters were to them.


A short selection of deleted and extended scenes (8:10) are indicative of just how difficult it seems to have conveyed backstories for all of the kids even within the film's two hour plus running time. Among them is a scene that at least acknowledges the threat of gang activity dogging Javi before the end of the second act, although it happens outside White's perspective and the film wanted to surprise the audience along with White about Javi's reformed nature. Completely absent from the film is any reference to José living on his own (with his mother dead and his father in Mexico) and White looking for safe living arrangements for him. A final deleted scene in which Thomas' father leaves might better motivate his surprise when his father shows up for the championship (although his father's general lack of enthusiasm in an earlier scene could also be the reason he is surprised). The excised scenes are nice but no big loss. Also included are a music video for the song "Juntos" (3:25) heard over the end credits as well as some previews.

Overall