30 Degrees in February: Series 1 (TV)
R2 - United Kingdom - Arrow Films
Review written by and copyright: Matthew Crossman (7th July 2015).
The Show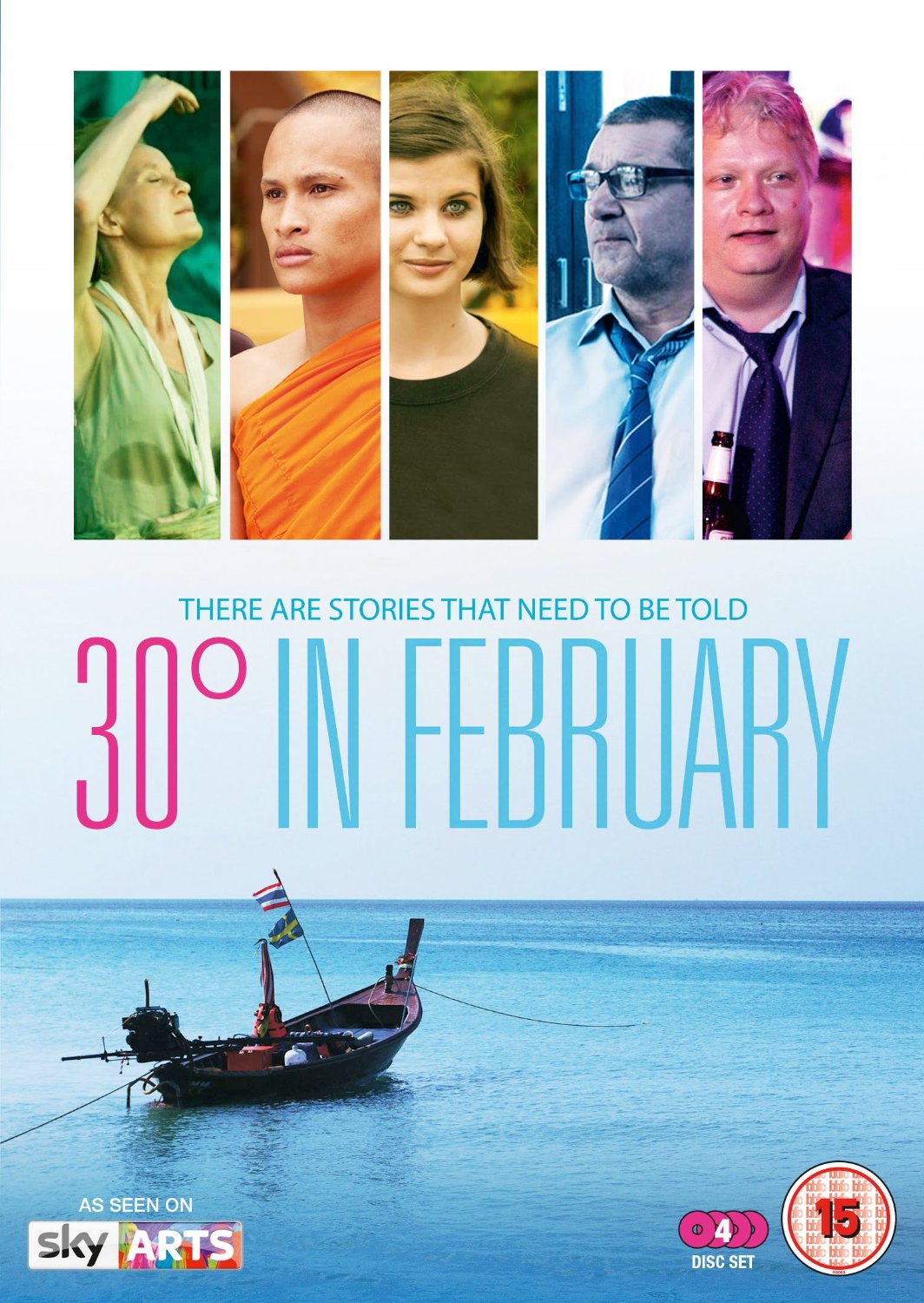 The story follows the lives of a group of different people, under very different circumstances, who travel to Thailand from Sweden.

Kajsa (Maria Lundqvist) is an architect and a workaholic who lives with her two daughters. One fateful day she has a serious stroke and is hospitalised. After her release from hospital, and still unable to move her right arm, she takes the decision to go to 'Happiness'. 'Happiness' is a serious of rooms situated on a Thailand beach where Kajsa once had a holiday with her family. Upon arriving she discovers that 'Happiness' is closed down and is up for sale.

Kajsa then makes the decision to buy 'Happiness'. Majilis (Lotta Tejle) is the long suffering Wife of Bengt (Kjell Bergqvist). Bengt used to be a pilot but is now confined to a wheelchair and in constant pain. He takes his frustrations out on Majilis. Majilis has booked them a holiday to Thailand. She longs to see something of the World and to escape the oppressive nature of her Husband.

Then we meet Glenn. Glenn is a heating engineer who wants nothing more from life than a Wife and some children. Unfortunately Glenn is no George Clooney (despite using the picture of the famous actor on a chat site on the internet). When a woman from Thailand shows an interest in him he leaves his job and sets off in the hope of love.

30 Degrees in February is brought to DVD by Arrow Films. It's ten episodes had previously aired on Sky Arts in 2014. The show was a massive hit in Scandinavian countries and was nominated for an International Emmy award in 2014, and it's not hard to see why. With the three different strands of stories the show moves at a good pace despite some of the more sedate parts of the storyline. Each episode splits itself up between the three stories often having a ten or fifteen minute segment before switching to a different storyline, and then back again. This ensures that the storylines remain fresh and create a mini cliff hanger in the episodes which keeps the viewer rooted to the screen. The characters are extremely well portrayed by the cast and one cannot help feel involved in their lives. The character of Majilis is so downtrodden that the viewer can't help but pity her situation and despise Bengt, her Husband, despite what he may or may not be going through in regards to his illness. Glenn is another fantastic character, superbly portrayed by Kjell Wilhelmsen, who is a sweet man but one that is unfortunately extremely naive. All the characters in the programme discover that although they maybe able to escape their drab lives in Sweden their problems will still be with them in the vibrant, warm climes of Thailand.

This nine hour and twenty minute series is spread over ten episodes. Arrow have split these episodes over four discs with episodes 1, 2 3 on disc 1, 4 and 5 on disc 2, 6, 7 and 8 on disc 3 and the final two episodes on disc 4.

Video


The picture quality is excellent from the grey, snowy urban scenes set in Sweden to the vibrant colours of the streets, beaches and seas of Thailand. The colours of swimming pools, and seas really stand out. The streets of Thailand, especially at night, are portrayed so naturally on disc that you can almost feel the sweat beating on your brow as you watch. The picture is 1.78:1 anamorphic (16:9) as originally broadcast.

Audio


There is only one choice but it's a good one. The Dolby Digital 5.1 is excellent, especially once the show moves to Thailand. The sounds of birds, waves, and other guests at the hotel are superbly realised through the rear speakers. This being an almost 'kitchen sink' drama, the sub woofer does not get much of a work out but is used to good effect during the bar scenes. Subtitles are provided but these are only for the non-English speaking sections of the programme. Viewers that are hard of hearing will not benefit from the subtitles during these sections of the programme. The subtitles are computer generated, white, and reasonably unobtrusive.

Extras


There are no real extras at all. This is a shame because it would have been interesting to have heard from the cast or the writer for such an acclaimed series.

There are two trailers on the start up of disc one. These are for 'The Legacy' (a Danish television drama) and 'Crimes of Passion', a Swedish murder mystery television series based on the books of Maria Lang.

Overall


A thoroughly enjoyable television series. It is not hard to get involved with the characters as they are portrayed by an excellent cast. When the characters find joy the viewer will revel in their joy with them and consequently when disaster strikes, as it often does, the viewer will feel the anguish of the characters too. The show provides the viewer with a real rollercoaster of emotions and when one episode ends it's hard not to automatically reach for the next one, such is the desire to see what befalls these people next. Such was the success and popularity of the show that a second season is filming and should air later this year. Recommend.
| | | | | |
| --- | --- | --- | --- | --- |
| The Show: A | Video: A | Audio: A | Extras: E | Overall: A- |

---
DVD Compare is a participant in the Amazon Services LLC Associates Program and the Amazon Europe S.a.r.l. Associates Programme, an affiliate advertising program designed to provide a means for sites to earn advertising fees by advertising and linking to amazon.co.uk, amazon.com, amazon.ca, amazon.fr, and amazon.de.