Inspector George Gently: Series 7 (TV)
R2 - United Kingdom - Acorn Media
Review written by and copyright: Matthew Crossman (22nd July 2015).
The Show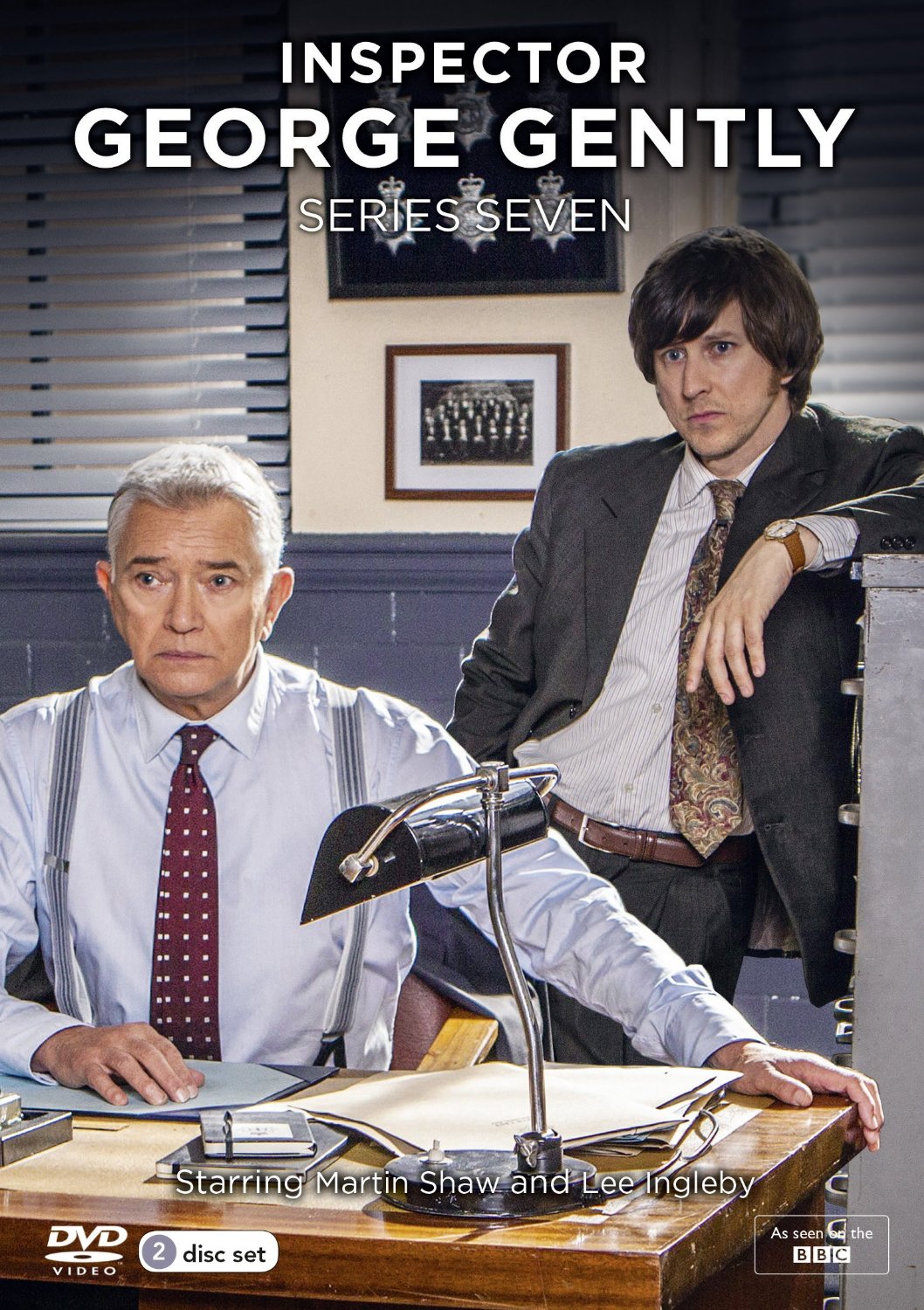 This two disc DVD set is the complete series seven with four episodes in total. The seventh series is the latest series to air on the BBC and was first broadcast, starting with episode one, in April 2015.

Disc One

Episode One
Gently With The Women (1.28:25)
Set in Durham in 1969, a young woman is brutally attacked and murdered. Gently is concerned that mistakes that have been made by one Inspector in particular and finds himself investigating two mysteries that are wrapped up in the case.

Episode Two
Breathe In The Air (1.28:59)
A woman, a young Doctor, commits suicide and Gently is on the case to investigate. Shortly after opening the investigation Gently becomes suspicious about the supposed suicide as too many details do not add up. Gently suspects murder and his subsequent investigations lead to a much bigger, darker picture that could threaten Gently's career should he pursue his leads.

Disc Two

Episode Three
Gently Among Friends (1.29:12)
A man is found dead having supposedly thrown himself off the Tyne Bridge and is discovered in a pile of rubbish. Gently does not believe the death is a suicide and suspects murder. As Gently investigates it seems that not only was the killer the victim's friend but was also a well loved person by everyone.

Episode Four
Son of a Gun (1.29:06)
It's Christmas Eve, 1969, and Gently and his team are enjoying a party until word comes through about a bank raid. This leads Gently into a the World of Skinheads. As the investigation progresses Gently starts to question about his and his team's role within the law and whether it can be allowed to bend once in awhile.

Inspector George Gently is a TV programme that was adapted for television by Peter Flannery and based on the novel by Alan Hunter. The series started in 2007 and bar 2013, has been on our television screens ever since. A very popular series, which regularly brings in more than six million viewers per episodes. Set in the 1960's The Inspector George Gently series harkens back to the days before political correctness and often features characters that have an air of brutality about them on both sides of the law. Martin Shaw plays the titular character and does so with aplomb. Lee Ingleby plays Detective Inspector John Bacchus, who in many ways, is the opposite of Gently in that he is an unsympathetic character. With each episode running for nearly ninety minutes it's actually unfair to call them episodes as the are films made for television. Although mentions are often made of previous episodes each film is self contained and can be watched without having seen any other films in the series. Inspector George Gently is the sort of programme that the BBC does extremely well. There is no excessive bad language and the violence and scenes of a sexual nature are rarely explicit despite story lines involving rape and violent robbery. The discs are rated as 12.

Video


As you would expect from a recent television programme the picture quality is fine. Broadcast, and presented on these DVD's as 1.78:1, they are exactly what you would have seen when the BBC first broadcast them to your television.

Audio


English Dolby Digital 2.0 Stereo is the only audio option available. It's perfectly acceptable, if undramatic. Dialogue is perfectly clear. There are English HoH subtitles available. These are presented as white, computer generated and are quite blocky. One annoying aspect of the subtitles is that at the beginning of an episode, when the credits are still running at the bottom of the screen, the subtitles are moved to a third from the top of the screen and often obscure characters' faces. Thankfully, once the credits have finished, the subtitles revert to their normal place at the bottom of the screen and become less intrusive.

Extras


All the extras are on disc one.

Interview with Jim Moir (Vic Reeves) (2.30) - Jim Moir is interviewed on the set of 'Gently Among Friends'. Moir talks about his character and how he is a fan of British crime dramas and how he lobbied to a get a part on Inspector George Gently. Moir also tells us what item he would take back to 1969 and what his most vivid memory is of the period.

Interview with Lesley Nicol (2.39) - Nicol, who plays Bridget in the episode 'Breathe In The Air', is interviewed on set about her character in the film, and the production detail in the series in general.

Interview with Martin Shaw (2.39) - Martin Shaw discusses his character's traits, about his character's relationship with other members of the cast, and about the locations in Durham.

Picture Gallery (1.03) - A series of colour stills taken from the production of the seventh series of the programme.

Overall


An enjoyable and popular television programme that can be enjoyed by almost all members of the family. Shaw as Gently is excellent, as are the majority of the cast, and all the films are engaging and interesting to watch. Each film is played straight (as opposed to say, 'Life on Mars' or 'Ashes to Ashes', and the attention to detail in recreating the late 1960's is excellent. If you liked previous series' of Inspector George Gently then you will know exactly what you are going to get but those new to the series might just be surprised at how good the overall production is.
| | | | | |
| --- | --- | --- | --- | --- |
| The Show: A- | Video: B+ | Audio: B- | Extras: C | Overall: B+ |

---
DVD Compare is a participant in the Amazon Services LLC Associates Program and the Amazon Europe S.a.r.l. Associates Programme, an affiliate advertising program designed to provide a means for sites to earn advertising fees by advertising and linking to amazon.co.uk, amazon.com, amazon.ca, amazon.fr, and amazon.de.