The Film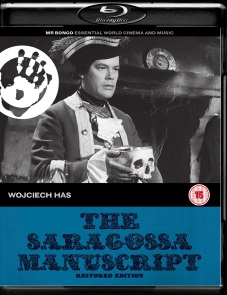 Based on the labyrinthine novel by Jan Potocki, The Saragossa Manuscript opens with the discovery of the document by a nineteenth century French soldier (Igor Przegrodzki) and his Spanish captor (Gustaw Lutkiewicz) who soon both become enthralled by the book's illustrations and the latter's realization that the text concerns his grandfather Walloon Guard Captain Alfonse Van Worden (Ashes and Diamonds' Zbigniew Cybulski) passing through the nearby cursed Sierra Morena mountains on the way to Castile. When superstitious guide Mosquito (Jerzy Kaczmarek) disappears with the supplies, Alfonse sends his attendant (Wojciech Skibinski) after him while he resolves to spend the night at the inn of Venta Quemada where even the proprietor and cook will not stay past sundown. With night upon him, Alfonse discovers that he is not alone in the inn when a topless maid informs him that two foreign ladies staying there would like to invite him to supper. Leading him into a palatial chamber that contradicts the otherwise modest-seeming accommodations where he feasts with sisters Emina (Iga Cembrzynska) and Zibelda (Joanna Jedryka), two Tunisian princesses secretly in Spain. Although initially suspicious that the two women might be demons, repelled as they are by his locket which contains a fragment of a religious relic, Alfonse is seduced by the pair, unnaturally close as they are, who claim to be related to him through the Gomalez family on his mother's (Miroslawa Lombardo) side – who his father (Slawomir Lindner) met while passing through Sierra Morena after being wounded in a dual – and that they are destined to marry the same man provided that he is a Gomalez. They tell him that until he accepts the Prophet's Law he will only be able to see them in his dreams and that he must make a vow to keep their existence a secret. He wakes up the next morning in the Sierra Morena's gallows using the corpse of one of the two hanged Zoto Brothers as a pillow. Returning to the inn, he finds that the innkeeper has no knowledge of his stay the previous night and finds the chamber of the sisters changed. Endeavoring to escape the Sierra Morena, he finds himself caught up in a cycle of events that, however varied, keep returning him to Venta Quemada, the sisters, their sabre-wielding sheik father, and the walking dead corpses of the Zoto Brothers who promise infernal punishment for breaking his oath even as the myriad other characters he meets – including the Inquisition (who already believe that officers of the guard are heretics) – try to directly and indirectly attempt to elicit the experience from him.

Based on a novel by a Polish aristocrat written in French and set in Spain (and acted here by Polish actors playing Frenchmen, Spaniards, gypsies, and Muslims), The Saragossa Manuscript is part gothic mystery and part picaresque. Its seemingly digressive structure of stories within stories, and flashbacks prompting flashbacks actually disguises a clever structure. Each of the stories Alfonse hears, while outwardly designed to delay his escape in an almost Arabian Nights-esque fashion also serve to enforce the importance of keeping an oath, with the consequences ranging from comedic dishonor and humiliation to madness, disfigurement, and the promise of infernal torment. The exception seems to be in cases where true love rather than lust is the motivating force, with its redemptive qualities and tendency to reveal hypocrisy in those who spurn or oppose it. The real sense of mystery comes from whether Alfonse is being tested and challenged for his immortal soul or already damned and being toyed with. A religious hermit (Kazimierz Opalinski) who keeps watch over and has been trying to exorcise the possessed, one-eyed madman Pacheco (The Promised Land's Franciszek Pieczka) has the afflicted man tell Alfonse of how his newly remarried father (Ludwik Benoit) discouraged attraction to his young bride's (Barbara Krafftówna) virginal sister Inezilia (Pola Raksa), and their fateful secret rendezvous at Venta Quemada. Hiding out from the Inquisition in the castle of a Cabbalist (Kanal's Adam Pawlikowski) and his beguiling sister (Beata Tyszkiewicz), Alfonse is treated to a multi-tiered entertainment from gypsy chief Don Avadoro (Knife in the Water's Leon Niemczyk) featuring a philandering Knight of Malta (Bogumil Kobiela) concerned about the fidelity of his mistress, a duplicitous wife (Elzbieta Czyzewska) who gaslights her possessive husband (Janusz Klosinski), a merchant's son (Krzysztof Litwin) in love with a girl (Jadwiga Krawczyk) who belongs to a family with which his father (Stanislaw Igar) has forbidden involvement, and the roguish conman (Zdzislaw Maklakiewicz) who may have motives less altruistic than matchmaking. The film itself has more moments of comedy than genuine horror – although it does contain one or two legitimate scares – while maintaining an atmosphere of suspense and the macabre with the Sierra Morena a Tarot-like landscape of hanged men, skulls, bones, daggers, snakes as lovingly lensed as the more baroque sequences by Krzyzacy's Mieczyslaw Jahoda. The scoring of avant-garde composer Krzysztof Penderecki – best known to western audiences for the largely atonal pieces Friedkin and Kubrick selected for the soundtracks of The Exorcist and The Shining – starts off more traditionally, quoting romantic motifs as well as Beethoven's "Ode to Joy" and Spanish guitar throughout while introducing subtle and unnerving electronic elements during the Sierra Morena scenes. The story does not exactly wrap around as expected other than showing how the manuscript wound up in Saragossa, but the rewards is in the telling not the tying up of all loose threads.

Video


First released on DVD in the United States by Image Entertainment in 2002 (following it's 1999 theatrical release from a print donated to the Pacific Film Archive by Jerry Garcia), and then by Mr. Bongo in the UK in 2008 (making it the first uncut release there since the 1966 UK theatrical ran 124 minutes), Mr. Bongo's Blu-ray takes advantage of the HD transfer that appeared on region free Blu-ray in Poland last year from Zebra in one of a series of digi-book releases including Has' The Hourglass Sanatorium as well as Andrzej Wajda's Man of Iron, Man of Marble, and The Promised Land. Although brighter, sharper, and correctly framed at 2.35:1 (compared to the Image disc which was framed at 1.90:1 but only minutely cropped and a bit more noticeably squished), the dual-layered 1080p24 MPEG-4 AVC widescreen transfer - which reproduces the Polish encode to the millisecond and at the exact same bitrate - does sport sport some digital manipulation making it simultaneously imperfect yet better than anything that has come before.

Audio


Carried over from the Polish edition is the DTS-HD Master Audio 5.1 track that has some separations but is very faithful to the original mono mix. Optional English subtitles are included.

Extras


None of the scant extras have been carried over from the Polish package nor any helpful contextual extras (like the Image Entertainment liner notes that attempted to clarify the structure of nested flashbacks and characters as they appeared in the novel) or even the Image disc's isolated score track.

Overall


The lack of any extras is unfortunate but this easy-acquired edition should suffice for those making their first journey to Sierra Morena.