The Film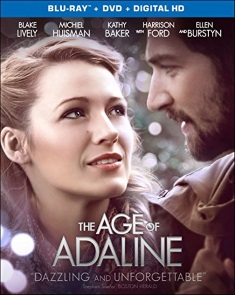 The Age of Adaline's conceit of a twenty-nine year old woman (Blake Lively) who stops aging as the result of a car crash and spends the next eighty-odd years on-the-run is not really a tale of magic realism along the lines of Simone de Beauvoir's All Men Are Mortal since director Lee Toland Krieger refuses to let anything unfold naturally. Instead, the script brings in thankfully intermittent yet incredibly irritating narrator Hugh Ross to laboriously explain that that Adaline's condition is the result of a contrived series of natural events, including a genetic principal that will not be discovered until twenty-odd years after the story proper; indeed, the film is so reliant on that narration to link a series of vignettes that the viewer is never given the pleasurable opportunity to lose oneself in the story and be disoriented by the shifts in time periods. Although the story has the potential for contemplation on love, loneliness, and loss as Adaline resolves never to tell anyone the truth about herself, live an intensely private life, and never fall in love since she sees no possibility of a future in a relationship, clothes-horse Adaline turns heads everywhere she goes and has more than a "single moment of weakness" – as the narrator refers to it – in terms of her love life. She breaks the heart of young Harrison Ford-lookaline/soundalike William (Anthony Ingruber) after a five week idyll only to confess to forty years older William (Harrison Ford) that, if she were to tell anyone the truth, it would be his son Ellis (Michiel Huisman), the idealistic, philanthropic billionaire-type without the Christian Gray peccadilloes (which, might have actually made this guy remotely interesting). Although Ford and Lively have more chemistry together than the latter and Huisman, young William and Adaline are not afforded enough screen time to make it the great love story it is supposed to be – which is just as well as Ingruber does a dead-on scowling Ford impersonation, but it is not a performance. However long the film lingers on and moons over Jenny (Adaline's current identity) and Ellis, their relationship is just as hollow with Huisman looking foolish when he confesses that "…nothing makes sense without her." Even the emotional potential of Adaline having to come to terms with her now eighty year old daughter Flemming's (Ellen Burstyn) mortality is scuttled, and the only tears the audience may shed on our protagonist's behalf come from the cheaply manipulative ploy of having to put her aged dog to sleep.

Although the camera loves Lively – replacing Katherine Heigl as the lesser of two evils – throughout, she is at her best at her most neutral as emotion makes her seem whiny, and even twitchy in the case of her climatic breakdown. Huisman's love interest comes across as pushy and obnoxious rather than tenacious while the usually excellent Burstyn makes barely an impression (as if she found the concept ludicrous but attempted to be a good sport). Coming off best are Kathy Baker as William's wife of forty years (who may or may not be his second choice) while Lynda Boyd and Amanda Crew are sadly underused as, respectively, Adaline's blind torch singer friend Regan (who thinks Adaline is as much a cougar as she) and Ellis' outspoken "Berkeley grad" sister. David Lanzenberg's photography, Claude Par้'s production design, Angus Strathie's costumes, and the score of Rob Simonsen are all uniformly sumptuous contributions, but they are all there is to savor in this film.

Video


LionsGate's dual-layer MPEG-4 AVC 2.35:1 widescreen Blu-ray features a picture – shot with one of the Red Epic models as well as Super 16mm film – that is nothing short of absolutely stunning throughout. Contemporary scenes have a restrained palette with contrasting warmly low-lit interiors and chilly exteriors while the flashbacks sport varying degrees of color saturation with particularly lush greens in the landscape that backs the first meeting of young William and Adaline. Some sequences are intentionally soft, including some shots that may have been de-focused digitally, but it appears to all be part of the visual design.

Audio


Released theatrically in Dolby Atmos, LionsGate's Blu-ray edition features a Dolby Atmos 7.1.4 mix (with a downward compatible Dolby TrueHD 7.1). While I do not have an Atmos system, I assume that the full-bodied and fully-active mix evident with a regular surround set-up does take exploit the vertical speakers particularly in the crash scenes (in which we are in the cars with Adaline as they tumble and roll over) as well as the many overhead aerial scenes that chart Adaline's movements through the city. Additional audio tracks include a Dolby Digital 5.1 Spanish dub and 2.0 stereo English Descriptive Audio. There are also optional English HoH, English, and Spanish subtitles.

Extras


The audio commentary by director Lee Toland Krieger is equally technical and anecdotal as the young director – a huge fan of commentaries, particularly those of – Paul Thomas Anderson and David Fincher – enthusiastically yet soberly discusses his impressions of the script, seemingly all of his visual inspirations (particularly the Roger Deakins-photographed Doubt), and details of how the visual effects were achieved from the more obvious ones to subtle photographic plates. While Krieger may or may not be diplomatic in his impressions of his cast as performers and people, it is quite refreshing for a studio commentary track that a director seems completely sincere in his words for his off-screen collaborators. It is a commentary educational enough for one to wish it were attached to a better film.


"A Love Story for the Ages" (29:38) is a behind the scenes featurette focusing on the development of the film from director Krieger's initial reading of the script in 2008 to the casting (without reference to replaced Heigl), cast impressions of their characters and Krieger's design, and Krieger's visual inspirations. "Style Thorughout the Ages" (18:19) looks at the development of the film's visual style and the authentic recreation of the various eras in terms of sets, props, and costumes while also keeping in mind the consistency of the film's overall visual design. The awkwardly titled "Discovering Young Harrison Ford: Anthony Ingruber, A YouTube Sensation" (8:19) in which director Krieger explains how he found Australian Ingruber on YouTube doing Harrison Ford impersonations, and screenwriter expresses surprise that young William is an actor and not a CGI creation. The featurette includes some of the online video as well as Ingruber's audition videotape. The deleted scenes (4:30) include a potentially interesting scene in which the fire department and police have to enter Adaline's apartment to investigate a gas leak and nearly discover evidence of her multiple identities. More interesting is the only scene in which Adaline has concern for Flemming's health.

Overall