American Heist
R1 - America - Lions Gate Home Entertainment
Review written by and copyright: Eric Cotenas (6th September 2015).
The Film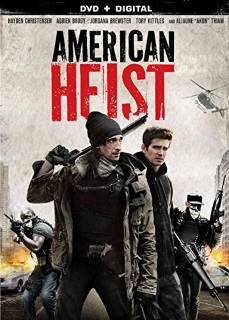 Out of prison for just one day after serving a ten year sentence, small-time thief Frankie Kelly (Adrien Brody) is destined to destroy his kid brother James' (Hayden Christensen) life again. Having been dragged into a botched robbery job by Frankie, most people remember James' eight-month jail sentence over his service in Desert Storm, and he has since been working in an auto garage with ambitions of opening one of his own. On the outside, Frankie falls in with his old cellmates/protectors Sugar (Akon) and Ray (Tory Kittles) and fellow two-bit thieves Spoonie (Luis Da Silva Jr.) and House (Aaron V. Williamson). Coaxed into driving Sugar, Ray, and Frankie along to meet a money man for a hinky-sounding real estate scheme, James finds himself made complicit in a murder of a man who has actually provided Sugar with codes to rob the vault of the New Orleans Federal Bank. James wants no part of the heist and is set to leave town when Frankie warns him that they involved him in the murder because they want his services. When Frankie also relays a veiled threat to the safety of James' old girlfriend Emily (Jordana Brewster) – recently to town to work as a police dispatcher after a decade-long pre-Katrina absence – James can only rail against his older brother's stupidity. When he goads him about being his cellmates' prison bitch, Frankie reveals not only his culpability in entrapping James, his fear of Sugar, and his misguided plan to make things up to his younger brother. Sugar, likening the heist to a new American Revolution against the capitalists, meticulously coordinates the bank job with James setting up a series of car explosions around the city as a diversion before meeting up with them as getaway driver; but a series of chance occurrences start to derail their airtight operation, and Emily is about to discover just how far her first love has fallen.

Although the film sports a hip-hop soundtrack and the presence of rapper Akon (who composed part of the soundtrack and executive produced with Brody, Christensen and his older brother Tove), this Canadian/Luxembourgian co-production from Armenian director Sarik Andreasyan is more of an attempt at a noir throwback that has its effective moments but does not entirely gel. The burgeoning romance between reunited Christensen and Brewster is completely lacking in heat or tenderness while the relationship between brothers is the belabored rehashing of all of the "it's always been you and me against the world" clichés. Punchable-on-a-good-day Brody what is either an extremely atrocious or truly inspired performance as a weasel whose exaggerated swagger is as much compensation for what was robbed of him in the slammer as a sort of arrested development stemming from a decade away from the outside world. Although the main action set-piece and realized with a certain amount of gusto, the heist is actually the least interesting part of the story to the point where the film feels like it is winding down at the same time it is trying to engender suspense and excitement. Apart from a clandestine meeting in one of the city's above-ground cemeteries, the film thankfully does not make much of the New Orleans setting clichés, instead making a picturesque backdrop out of the less touristy parts of the city (with additional location in Ontario). Model Rachel Bilson has a bewildering cameo as a mousey eyewitness to the robbery. In the end, American Heist is perfectly at home in its direct-to-DVD and streaming venues as a diversion.

Video


Photographed on the Arri Alexa, LionsGate's progressive, anamorphic encode looks respectably slick with its color noir look of warm lighting, prominent blues, and dark shadows well-represented in SD.

Audio


The Dolby Digital 5.1 track boasts clear dialogue but gives more dimension to the music than much of the sound design early on, but the mix becomes more involved as we move towards the heist and the action climax. Optional English and Spanish subtitles are also included.

Extras


The sole extra is "Creating a Complex Caper: Pulling Off AMERICAN HEIST" (25:55) in which the director discusses his love of eighties action movies by Scorcese, De Palma, and particularly Michael Mann (and it is interesting to re-watch the film within this context) while the actors focus on their characters (and Brody signing on to the project making it more attractive for them as well). The behind the scenes views give the viewer an idea of what the sets looked like before color correction, and also reveals some additional green screen visual effects not as obvious as the well-executed ones during the climax.

Overall

---
DVD Compare is a participant in the Amazon Services LLC Associates Program and the Amazon Europe S.a.r.l. Associates Programme, an affiliate advertising program designed to provide a means for sites to earn advertising fees by advertising and linking to amazon.co.uk, amazon.com, amazon.ca, amazon.fr, and amazon.de.