The Film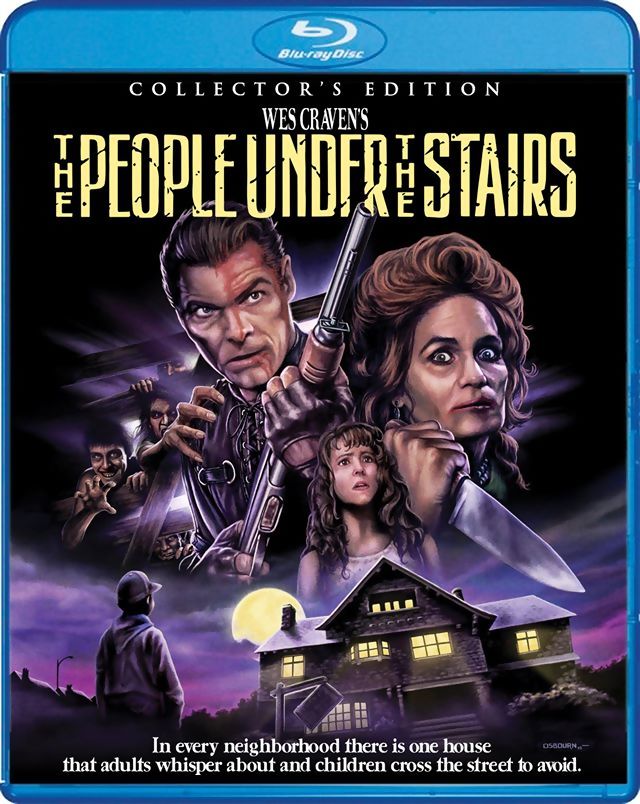 Many of horror's contemporary titans of the genre have been cemented in place since the 70's, when directors like John Carpenter, Tobe Hooper, George A. Romero (ok, ok… he was established in '68) and Wes Craven hit the scene with auspicious debut features. Part of the reason why their names have endured is because these directors were able to easily segue from the low-budget, stripped-down days of 70's filmmaking into the almost-cartoonish, gory excess of the 80's without missing a beat. Despite whatever levels of prestige they had achieved, however, many had difficulties adapting to the 90's environment. Romero was virtually M.I.A. for the entire decade. Even Carpenter, who was Master of Horror in the 80's, lost his footing a bit once 1990 rolled around (although I maintain his 90's output is undeservedly bashed).

But Wes Craven just kept right on rolling along. Looking over Craven's filmography, if there's one thing at which he is adept it is innovation. Really, it wasn't until the turn of the century that he started to stumble, delivering compromised pictures such as "Cursed" (2005) and "My Soul to Take" (2010), the latter of which actually has some solid moments before turning into… whatever the hell the rest of it was. Getting back to the 90's, Craven dropped the supernatural element found in his 80's output and crafted something horrific and grounded in reality: "The People Under the Stairs" (1991). The story works twofold, both as a straight-up tale of terror and as a socioeconomic story of strife within the sprawling city of Los Angeles. As a kid, this sort of subtext flew far above my head; as an adult, I can appreciate Craven's decision to pit haves-vs.-have-nots without making it terribly ham-fisted. One thing's for sure – almost twenty-five years later this film still holds up wonderfully, and the social messages it espouses are more relevant than ever.

Down in the ghetto of Los Angeles, Poindexter "Fool" Williams (Brandon Adams) and his family (including a sick old grandma) are about to be evicted from their rundown apartment after being three days late making the rent payment. Leroy (Ving Rhames), one of the "cool dudes" on the block has a plan: break into the landlord's house and steal the money. Seems logical. Fool, Leroy and red-shirt-associate Spenser (Jeremy Roberts) drive over to the house, which is a former funeral home, and attempt a couple scams in order to gain entry. Spenser succeeds in getting in… but he never comes out. Fool and Leroy, assuming Spenser is taking all the money for himself, break in once the owners leave. After gaining entry, both learn why getting out isn't easy – the place is fortified in every room, with padlocks and steel doors and hidden paths and a big, angry Rottweiler.

Their bad luck gets worse when "Daddy" (Everett McGill) and "Mommy" (Wendy Robie) arrive back home and see that someone has gotten inside. Fool finds he has a friend in Alice (A.J. Langer), the apparent daughter of the homicidal couple; however, he also has to overcome his fear of the people under the stairs – zombie-like residents of the basement who live within cages and the house walls, scavenging for food and supplies. Daddy's got a sadistic streak a mile long, and he quickly takes to hunting down both Fool and Leroy in this labyrinthine house of horrors.

Simply put, this is just good ol' fashioned horror. Craven lays out the stakes and sides early on – pitting the wealthy white upper class against the impoverished black community – and then turns both loose inside a sprawling home. The set design and cinematography do wonders to make the house seem impossibly huge, rife with so many hallways and rooms that getting lost seems certain. It is just as much a character as any of the actors.

This film came out the year "Twin Peaks" (1990-1991) ended, and Craven capitalized on that denouement by casting both Everett "Big Ed" McGill and Wendy "Nadine" Robie against type. Well, maybe not so much Robie, who was a subtler neurotic mess as Nadine, but Big Ed was a genial guy who spoke softly and carried a big stick. Here, Robie is turned up to 11 as the wannabe nuclear housewife with a plethora of skeletons (and partially decomposing corpses) in her closet. And McGill is absolutely seething and searing as Daddy, a man who shoots first, and second, and then maybe asks questions. Did I mention they're also cannibals? They're one of the most twisted couples in horror.

A.J. Langer doesn't have a whole lot to do as the adopted daughter of the family other than acting meekly and trying to find her voice. Her parents are so abusive it would make >a href=http://www.imdb.com/name/nm1129499/>Joe Jackson wince. She helps Fool as much as she can, though. Still, I've always loved her role here simply because I had the biggest crush on her when I was younger. She was the sole reason I watched "My So-Called Life" (1994-1995).

Craven makes sure the dirty deeds are delivered, too, with KNB handling all of the bloody effects. Gory moments are spread throughout, never overdone, with the nastiest bit coming around the halfway mark when Daddy carves up a corpse, feeds some of the pieces to the people chained up in the basement and then dumps the body into a watery underground tank filled with partially decomposed remains. The film isn't explicit in displaying the total depravity of the couple, though, implying more than showing.

"The People Under the Stairs" holds up great after all these years. Craven's film is packed with equal parts horror, social commentary, gruesome savagery and strong performances. The lack of otherworldly elements only adds to the visceral reaction of watching the film – these events could, and likely have (to a degree), happened. The film definitely goes over the top at times (check out Daddy's hunting outfit) but that only ups the fun factor; it never goes so far that it becomes a joke. "Scream" (1996) may have been Craven's biggest hit of the 90's (and of his career), but I think "The People Under the Stairs" is the better film.

Video


Odds are good that Scream Factory's Blu-ray release utilizes the same 1.85:1 1080p 24/fps AVC MPEG-4 encoded image that Universal released back in 2014. No problem there, as that release was generally given high marks for retaining film grain and featuring an acceptable level of detail along with good black levels. Colors have been intentionally muted here, with the palette using darker hues; very little pops off screen, although crimson blood and Daddy's yellow apron are standouts. Some image detail is lost when the action moves to very dark settings, but it's never difficult to see what's going on.

Audio


Audio is presented in the form of an English DTS-HD Master Audio 5.1 surround sound track (48kHz/24-bit) or an English DTS-HD Master Audio 2.0 stereo downmix. Effects are discreetly placed, aiding in the sense of being trapped in a large, active home. Dialogue comes through clean and clear, no hisses or low levels to be heard here. The score by Don Peake and Graeme Revell sounds full and robust, with great fidelity. Rears aren't quite as active, though the film was originally released in theaters with a Dolby Stereo mix so their relative lack of activity can be overlooked. Subtitles are included in English for the hearing impaired.

Extras


This being a "Collector's Edition", expect to find a whole host of goodies here including audio commentaries, featurettes, interviews, theatrical trailers, storyboards and more.

Writer/director Wes Craven sits down for an audio commentary, moderated by Blu-ray producer Michael Felsher. Those who have heard Craven speak before know he is informative, eloquent and measured in his delivery of the goods. Felsher does a great job of keeping the pace and asking scene-specific questions. Definitely worth a listen.

Next up, an audio commentary that isn't quite as memorable - this one featuring actors Brandon Adams (Fool), A.J. Langer (Alice), Sean Whalen (Roach) and Yan Birch (Stairmaster; the creepy dude with the pitted face, not the piece of exercise equipment). With no moderation, this one quickly devolves into everyone watching the movie. There are sporadic bursts of information, but otherwise this is a snoozer.

"House Mother with Wendy Robie" (1080p) is an interview that runs for 19 minutes and 26 seconds. Robie, who has aged rather gracefully, covers some highlights from her career such as being typecast in horror despite not being a fan of the genre and how much she loved working with Wes and the rest of the cast on this film.

"What Lies Beneath – The Effects of "The People Under the Stairs"" (1080p) is a featurette that runs for 15 minutes and 2 seconds. All three heads of KNB – Kurtzman, Nicotero, and Berger – discuss their time on the film and what was going on with KNB, which has just been formed a few years prior.

"House of Horrors with Director of Photography Sandi Sissel" (1080p) is an interview that runs for 16 minutes and 9 seconds. Sissel, who up to that point had mainly worked on documentaries, made her first horror film with Craven. She talks about the tight shooting conditions and low lighting, among other things.

"Settling the Score with Don Peake" (1080p) is an interview that runs for 10 minutes and 13 seconds. Peake, a collaborator of Phil Spector's at one point, was brought in on this picture after original composer Graeme Revell exited.

"Behind the Scenes Footage" (SD) is a featurette that runs for 6 minutes and 39 seconds, this is comprised of on-set camcorder FX footage when Daddy slices up Leroy.

A theatrical trailer (1080i) runs for 1 minute and 18 seconds, while some TV spots (1080i) run for 1 minute and 21 seconds.

A vintage "Making-of" featurette (SD) runs for 3 minutes and 43 seconds.

A sampling of original storyboards (1080p) runs for 6 minutes and 55 seconds.

A still gallery (1080p) features 52 images, running for 4 minutes and 17 seconds.

Packaging


The single disc comes housed in a standard Blu-ray keep case. The cover art is reversible, showing either new artwork or the original key art. A slip-cover is included on first pressings.

Overall


Craven's film was freaky and fun way back when I first saw it as a kid. All these years later, it holds up solidly. Scream Factory's new Blu-ray looks great and is packed with bonus features, making this one easy recommendation for fans.
| | | | | |
| --- | --- | --- | --- | --- |
| The Film: B | Video: B- | Audio: B | Extras: A- | Overall: B |