The Film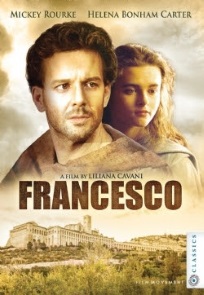 "What man can strip himself of everything to live like a lamb at the mercy of the wolves, who are so many and so fierce?" A biopic on the patron saint of animals and ecology from provocative director Liliana Cavani starring Mickey Rourke (pre-plastic surgery) would seem like an arthouse disaster, but Francesco is an intense, deliberately fragmented account of saint's life through the eyes of his disciples after his canonization in 1228. Childhood friends Bernardo (Diego Ribon) and Ruffino (Paco Reconti) describe his frivolous youth as the son of a wealthy textiles merchant (Paolo Bonacelli) before his capture and ransom during the war between Perugia and Assisi. Ruffino and fellow prisoner Egidio (Edward Farrelly) describe Francesco's discovery of a copy of the gospel in their spoken language translated by a heretic tortured to death by their captors. His father's advocate advocate Pietro (Riccardo De Torrebruna) and notary Leone (Fabio Bussotti) – tasked with transcribing the account – recall the changes in Francesco's behavior that so annoyed his father, who hoped for his son to become a gentleman. When a great lord turns up in Assisi rounding up young men for conquest in Apulia, Francesco's father sees this as an opportunity for the family to obtain a coat of arms as Francesco had wanted to become a knight since childhood. Former Crusader Angelo (Matteo Corsini) recalls how Francesco, ashamed of his societally-acceptable repulsion to the presence of a leper, gifted him the expensive armor his father had made for him. Besotted with Francesco from a young age, Ruffino's cousin Chiara (Helena Bonham-Carter) – who would herself be canonized as St. Claire of Assisi – recalls how Francesco's seemingly mocking remarks about her Christian charity caused her to think about whether she was charitable out of spontaneity or because she was taught to be so. When Francesco does not go to war and gives away household items to the poor, his father brings a civil suit against him for the money invested in him only for the council to rule in his father and be further humiliated when Francesco surrenders not only his claim on his inheritance but also quite literally the clothes off of his back. Seeing Christ in the suffering of society's outcasts, Francesco chooses to live among the poor, the sick, and the lepers, begging food for them and building shelters against the elements. His friends first secretly observe him on behalf of his father but come to believe that Francesco has indeed found something wonderful in the midst of filth and soon give up their belongings to join him (Ruffino offers his belongings to the poor only to find his home looted by opportunists who think he is a fool).

When Chiara too wants to cast off her obligations and join them, Francesco is concerned about her safety and Ruffino worries about what people will think of his cousin traveling alone with a group of men; but Francesco asks "Why limit the grace of God?" and erases the distinction between father, tender mother, brother, and sister; but, her uncle's ruthless attempts to get her back are only the start as the growing number of Francesco's disciples and the intolerance towards them have caused a disturbance of the peace. The local cardinal (Nikolaus Dutsch) impresses upon them to found a house. Appear before the Pope (Hanns Zischler) to approve their order, he and his advisors are skeptical but must give their approval since they it would be damaging to them if they were to declare that it is impossible to live the life of the Gospel. The order swells with young men coming from all over Europe, but they become frustrated with the idea of giving up all of their belongings and then continuing to give, as well as Francesco's vague answers when they ask directly how they can be like him. While Francesco stresses following the gospel to the letter, "glib talkers" (including Italian horror regular Stanko Molnar) insist on a more accessible (i.e. comfortable) rule. Even the Pope's sympathetic envoy (Mario Adorf) "confine" his dream: "It is less beautiful, and also sad, but necessary." Feeling as though he has failed, Francesco proclaims Pietro the new leader and abandons them for the mountains in search of council from God. Leone follows him to record a rule should God speak to him, but an increasingly sick Francesco is starting to believe that he is really insane ("just 'God's madman'") and, in his darkest moment, pleads with God to give him a sign.


A considerably different take on the life of Saint Francis of Assisi than Franco Zeffirelli's belated "flower power" take Brother Sun, Sister Moon and indeed very different in approach and concern from Cavani's own 1966 television production for RAI starring Lou Castel and inspired by parallels she drew between Francis and the beat generation whose influence was just reaching Italy, the 1989 Francesco drew on a wealth of new scholarship on the saint (once viewed, in Cavani's words, as a "quaint Saint who talked to birds") as well as her exposure to a 1904 monograph by Hermann Hesse. Francesco's enlightenment (and that of his disciples) is conveyed internally in reactions, words, and deeds; Francesco does not miraculously cure the leper with his embrace but demonstrates his love for a fellow man who hates himself (and does so again when the leper wants to kill himself after frightening Chiaria). The film's sole supernatural moment is open to interpretation yet moving in the way it takes away Francesco's despair (the way in which his disciples discuss it in the final scene suggests he did not brag about the stigmata nor offer it up to all as proof that he was right in his interpretation of the gospel). Performances are sometimes hampered by the English dubbing but generally of a high standard. Rourke looks a bit anachronistic with his messy eighties hair, ear ring, and barely-covered tattoos, but he approaches the role with sensitivity. His gratuitous-seeming nude frolic in the snow is presented as his struggle with his libido, drawing up a mound of icy snow over his groin before shaping it and a second mound into the images of his desire for a wife and child (the film was rated R upon initial release in America but has been re-rated PG-13 with frank but uneroticized nudity still intact). The handsome production design and costumes of Danilo Donati aim for authenticity and austerity compared to his work for Fellini (Donati also worked on Cavani's 1966 version as well as the Zeffirelli film). The first three weeks of production in Perugia were photographed by Ennio Guarnieri – who also shot Zeffereli's take – with the remainder shot by Giuseppe Lanci usually with faces and bodies lit in warm tones against colder backgrounds (with some other deliberately colder looking scenes reminiscent of Lanci's lighting techniques on Andrei Tarkovsky's Nostalghia). The ethereal scoring of Vangelis is sometimes moving and sometimes bombastic (including some ecstatic close-ups where silence would have been more effective). Cavani helmed another TV adaptation for RAI last year starring Polish actor Mateusz Kosciukiewicz as Francesco.

Video


Given scant release by Hemdale stateside in a cut significantly shortened to 104 minutes from the original 155, that version persisted on a number of unauthorized DVD releases. The longer Italian cut appeared on disc in Italy from Instituto Luce with English subtitles but only the Italian track in 2.0 and 5.1 (with Rourke and Bonham-Carter dubbed, of course). This edition was replaced with a barebones, unsubtitled version from General Video. Derived from a new 2K scan supervised by Cavani, Film Movement's BD50 1080p24 MPEG-4 AVC 1.78:1 widescreen presentation is handsome with a intentionally muted tones in the color schemes and lighting. Wardrobe and settings are brownish and gray with some rare reds and blues and usually lit with warm Rembrandt-like lighting, although some scenes are given a cooler blue tone that brings out the grays stone and pale pallor of the performers even more so. There might be a trace of waxiness in the faces but it may also be the sometimes obvious make-up applied to some of the actors to make them look sickly and the dead pope's eyes can be seen moving minutely when Francesco is whispering into his ear (I doubt it is supposed to be a sign of the miraculous). This international cut of the film (released on tape in the UK) is longer than the American version but shorter than the Italian at 133:11.

Audio


Audio for this Dolby Stereo film comes in English DTS-HD Master Audio 5.1 and LPCM 2.0 stereo. The 5.1 track gives a bit more depth to the music, but Vangelis' airy synths only have so much presence. The 2.0 track is more than sufficient. Optional English SDH subtitles or closed captioning would have helped with some of the more soft-spoken passages (more so Rourke than any of the dubbed performers).

Extras


The sole video extra for the film is an extract from the Cannes Press Conference (4:11) with Cavani, Rourke, Bonham-Carter, and a handful of the principal cast members. Rourke glibly comments that he did no research or preparation – trusting Cavani's interpretation – other than trying not to eat too much. Unfortunately, there are no subtitles, so viewers may be lost as the translator attempts to rapidly translate a question from a French journalist about the Italian reaction to an American superstar playing an Italian saint (Cavani's response is not translated, nor are the translator's attempts to clarify the question with the journalist). A brand new trailer for the film (1:48) – opening with a recent quote from Pope Francis – is also included, as well as trailers for five other Film Movement titles (three of which also appear as start-up previews). The package does feature a booklet with a new essay by Cavani discussing her motivations for shooting the film after her original RAI production as well as the newer RAI production, as well as a short essay by Brooklyn Magazine critic Aaron Hills.

Overall


Although one wishes the Film Movement package had been more comprehensive in terms of extras (including some information on the differences between the different cuts), it does offer the most respectful presentation this film has ever had stateside, allowing viewers to reassess the film as a different kind of religious epic rather than a Mickey Rourke oddity.