19-2: Season 1 (TV)
R2 - United Kingdom - Acorn Media
Review written by and copyright: Matthew Crossman (27th September 2015).
The Show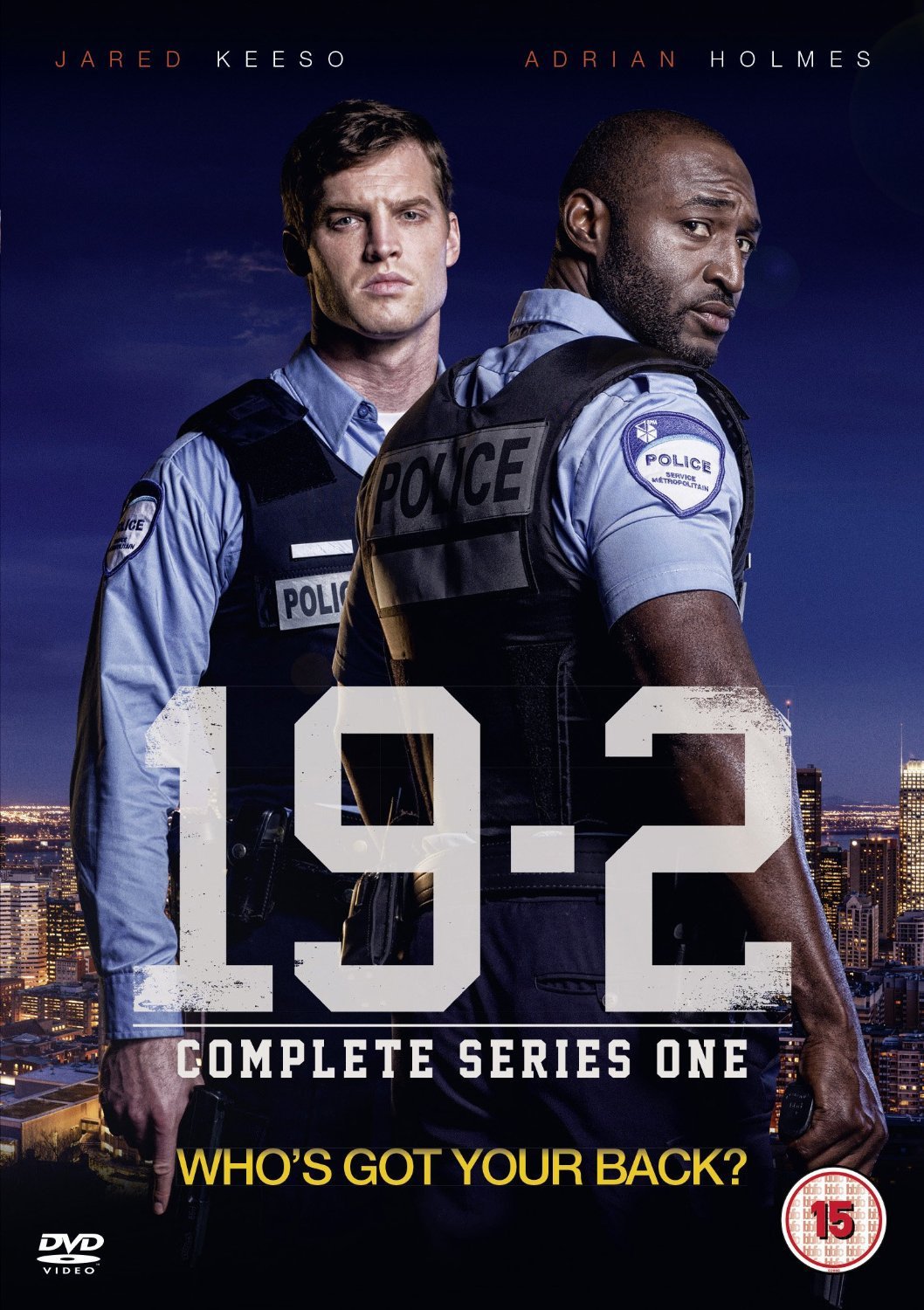 Episode 1 'Partners' (42.24) Nick Barron (Adrian Holmes) is a police officer in the Montreal Police Force. Whilst investigating a break in Barron's partner is shot and permanently disabled. Barron returns to work, still affected by his partner's death. On his first day back he is teamed up with a new recruit to the department, Officer Ben Chartier (Jared Keeso). Chartier arrives at the police station with his own personal baggage and neither man is happy to be partnered with each other.

Episode 2 'Deer' (42.28) Barron's guilt over his disabled partner is starting to impact on the way he acts in certain situations. Barron and Chartier later clash over how to handle some vandals that threaten Chartier's life. Chartier is also asked by his commander to report, or 'rat', on anything Barron does.

Episode 3 'Welfare Day' (41.52) Barron and Chartier deal with a domestic disturbance and Chartier has to confront an officer with a problem.

Episode 4 'The Party' (43.00) Chartier's personal problems become apparent and Barron is nearly killed due to the incompetence of another officer.

Episode 5 'Home' (43.22) Chartier's personal problems with his girlfriend get worse.

Episode 6 'Turf' (42.28) A past cover by Barron and Chartier comes back to haunt them.

Episode 7 'Lovers' (43.02) Barron and Chartier have a disagreed over a case and a big raid stretches the department to breaking point.

Episode 8 'Medals' (44.04) Chartier is involved in a relationship putting his own with Barron at breaking point.

Episode 9 'Islands' (42.31) One of the squad is brutally assaulted and this creates issues between the team members of the Montreal Police squad.

Episode 10 'Winter' (44.06) Barron receives some life changing news.

19-2 was originally filmed as a three season Canadian production in French. Such was the success of the series that an English language version was ordered. These two discs in this set represent the first series of that English language version. The show portrays what it is like to be a patrol man in the Police force in Montreal. The 19-2 of the title refers to the car number of Barron and Chartier. Each episode follows on from the previous episodes (including a 'what happened previously' at the start of each episode) allowing storylines to flow from one week to the next and this is a strength of the television programme.

Barron and Chartier's lives unfold before us allowing us to become emotionally involved. The show is filmed with a mixture of styles. There are lots of times when the use of hand held shots are incorporated giving the show a gritty and realistic feel. At other, usually more intimate moments, a more standard shot is used. Both techniques are used to good effect. The cast is good with Jared Keeso, playing Chartier and Adrian Holmes, playing Barron, taking centre stage in every episode. Both actors put much into their performances which require many ranges. Holmes especially is given much to do with his emotional range. The series was popular enough that a second and then a third series have been ordered with the third series yet to air. For anyone that likes police procedural programmes will enjoy this immensely. It's a series that harkens back to the days of 'Hill Street Blues' where the characters personal lives out of uniform is as important as the times where they wear the blue and protect the city.

Video


1.78:1 anamorphic. The picture is toned down with a blue/grey tinge. This is how the makers of the show intended the show to look. The representation on these DVD's is fine with no noticeable flaws.

Audio


English Dolby Digital 2.0 Stereo is the only option. Whilst this a police procedure show it has more than it's fair share of quiet moments. The stereo option is fine with dialogue being nice and clear and never drowned out by the shows sombre musical soundtrack. Nothing spectacular but perfectly serviceable.

Extras


Behind the Scenes with 19-2 (19.52) - The cast and crew discuss the storyline behind the television series. All the major members of the cast are interviewed and talk about their characters motives and the series as a whole. There are lots of behind the scenes shots filmed during shooting. The video quality of this extra is not as polished as the main feature and has evidence of some mild interlacing in places.

Picture Gallery (1.12) - A silent gallery of colour stills taken from the set of the show. A mixture of shots from the series and promotional shots.

Overall


Whilst it's true that '19-2' offers nothing really new for a police procedure show it is well acted with some dramatic storylines. The acting is excellent throughout and the show in general bears all the hallmarks of a top class television programme. If police television shows are your thing then 19-2 is well worth seeking out.
| | | | | |
| --- | --- | --- | --- | --- |
| The Show: B+ | Video: B | Audio: B- | Extras: C | Overall: B |

---
DVD Compare is a participant in the Amazon Services LLC Associates Program and the Amazon Europe S.a.r.l. Associates Programme, an affiliate advertising program designed to provide a means for sites to earn advertising fees by advertising and linking to amazon.co.uk, amazon.com, amazon.ca, amazon.fr, amazon.de, amazon.it, amazon.es and amazon.se.