The Film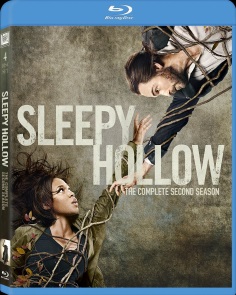 Sleepy Hollow's outrageous and history-be-damned take on Washington Irving's story is as ridiculous as can be expected from the J.J. Abrams-adjacent producers Alex Kurtzman and Roberto Orci (also currently behind the Hawaii Five-0 reboot, the Limitless-turned generic FBI procedural series, and the terrible "nerds combat terrorism" Scorpion shows). A taffy pull of mythologies along with tropes from just about every post-Buffy the Vampire Slayer TV show with a side of The X-Files, the Fox series recasts schoolmaster Ichabod Crane (Tom Mison) as an Englishman who is actually a spy for General Washington's army and married to Katrina Van Tassel (Katia Winter) who is revealed to be a witch. Romantic rival Abraham Van Brunt (Quantum of Solace's Neil Jackson) who fought alongside Crane and was killed by the Hessian Shadow Warriors. Selling his soul to the purgatory-bound demon Moloch, he becomes the Horseman of Death – one of the Four Horsemen of the Apocalypse – only to then become the "Headless Horseman" (Jeremy Owens) when he is decapitated by Crane in a fight in which both lose their lives. When the horseman is resurrected two-hundred-and-thirty years later, Crane is also resurrected as a result of the horseman's blood intermingling when they struck their death blows and soon teams up with modern day Sleepy Hollow police lieutenant Abbie Mills (Shame's Nicole Beharie) who is investigating the beheading of her mentor Sheriff August Corbin (Clancy Brown) and the subsequent murders of members of the Freemason society. In between the "monster of the week" storylines and a larger apocalyptic conspiracy, Crane contends with two hundred years of technological developments and bewildering twenty-first century developments while Abbie and police Captain Frank Irving (Orlando Jones ) come to the realization that Crane is not insane and the supernatural is real. Among the first season's revelations were that Crane and Abbie are the two witnesses prophesized by the Book of Revelations to battle the forces of darkness, that Abbie's sister Jenny (Lyndie Greenwood) was helping Corbin in gathering information on the Four Horsemen of the Apocalypse, Crane's own still-living son Henry Parrish (Fringe's John Noble) – aka Jeremy Crane – is the Horseman of War in league with Moloch to bring about the Apocalypse, and Katrina – having traded places with Abbie in purgatory – is the prisoner of the horseman who still has romantic designs on her (although the desired sanctified union between a horseman and a human may also serve certain infernal ends). Season two delves into the "true" nature of Benjamin Franklin's (thirtysomething 's Timothy Busfield) experiments – the real intent of his kite and key experiment is revealed in season two's opener – as well as Crane's rarely flattering views of historical figures of the time while apprenticing under Franklin and Thomas Jefferson (Steven Weber). Captain Irving inadvertently signs away his soul to Henry (posing as his defense attorney) and must decide whether he will take a soul to get his back or fight alongside the horseman during the End of Days. As Crane and Katrina try to reconnect in twenty-first century America, they realize that their relationship has changed and some of their very own beliefs and alliances conflict. Abbie and Jenny discover more about their own past, including their relationship with their estranged mother and Corbin's separate training of them. Henry also starts to question his loyalties (although asserting his own free will does not necessarily mean he will be switching sides). New and recurring characters this season include Corbin's son (Zach Appelman), emotionally neglected as his father concentrated on training the Mills sisters, womanizing rare goods dealer Nick Hawley (Matt Barr) who comes to believe in the power of the artifacts he is handling and starts battling the supernatural for the rush (and profit), and Irving's replacement Captain Leena Reyes (Sakina Jaffrey) who first believes that the body parts discovered around Sleepy Hollow are a drug cartel's intimidation tactics, while John Cho's remorseful Officer Andy Brooks tries to make amends to Abbie from purgatory in a "special appearance." Since a major characters who made the ultimate sacrifice before the fall finale were back up and running (more or less) a few episodes later, the two major characters who seemed to have been ultimately killed off during the season finale probably will be back next season.

Season Two Episode Overview:

2.01: "This is War" (44:02) – Crane and Jenny must find a key sidestep purgatory's rule of a life for a life in order to rescue Abbie, and to prevent Henry from using it to bring Moloch and his damned army across the threshold.

2.02: "Kindred" (43:39) – With the binding ceremony between Katrina and the horseman imminent, Crane and Abbie consider creating and unleashing a patchwork soldier of their own powerful enough to combat the horseman and possibly too power to control since it is powered by the horseman's lost head.

2.03: "Root of All Evil" (42:47) – Henry puts a coin into circulation that unleashes its users inherent darkness and turns its victims against one another.

2.04: "Go Where I Send Thee" (43:49) – While investigating the disappearance of a child, Crane and Abbie find themselves up against the child-stealing Pied Piper (Ryan Gray).

2.05: "The Weeping Lady" (43:22) – Crane discovers that the malevolent specter of a crying woman (Heather Lind) is someone from his past and Katrina may be responsible for what she has become.

2.06: "And the Abyss Gazes Back" (43:23) – The late Sheriff Corbin's son returns from war, but the darkness he is carrying within him may not be from the battlefield.

2.07: "Deliverance" (43:35) – Crane and Abbie race against the clock when they discover that Katrina has been impregnated with Moloch to bring him into this world.

2.08: "Heartless" (43:13) – Crane and Abbie are on the hunt for a succubus (Caroline Ford) unleashed by Henry to drains the life force of her victims in order feed Moloch.

2.09: "Mama" (43:41) – Abbie and Jenny investigate a series of murders at the Tarrytown Psychiatric Hospital (where Captain Irving is currently staying) and believe the culprit to be a demon they saw as a child.

2.10: "Magnum Opus" (42:17) – Crane and Abbie discover that the mythical Sword of Methuselah is capable of killing Moloch and must find it before the horseman does.

2.11: "Akeda" (42:53) – In the series fall finale, Abbie and Crane face off against the Horsemen and Moloch and one of them makes an unexpected sacrifice.

2.12: "Paradise Lost" (44:04) – Fallen angel Orion (Max Brown) arrives with noble motives but his zealotry makes him more dangerous than the Horseman.

2.13: "Pittura Infamante" (42:29) – An evil painting stains the fingers of anyone who comes into contact with it in blood and may be the portal through which its subject may pass into this dimension. Buffy the Vampire Slayer's Michelle Trachtenberg guest stars as Abigail Adams of all people.

2.14: "Kali Yuga" (43:48) – Hawley is reunited with woman who raised him (Jaime Murray) and discovers that she is a Hindu demon.

2.15: "Spellcaster" (44:03) – A warlock (The Doom Generation's Johnathon Schaech) escapes from purgatory to find his book of blood magic spells.

2.16: "What Lies Beneath" (43:54) – When a surveying crew exploring the catacombs beneath Sleepy Hollow disappear, Crane and Abbie discover a secret once (and possibly still) guarded over by Thomas Jefferson himself.

2.17: "Awakening" (42:42) – Henry tries to convince his mother that he wants to resurrect the good coven to which she once belonged, but Crane and Abbie suspect he has different motives.

2.18: "Tempus Fugit" (43:59) – When Abbie is hurled back in time to 1781, Abbie must look to Benjamin Franklin and the living Ichabod Crane (who does not recognize her or know about the existence of the supernatural) to fight the Headless Horseman who is now in league with a vengeful Katrina.

Video


The eighteen episodes of season two are spread over four discs, and the 1080p24 MPEG-4 AVC 1.78:1 transfers that nicely represent the film's skewed color grading and low lighting, with any possible video noise being hard to distinguish from what may be added grain effects. Sharpness and detail are sometimes occluded and smeared (most noticeably in the purgatory scenes) but close-ups are impressive and facets of production design do stand out suggesting that lesser shots and sequences are stylistic choices. The episodes can be played individually or in the helpful "Season Mode" which is a "Play All" option that not only plays episodes sequentially on the disc on which it is chosen but also bypasses the main menu and any start-up trailers with each subsequent disc as loaded.

Audio


Audio options include the full-bodied English DTS-HD Master Audio 5.1 track as well as lossy but more than adequate DTS 5.1 French dub and subtitles are available in English HoH, Dutch, French, and Spanish.

Extras


Extras start off with audio commentary tracks for three episodes. Show runner Mark Goffman appears with actress Beharie appear on "Mama" and then on appear on "Akeda" and "Tempus Fugit" with actor Mison (recorded with the two on separate continents). Beharie and Goffman reveal that Mison, like his character in the episode, was indeed sick and a quick rewrite placed more emphasis on Abbie's troubled relationship with her mother and her destiny as a Witness. On the mid-season finale, Mison and Goffman discuss how the episode – originally meant to be the seventh episode before the last minute elongation of the season from thirteen to eighteen episodes – was reflective of producer Len Wiseman's long-standing disappointment with the Moloch character despite effects artist Leo Corey Castellano's constant reworking of the make-up and the camera team's attempts to make him more scary visually through blurring and frame-stepping effects. On the finale, Mison and Goffman discuss how the 1781 storyline fully fleshes out Crane's life before he loses everything dear to him at the climax of the episode, as well as the new "family" he establishes at the end.

The first disc features "A Salute to Sleepyheads" (14:04) focuses on the pilot's marketing at Comic-Con and the coining of the term "Sleepyheads" for the large fanbase the show has accrued over two seasons. The majority of supplements are on disc four including "Mysteries and Mythology: Secrets of Season Two" (29:43), a spoiler-heavy episode-by-episode discussion of the trajectory of the show's various character arcs, the themes of family and redemption, as well as the introduction of characters and notable creatures. "Monsters and Mayhem: The Creatures of Season Two" (13:23) looks at Castellano's creatures for the show and how their design is a collaborative effort of the producers, the writers, and the make-up and visual effects crew. The cast and crew also discuss their favorite creatures from this season, notably The Pied Piper. We also get a look at how the practical creature effects are augmented with visual effects (with more than a few shots of the horseman walking around with his head wrapped in greenscreen material). In "Hollow History" (10:16), the producers and historical consultant Rob Reid discuss the process of historical research and the selection of personages, events, and objects that can be reconfigured (or "twisted" as one producer puts it) into the storyline. Actor Noble also discusses his fascination with American history and the figures who become incorporated into the show. Eighteen deleted scenes (15:31) are on hand ranging from twenty-odd seconds to under three minutes, all wisely omitted as points are conveyed more economically in the finished episodes. Irving does lose some additional character bits while Hawley and Crane lose a more on-the-nose argument about the difference between freedom and lack of obligations (the "Root of All Evil" also loses a discussion between Crane and Abbie about how a bad childhood do not necessarily mean a life of crime). The gag reel (4:14) features a collection of gaffes and goofs which may be gold to fans of the series but are generally tiresome and forced.

Overall


Action and forward momentum of the plot is such that one can become sufficiently engaged despite the overall absurdity, but – based on the first two seasons – the show does not seem destined to have the same kind of cult impact as some of its models (although it has lasted longer than the considerably dumber Alcatraz).