The Film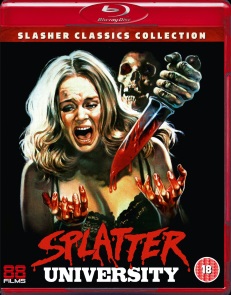 Julie Parker (Forbes Riley) takes a position at St. Trinians College teaching sociology in a "jinxed" classroom where the previous sociology teacher was murdered the semester before. Julie soon finds herself in trouble with wheelchair-bound headmaster Father Janson (Dick Biel) after officious Father Perkins (director Richard W. Haines) reports her attempt to engage the contemptuous students with a discussion of abortion. Her only friends are fellow sociology teacher Cynthia (Laura Gold) and flirty colleague Mark (Ric Randig) who begins a courtship with her in between classes. Julie's students, resentful of having to repeat the course because their "stupid teacher got murdered," are planning to cheat on the midterm; but a knife-wielding killer is soon on the loose again and his victims seem to consist solely of promiscuous women (and there are a lot in this Catholic school). No one seems to notice Doreen (Joanna Mihalakis ) get scalped and dumped in the trash after a public fight with her boyfriend Tony (George Seminara), but Cathy (Kathy LaCommare) has just confided to Julie her pregnancy by serial cheater Tom (Ken Gerson), Wolf's (Sal Lumetta) girlfriend Aki (Aki Fujiyoshi) gives good head, secretary Margaret (Noel Stilphen) takes dictation from Father Williams (Dan Eaton), and Tawny Kitaen -haired Denise (Denise Texeira) is slutting it up with both the faculty and the student body. While Father Janson continually insists the killings are unrelated and isolated incidents, Julie and Cynthia start to suspect Mark who dated the murdered teacher and was a suspect at the time.

While many slashers had compact timeframes setting the killer's return around a certain day (Halloween, Friday the 13th, My Bloody Valentine, Prom Night) or even the days preceding an event (Graduation Day, Happy Birthday to Me), Splatter University has a bizarre timeframe with the killer escaping but not killing anyone until three years later. The story proper takes place "Next Semester, Yesterday" and then jumps forward three months to finals week with no reference to the deaths or disappearances of two characters when discussing the deaths of other characters, although to be fair, three of the deaths were added after the film's rough cut ran only sixty-five minutes; that said, without two of those murders, nothing really happens after the first murder for about six months and the body count would only be four. Director Haines concedes on the commentary track that sequences added to bring the film up to feature-length (the additional kills, the bar scene, the pot-smoking in the stairwell scene, the kids partying in the dorm, and the opening and closing Bellevue scenes which include doctors named Howard and Fine) skew the tone of the film towards the comic – Troma's Lloyd Kaufman served as a creative consultant and Haines would then edit The Toxic Avenger and direct Class of Nuke 'Em High for Troma – but overestimates the effectiveness of what was intended thanks to listless editing, a lack of coverage and rather pedestrian cinematography, a monotonous score; but the greatest fault are the performances (with Riley in her pre-life-and-style hostess days annoyingly stiff, but no more so than most of the cast). The original kills are sufficiently splattery while the added ones are as slapdash as the other added scenes. Although the killer's real name is revealed to be "Daniel Grayson" (without revealing his identity), the opening intertitles list him as "William Grayson".

Video


Released theatrically by Troma and then in rated and unrated VHS versions through their deal with Lightning Video, Splatter University's DVD release through Elite Entertainment stateside was derived from a low-con 16mm print struck from the uncut negative by director Haines. 88 Film's 1080p24 MPEG-4 1.85:1 widescreen transfer is derived from a new 2K scan of the 16mm negative, and it looks just like a low-budget 16mm horror film destined to be picked up by Troma should look like. Close-ups are crisp and well-detailed while clarity of longer shots depends more on the focus (with some dolly shots looking softer than static or panning shots). If the best-looking shots seem faded, it is actually because of the flat lighting, early eighties fashions, seventies dιcor, and bright white walls (particularly the classroom scenes). The amount of grain varies in darker scenes, and optical shots seem considerably coarser.

***NOTE: The initial release of Splatter University from 88 Films was missing the knife-in-the-mouth murder which came at the start of the final reel. 88 Films has issued a replacement disc which restores this missing footage.***

Audio


The LPCM 2.0 mono track does its best with the original mono recording and mixing which has little range – rock music underscore sounds rather tinny during the campus scenes – and Wolf's annoying "howls" distort on the high-end as they did on previous releases and a couple exchanges sound like they were post-synched in a metal shack.

Extras


Haines appears on a new commentary track that lasts only fifty-nine minutes and also features contributions of the film's make-up effects artist Amodio Giordano. Giordano discusses meeting effects wizard Tom Savini who advised on some of the prep work for the film's effects, and his fond memories of working with the actors (including the late Biel). Haines discusses his intentions for the film and the additions advised by Troma's Kaufman including the additional murders, the wraparound sequences, and additional party scenes with the teenagers and how they threw off the tone of what he meant to be a more Hitchcockian work of suspense. The Hysteria Lives' Justin Kerswell appears as the "Splatter Scholar" (9:21) in which he offers an entertaining appreciation of the film along the lines of his podcasts but more focused and less jokey. Also included are the film's theatrical trailer (1:29) – which gives away the killer's identity – and a single TV spot (0:29).

The main extra has nothing to do with the film, rather it is Haine's last feature film to date What Really Frightens You? in which a freelance writer who goes under the name "Ghost Writer" (Ian Tomaschik) pitches the titular concept for an article to Ghastly Horror Magazine editor Marshall McFarland (Patrick Flynne) – the latter's surname possibly a reference at the label McFarland that published Haine's Technicolor Movies and The Moviegoing Experience – in which he will interview New Yorkers about their deepest fears. Hitting the streets, "Ghost Writer" finds three willing participants in lawyer Drew (Postell Pringle), bookstore employee Chloe (Jennifer Sorika), and office worker Brett (Chris Keveney). After their interviews, the three begin to have nightmares and experience hallucinations related to their greatest fears: Drew fears running into the gangs that used to beat him up as a teenager in Hell's Kitchen, Chloe has nightmares of being nearly naked in public and pawed by strip club customers, and Brett still fears the monster under the bed from his childhood. When Chloe approaches Drew about a lawsuit against the magazine for punitive damages resulting from her renewed emotional trauma, they start to look into the identity of "Ghost Writer". Upon learning of Brett's mysterious suicide, Drew and Chloe realize they may have to confront their deepest fears or be consumed by them. Shot on 35mm film – a luxury for a film of this recent vintage – the 1080p24 MPEG-4 AVC 1.78:1 transfer is crisp and colorful (Haines maintains the negatives for all of his films but I am unsure if this is a new HD master or the one used for the 2010 stateside DVD release). Although the film was mixed in 5.1 and released on DVD that way, it is presented here in LPCM 2.0 stereo. The admittedly dry audio commentary from the DVD has not been carried over.

Packaging


The cover artwork is reversible with the more recognizable poster artwork on the reverse and arguably superior but misleading artwork on the front.

Overall


Ultimately, there are more entertaining bottom-tier college slashers that are more consistently gory and funny (if unintentionally) like Slaughter High or Pieces but Splatter University's inconsistent oddness is genuine rather that mocking as one would expect from a Troma release.