The Film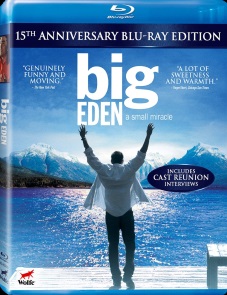 Best American Independent Feature Film and Best Film: Thomas Bezucha (won) - Cleveland International Film Festival 2001
Audience Award (Best Narrative Feature): Thomas Bezucha (won) - Florida Film Festival 2001
GLAAD Media Award (Outstanding Film - Limited Release): Thomas Bezucha (nominated) - GLAAD Media Awards 2002
Audience Award (Outstanding Narrative Feature): Thomas Bezucha (won) - L.A. Outfest 2000
Grand Jury Award (Outstanding Actor in a Feature Film): Eric Schweig (won) - L.A. Outfest 2000
Jury Award (Best Fiction Feature): Thomas Bezucha (won) - Miami Gay and Lesbian Film Festival 2001
Audience Award (Best Feature): Thomas Bezucha (won) - San Francisco International Lesbian & Gay Film Festival 2000
Audience Award (Favorite Narrative Feature): Thomas Bezucha (won) - Seattle Lesbian & Gay Film Festival 2000
Audience Award (Best Feature Film or Video): Thomas Bezucha (won) - Toronto Inside Out Lesbian and Gay Film and Video Festival 2001

On the eve of his first solo show in friend Mary Margaret's (Veanne Cox, You've Got Mail) New York gallery, Henry Hart (Arye Gross, Just One of the Guys) learns that his grandfather Sam (George Coe, Kramer vs. Kramer) has had a stroke and fallen off a roof. To Mary Margaret's consternation, Henry drops everything and heads home to Big Eden, a small town in Montana to nurse his ailing if not exactly appreciative "Sampa". Maternal schoolteacher and longtime family friend Grace (Louise Fletcher, The Cheap Detective) attempts to arrange for terminally shy hardware store owner Pike Dexter (The Last of the Mohicans' Eric Schweig) to cook dinners for Henry and Sam. When he defers to the culinary talents of "The Widow Thayer" (Nan Martin, The Other Side of the Mountain), Grace nevertheless subtly coerces him into being the go-between to deliver the meals which prove unsuitable to a recovering coronary patient due to their high fat and sodium content and her approach to fat-free, low-salt versions of her family recipes just flat out unappealing. It is at this point that Pike fishes out "The Joy of Cooking" from his own lending library and starts to hone his cooking skills, preparing increasingly elaborate meals for Henry and Sam but shying away from bewildered Henry's invitations for Pike to join them for dinner. Although it appears that everyone in town knows not only that Henry is gay and that Pike has long carried the torch for him, Henry himself has been carrying the torch for football jock best friend Dean Stewart (White Collar's Tim DeKay) who has just moved back to town with his two sons after a difficult divorce. As Henry and Dean reconnect, he becomes too distracted trying to divine whether Dean's affectionate gestures are genuine or horseplay – especially when fellow school chum turned mayor Anna (Corinne Bohrer Vice Versa) is around – to notice Pike's attempts at romantic gestures or his dying grandfather's concerns for his future.


Had this been an ordinary romantic comedy set in the real world, then one would feel that Henry was lucky that someone was pining for him as much as he had been pining for Dean (and also feel dubious about him setting for second best or Pike settling for being second best). The world of Big Eden, however, is an idealized place in which the local pastor's sermon on spreading the message of the Lord's love is not hypocritical, the grizzled locals who hang out at the hardware store act like a cappuccino-drinking sewing circle, and Thayer the local busybody smoothly transitions from trying to set up Henry with eligible women to men once she learns he is gay. Henry is the lost wanderer "unable to see the amount of love" people want to give him; and, as such, accepting love is part of the protagonist's self-acceptance (although he appears to be "out" in New York, he actually believes that the only people in Big Eden who know he's gay are the ones he has told). The film gets a fairytale ending that ultimately would not be considered progressive with more "traditional" casting, but the target audience should be allowed this overdue indulgence (especially in 2000 after a decade of indie gay films with fashionably downbeat, cynical, and sometimes nihilistic endings). Performances by the leads and impressive supporting cast are uniformly excellent, as are technical credits, making for an ambitious and assured directorial debut for Thomas Bezucha who followed it up with the less impressive but not insignificant toxic family Christmas film The Family Stone and the fluffy teen film Monte Carlo.

Video


Previously released by Wolfe Video in a two-disc, non-anamorphic letterboxed edition, Big Eden comes to Blu-ray in a BD25 MPEG-4 AVC 1.78:1 widescreen transfer. Apart from some rare black or white specs, the image is very clean with good detail and color. Blacks and shadows are perhaps lighter and grayer than they should be. Adjusting brightness and contrast helps for a more pleasing picture but it seems as if the master might have been prepared for other media venues and not a brand new scan.

Audio


Audio options include the original stereo surround track in lossy Dolby Digital 2.0 and an optional Dolby Digital 5.1 mix which spreads out the atmosphere and source music to the surrounds. Optional English SDH subtitles are also available that also includes the source music lyrics.

Extras


While the previous two-disc DVD edition had an hour of extras including deleted scenes, Wolfe Video has only ported over the theatrical trailer (3:06) and audio commentary by director Thomas Bezucha. The only new extra, meant to supplant the older featurettes, is the warm featurette "Big Eden": A Look Back (21:05) that includes the reminiscences of director Bezucha and actors Gross, Schweig, DeKay, and Fletcher, ably capturing the participants' attraction to the script and the affection they still hold for the film. Fletcher describes the film as a fairytale, especially in Montana of all places, and expands on that (referring to the guys at the hardware store as the "seven dwarves"). Gross speaks mostly of liking the script and his great admiration of his co-stars while DeKay discusses his unconventional character. Schweig notes that he took the role because it was different from the usual period pieces and racist depictions of Native Americans, and that it seemed like it might be his only opportunity to play a gay Indian. While Gross and Schweig recall how they found Fletcher the opposite of her iconic One Flew Over the Cuckoo's Nest character, Bezucha cites the human warmth role she emanated in Brainstorm as the inspiration for the character he wrote with her in mind.

Overall


Wolfe Video gives a respectful if not comprehensive Blu-ray release to one of its most prestigious titles.