The Film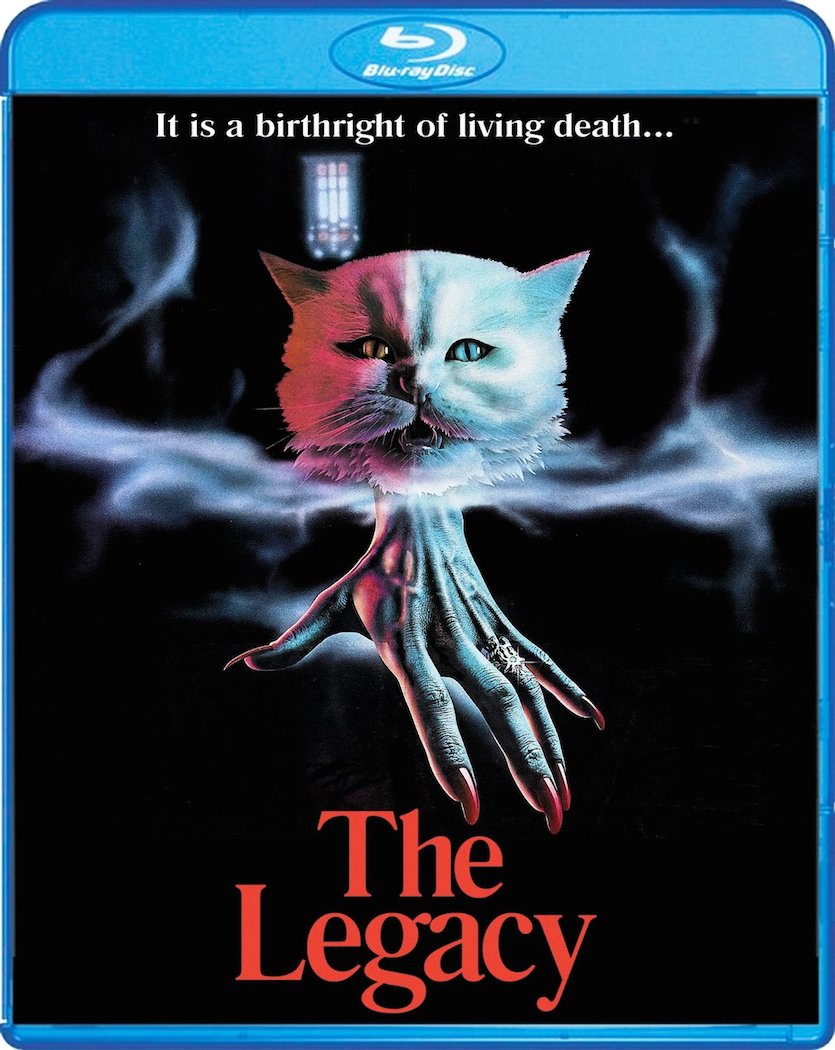 Moreso than any other decade, the 70's were home to some of the most bizarre, atypical horror films ever made. There are myriad films from that period which are watchable less for their story and almost entirely for their sheer weirdness – and Sam Elliott has the distinction in starring in two of them. His first horror effort, "Frogs" (1972), has him playing a photographer who gets caught up in a web of familial conflict when, slowly and not so suddenly, the inhabitants of the nearby swamp (i.e. bugs and snakes) descend upon the old colonial mansion and attack the guests. At no point is the film ever horrific; it is, however, a fun weekend matinee filled with awkward effects and equally awkward performances, as actors are forced to pretend these normal-sized creatures are ultra-deadly. His next genre feature came six years later with "The Legacy" (1978), where Elliott is once again trapped at the mansion of an aging recluse… only this time around the foil is black magic. The subject matter might sound more in line with a horror picture, but the results are no more thrilling.

Maggie (Katharine Ross) and her boyfriend Pete (Sam Elliott) are a couple of interior decorators working in California. One day, Maggie receives a call offering the duo work in England, though the specifics are vague. They decide to take a chance and travel abroad, where they rent a car and are almost immediately involved in an accident. The car, coincidentally (or not?), was driven by the chauffeur of Jason Mountolive (John Standing), the man who paid their way out to England. He agrees to have their vehicle worked on while they relax at his sprawling estate in the countryside. There, the couple meets five more guests, all of whom have some sordid events in their past. Shockingly, Maggie learns they've all come because Jason is dying, although you wouldn't have guessed it since he seemed perfectly fine just hours ago.

The guests are eventually able to meet with Jason. Well, sort of since the old codger is hidden behind glass walls and hospital curtains, allowing only a glimpse of his gnarled, clawed hand in order to place a signet ring on Maggie's finger – the same ring the other guests are wearing. Curious. Not long after this meeting, the other guests begin to die in mysterious circumstances, such as the swimmer who drowns after being trapped under a glass pool cover (who the hell thought that was a good idea??), or the eccentric rocker, Clive (Roger Daltrey), who chokes on a chicken bone despite having eaten only pot roast. In fact, the only person who doesn't seem to be in danger of dying is Maggie and the reason why explains what this "legacy" means.

It takes a very long time for "The Legacy" to reveal its story, leaving the film's many odd deaths as the sole satisfaction for viewers who will continually wonder just what the hell is going on. As a minor consolation prize, we also get a solid block of Elliott kicking the tar out of the Mountolive associates who try to prevent him and Maggie from leaving the grounds. The couple eventually does escape, but like some warped road out of hell every path only leads back to the mansion. The film could have been more interesting had some crucial information come out earlier; like how all of the guests are only here so Mountolive can find a suitable replacement for his satanic onus. If everyone knew the stakes they could have battled it out, rather than hanging around and dying under odd circumstances.

Roger Daltrey is more or less playing himself here, but he deserves credit for delivering the film's most convincing death scene. Most people who choke, or are choked, to death in a film tend to die far quicker than they would in reality. Daltrey sells his slow asphyxiation perfectly; his face contorted with anguish and fear, especially once he comes to the realization that his airway isn't about to get unclogged.

Aside from the spectacularly freakish deaths and Sam Elliott's take charge attitude, the film's main saving grace is simply that it was made when it was. There's a certain charm to 70's horror films that make even the most gruelling of cinematic experiences slightly more tolerable. Director Richard Marquand, who went on to helm "Star Wars: Episode VI - Return of the Jedi" (1983), at least maintains the film's languid pace throughout the second act before arriving at a completely expected finale. "The Legacy" ironically doesn't have much of a legacy on home video; watching it, you'll understand why.

Video


Featuring a "new HD transfer from the inter-positive", the 1.78:1 1080p 24/fps AVC MPEG-4 encoded picture looks clean, yet perfectly aged. Grain appears in a moderate sheen over the image; no heavy DNR here. Colors are natural, if not a bit on the dull side. Definition never impresses, and details in both the foreground and background are minimal, but there are moments when the picture looks quite stunning. There are virtually no scenes taking place at night, so black levels don't get much of a chance to show off. The print used here looks to have been kept in great shape, with minimal dirt and debris to be seen.

Audio


The English DTS-HD Master Audio 2.0 mono track capably handles the film's dialogue-heavy delivery. Fidelity is good, especially during the film's opening love ballad, which sounds so out of place. In fact, most of the film's score by composer Michael J. Lewis seems like it was made for another film. Just listen to the funky car chase motif, for starters. Effects have a good presence with some weight behind them. For a relatively limited mono track, the audible experience is well done. Subtitles are included in English for the hearing impaired.

Extras


Extras are limited here, featuring a couple of interviews and some promotional materials.

"Interview with Editor Anne V. Coates" (1080p) interview runs for 13 minutes and 47 seconds. Coates started off wanting to direct and found herself wearing many different hats on film sets. It's clear she fully understands the process of making films and has been awarded for her contributions to cinema.

"Interview with Special Make-Up Effects Artist Robin Grantham" (1080p), this interview runs for 10 minutes and 46 seconds. Similar to Coates' interview, Grantham discusses how he got his start in the business, who gave him a break and lighting the film's FX work.

A TV spot (1080i) runs for 33 seconds.

A radio spot runs for 29 seconds.

The film's theatrical trailer (1080i) runs for 1 minute and 43 seconds.

There is a photo gallery (1080i) that runs for 2 minutes and 32 seconds.

Packaging


The single disc comes housed in a standard Blu-ray keep case.

Overall


Crazy kills aside, "The Legacy" is a surprisingly tame horror picture considering the subject matter. It's a fun, breezy watch but nothing that sticks in your mind for long after.
| | | | | |
| --- | --- | --- | --- | --- |
| The Film: C | Video: B | Audio: B- | Extras: C+ | Overall: C+ |