What We Did on Our Holiday
R1 - America - Lions Gate Home Entertainment
Review written by and copyright: Eric Cotenas (20th October 2015).
The Film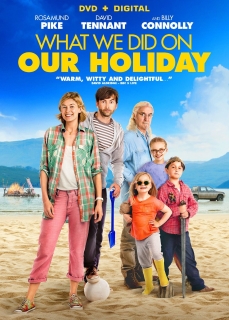 When Doug (Broadchurch's David Tennant) and Abi (Gone Girl's Rosamund Pike) set off from London to Scotland for Doug's father Gordie's (Billy Connolly, Mrs. Brown) seventy-fifth birthday, preparations with children Lottie (Emilia Jones, One Day) who documents everything in her journal, Viking-obsessed Mickey (Bobby Smalldridge), and Jess (Harriet Turnbull) include briefing them on what they can and cannot discuss with their relatives, including the fact that Doug and Abi are no longer living together and no longer love each other. Doug is more concerned about not upsetting his father who is dying from cancer than appearing like a failure in front of his successful and domineering big brother Gavin (Ben Miller, Plunkett & Macleane) who is entirely oblivious to the misery of his clinically-depressed wife Margaret (Amelia Bullmore, TV's Scott & Bailey) – still reeling from a public incident that lives on as a YouTube video – and teenage son Kenneth (Lewis Davie) who cracks under his father's competitive nature. Young Lottie has come to understand at a very early age that Gordie is the glue that holds the family together and becomes concerned about his failing health. Although Gordie is disturbed to learn that Doug and Abi are no happier than Gavin's family, he tries to help Lottie understand why adults lie and sometimes act like children. During a day trip to the beach with the kids before Gordie's lavish birthday festivities (organized by social-climbing Gavin), the old man dies and the kids, wary of the in-fighting Gordie was worried would ensue after his death, take their grandfather's wish for a Viking funeral a little too seriously. The adults have a difficult enough time conceiving of what the kids have done, much less explaining it to the police, but soon the house is swarmed by media from around the globe wanting to report on the "feral children" who burned their grandfather's corpse and their bad parents. When a Child Welfare Unit officer (Celia Imrie, Highlander) arrives for an assessment, Doug and Abi fear they may lose their children.

What We Did on Our Holiday has plenty of more genuine moments with the children anticipating and reacting to their parents' arguments, but it ultimately condescends to warm family movie clichés from the big speech that forces the bickering characters to reassess their priorities and is conveniently overheard by others to quiet resolve the subplot. The quirky manners in which the children adapt and cope to family circumstances appears at first cartoonish, but the children are all too young to rebel in the more mean-spirited of older kids (while Davie's lovelorn teenager is only just coming to understand how unhappy his mother really is). Too little screen time to the silent suffering of the adult characters in favor of broader moments, but the film is ultimately a comedy rather than a family drama but the somewhat more realistic and bittersweet resolution to the parents' marital issues is refreshing after the "let's all dance" revelry. The supporting cast includes One Foot in the Grave's Annette Crosbie as Gordie's best friend who is either socially undesirable as a guest to Gavin because she is a lesbian or because she runs an ostrich farm, and Game of Thrones' Ron Donachie as the local police sergeant. The film is the feature debut of writer/director Andy Hamilton and follow-up to 2003's The Sleeping Dictionary for co-writer/director Guy Jenkin, who both wrote and directed for the sitcom Outnumbered.

Video


LionsGate gives the film a single-layer progressive, anamorphic 1.85:1 widescreen encode with good detail in close-ups and the painterly Scottish landscapes looking attractively softish (presumably a dual-layer presentation or Blu-ray would have yielded better detail while retaining the dreamy look). On the commentary track, the filmmakers do reveal that focus could be an issue in scenes in which the cameraman had to basically chase the children (rather than expecting them to hit marks).

Audio


The Dolby Digital 5.1 track is dialogue-driven but the surrounds stay active with environmental sounds both in London and in the Scottish countryside (becoming busiest during the paparazzi sequences), with music also reaching the rear channels. Subtitles are available in English SDH and Spanish.

Extras


Ported over from the British Blu-ray and DVD releases of the film is the audio commentary by directors Andy Hamilton and Guy Jenkin which is heavier on production anecdotes than themes and inspirations. The London sequences were shot in Glasgow with some CGI London tower blocks added, and it was during these city scenes that the paparazzi showed up trying to get photographs of Tennant and Pike. They also discuss the debates that went on about the sound design for scenes set in public toilets, auditioning rocks for Jess' collection, fashioning vintage props to depict Gordie's past as a noted sportsman, the trepidation about filming in Scotland because of the weather, and the adult actors having to semi-improvise to get performances out of the children (as well as the information they "armed" the children with to improvise in irritating the adults, particularly Miller as the impatient uncle who cannot explain the complex nature of his job to them).


"Creating Dysfuction: Making 'What We Did On Our Holiday'" (8:28) includes some talking head sound bytes from the cast and the directors, but does feature some comments about the filmmakers' working method with the cast of child actors. Although the special features are unrated, a brief bit in the deleted scenes (1:57) which Margaret finally breaks and tells one of the mourners to "fuck off" is muted.

Overall

---
Rewind DVDCompare is a participant in the Amazon Services LLC Associates Program and the Amazon Europe S.a.r.l. Associates Programme, an affiliate advertising program designed to provide a means for sites to earn advertising fees by advertising and linking to amazon.co.uk, amazon.com, amazon.ca, amazon.fr, amazon.de, amazon.it and amazon.es . As an Amazon Associate, we earn from qualifying purchases.