The Film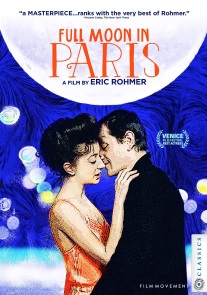 César (Best Film): Eric Rohmer (nominated), César (Best Actress): Pascale Ogier (nominated), César (Best Actress, posthumously): Pascale Ogier (nominated), César (Best Supporting Actor): Fabrice Luchini (nominated), César (Best Director): Eric Rohmer (nominated), César (Best Original Screenplay): Eric Rohmer (nominated) - César Awards, France 1985
Critics Award (Best Film): Eric Rohmer (won) - French Syndicate of Cinema Critics 1985
(Best Actress): Pascale Ogier (won) and (Golden Lion) Eric Rohmer (nominated) - Venice Film Festival 1984

"He who has two women loses his soul, he who has two houses loses his mind" says the proverb that inspired the fourth of filmmaker Eric Rohmer's "Comedies and Proverbs" films Full Moon in Paris. Having made one "smooth transition" after another in dwellings (from her parent's home to that of her first boyfriend) and relationships (having fallen for another man while in the process of leaving the current one), twenty-three-year-old lamp designer Louise (Pascale Ogier, Le Pont du Nord) is currently living in the suburbs of Marne-la-Vallée in an ultra-modern flat with architect boyfriend Remi (Tchéky Karyo, The Bear). Although her covert decision not to rent her small apartment in Paris but to turn it into a pied-à-terre seems motivated by a shallow desire to stay out late in the city on Friday nights, she assures both "early to bed and early to rise" Remi and her lusty married journalist friend Octave () that it will be a place for her to be alone ("The one experience I've missed is loneliness, and the pain it causes"). Staying in her apartment on the weekends, she discovers that life is one big party as her friends have other obligations and cannot drop everything at the last moment (as she believed herself incapable of because of Remi); even her effete guy friend Octave's (Fabrice Luchini, Bicycling with Molière) interest in her turns out to be more carnal than intellectual. She has conflicting feelings about her newfound freedom ("It's hard to live in two places. When I'm in one, I want to be in the other"). Although she has encouraged Remi to have female friends as she has male friends, she experiences jealousy when Octave claims to have seen Remi with her sophisticated, divorced friend Camille (Virginie Thévenet, Rohmer's A Good Marriage). It takes a "purely physical" encounter with a traveling saxophonist (Christian Vadim) for Louise to decide whether to embrace domesticity or the uncertainty of carefree solitude; but she may be in for a rude awakening when she gets home.

No formulaic romantic comedy or saucy French treat (despite Film Movement's 2015 trailer), Full Moon in Paris is often intelligent and sometimes laugh out loud funny not for any sight gags or punchlines but for the way it exposes the through processes of its characters without judgment. Although attached, Louise earnestly tries to explore solitude without hurting her boyfriend or leading on Octave; she fails in both cases out of a naiveté that seems as sincere as it may be exasperating (the titular full moon is offered by an artist Louise meets played by László Szabó as an influence on suggestible souls). The ending is not a sting-in-the-tail "just desserts", merely a consequence that leads to emotional growth rather than regret. Ogier, daughter of actress Bulle Ogier (Celine and Julie Go Boating), is a charming presence and makes relatable such a character who allows herself the freedom to explore concepts that we may feel we already know (if only because we have been told how to feel about them); although we will never know her full range as an actress since she tragically died of a heart attack at twenty-five less than two months after the film was released. Karyo, who a few years later would play the other man in a more overtly sexual type arrangement between an otherwise committed couple in Husbands and Lovers, is effective but understated as the physical man (both architect and builder) who is the most capable of the three of expressing his feelings verbally without pretense. Luchini as usual is wonderfully theatrical and entertainingly embodies the pretentious sophisticate ("One doesn't see a woman: one sees woman") who insists behind his wife's back that his bourgeois marriage is more open than it may really be. Without complex lighting choices, camera moves, or diffusing fog and smoke, the cinematography of Renato Berta (Merci Pour le Chocolat) looks every bit as eighties chic as anything from the period by Jean-Jacques Beineix (Diva). The attractive cast, light comic tone, and surface gloss perhaps make the film Rohmer's most accessible but it is certainly not unrewarding to his more analytical fans.

Video


Released stateside on DVD by Fox Lorber in a PAL-NTSC conversion, Full Moon in Paris made its Blu-ray debut in France last year as part of the twenty-two film, fifty-two disc Blu-ray/DVD combo set Coffret Eric Rohmer as well as part of the six-film, thirteen-disc combo set Comedies et Proverbes. Presumably using the same master, Film Movement's 1080p24 MPEG-4 AVC 1.33:1 pillar-boxed transfer is crisp and colorful. The specs and spots during the credits and intertitles seem to have occurred during the optical printing and have not been painted out (the rest of the film is spotless).

Audio


The restored French LPCM 2.0 mono track features clear dialogue and restrained atmospheric, with only source music having much presence. As with other Film Movement Blu-rays, the optional English subtitles have a habit of lingering onscreen whenever there is a long pause before the next line (such as scene transitions). The subtitles otherwise keep up nicely with the sometimes rapid exchanges.

Extras


As with other Film Movement Blu-rays, extras are rather sparse; here restricted to a shor Archival Interview with actress Pascale Ogier (2:40) from the Venice Film Festival in which she describes her working relationship with Rohmer and her collaboration on the film's set design (for which she receives credit). Besides the French Original Trailer (1:44), the disc also includes the 2015 Trailer (1:21) that has appeared at the start of a number of Film Movement DVDs and Blu-rays. Previews for six other titles are included.

Overall


The attractive cast, light comic tone, and surface gloss perhaps make the film Rohmer's most accessible but it is certainly not unrewarding to his more analytical fans.