The Film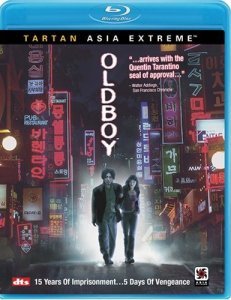 "OldBoy" tells the story of a man, Dae-su Oh (Min-Sik Choi) who is kidnapped and locked up in what looks to be a shabby hotel room for 15 years - with only dumplings for food and a TV to keep him company. As he nears escaping his prison he is mysteriously set free for no apparent reason, where he has only a short period of time to find out the truth to why he was locked up.
At first appearing to be another exercise in the revenge genre, "OldBoy" soon shows itself to be a unique and quite different exploration, further encapsulated in a shocking, albeit not totally unexpected, twist at the end. The film is released under Tartan's "Asia Extreme" label - due to the fairly brutal and horrific violence. Whilst this violence is present throughout the film the most disturbing element is that most of it is not shown, leaving the horrors to the imagination of the viewer. I found this to be the best technique to use, as I would not want anything shown badly/ruined for me, and by leaving it out it enhances the film, in my opinion.
Interestingly this film seemed to split audiences three ways. Those who think it is amazing and worthy of most, if not all the praise, those who think it is slightly overrated but still very good and those who hate it completely. Personally I would be in the first category, although with repeat viewing very slowly leaning towards the second. As with the most treasured films I have seen, the first viewing is the most powerful and most unique (with the exception of "Mulholland Dr."). Upon subsequent viewings of "OldBoy" it is true to say that part of the plot and shock factor is diminished from the initial viewing, but to its credit I still found it a fascinating watch, even through all three of the added audio commentaries on this disc.
For me there is so much to appreciate and admire in "OldBoy", from the inspired camerawork to the sparkling cinematography to the outstanding musical score. Whilst these would all be little to nothing if the film was not good, I find them all fascinating in their own right, a refreshing change to most of my (Hollywood-induced) viewing habits. This leads on to what I would consider another of this film's strengths - it's panache. Like the many of the shows featured on HBO, part of this film's quality lies in its simple, brutal honesty - appearing both highly controversial and yet deeply emotional simultaneously. This is certainly one of the reasons I was enthralled by "OldBoy". Sadly, this also links in to the comments that the film is misogynistic. Whilst I cannot argue that there are mainly only two female characters present, which are both shown in sexualized situations, I do not feel that the comments are completely true; however the majority of the sympathy is indeed placed with the male characters.
To say any more on the story would ruin some fantastic pieces of cinema for those who have not seen it, but whether you hate it or love it this is cinema at its very best - unapologetic, controversial, provocative, unique and fresh.


Video


This film is presented in its original theatrical ratio of 2.35:1, this high-definition transfer is 1080p 24/fps and has been created using AVC MPEG-4 compression. I've noticed that some review cites are reporting this release is in 1.85:1, but I'm not sure what discs they got because what was sent to me was the final release copy and it is in fact 2.35:1. This film has had an interesting history on DVD in almost every region; there seem to be several versions available in terms of the color timing of the film. Having done some research only one release was director and cinematographer approved and that was the Korean R3 Special Edition release from Starmax (note that there are 3 different releases from Starmax, a Special Edition, an Ultimate Edition and a Final Edition). This Blu-ray release appear to be similar to the Starmax Special Edition, as the transfer is supposed to be the most accurate that represents the original theatrical print of the film. However this version which can be identified by its green hues in darker scenes does have a lot of heavy grain that renders sharpness inconsistent. Daylight exteriors look great with rich detail and minimal grain but dimly lit scenes suffer the most with some noise. The colors are drab and toned down, a deliberate choice and that is presented here accurately. Clarity and detail is evident throughout this print and is a considerable improvement over the DVD presentations of the film but flaws such as the heavy grain, occasional softness in the image and instances of specks (very minimal but I did notice some) prevent this from being a top notch effort (which I was expecting). On the plus side problems like edge-enhancement, wobble, moiré patterns which were evident in other releases aren't a problem here.

Audio


Tartan have provided five audio tracks that include a Korean DTS-HD Lossless Master Audio 7.1 surround, Korean Dolby Digital 5.1 EX, English Dolby Digital 5.1, English Dolby Digital 2.0 Stereo and Korean Dolby Digital 2.0 Stereo. For the purposes of this review I chose to view the film with its DTS-HD track in its original language. This soundtrack booms throughout the sound space and having previously heard the excellent DTS-ES 6.1 track for the Tartan DVD release this new lossless mix renders any previous soundtrack redundant. This is a brilliant mix that is both aggressive and ambient. The dialogue is clear and distortion free, directional effects makes great use of the channels and sound natural and nothing appears out of place. Ambient and environmental noise adds depth as does the score which sores through the 7.1 channels of pure impressiveness. Count me impressed with this soundtrack, nice job Tartan.
Optional subtitles are included in English only and are easy to read, appear onscreen for enough time to read without disappearing too quickly and I spotted no grammatical errors.



Extras


A large collection of extras from the DVD release has been ported over here, but first thing to note is that only the first disc is a Blu-ray, the second disc included is a DVD and while the Blu-ray disc is region free this bonus disc is region 1 encoded and houses some more extras. The extras include three audio commentaries, a theatrical trailer, behind-the-scenes featurettes, interviews, deleted scenes as well as bonus trailers. Below is a closer look at these supplements per disc.

DISC ONE:

There are three audio commentaries present on this disc. The first is a sole effort from director Chan-wook Park who discusses the film well, with little amounts of pausing in between. He is fairly critical of his work on all the tracks he is present on but still appears to be proud of the final product.

The second audio commentary is by director Chan-wook Park alongside the cinematographer Jeong-hun Jeong. This commentary is slightly more technically-orientated than the first and contains a majority of new comments from Chan-wook Park, with the occasional reference to things present on his solo commentary. It is interesting to listen to this track to discover which scenes each of the two are proud of, and which they are not. The track starts off formal but becomes slightly more informal towards the end.

Finally the third audio commentary is by director Chan-wook Park with actors Min-sik Choi, Ji-tae Yu and Hye-jeong Kang. This is the most fun of the commentaries and contains almost no repitition to anything else on the disc. It is clear that everyone had a good time but that things were a little strained at times, and they all have a good laugh at times throughout.

Deleted scenes contains ten scenes, totaling 24 minutes 12 seconds, with optional audio commentary by director Chan-wook Park. After listening to the commentaries the deleted scenes (which I watched prior to my commentary-marathon) made a lot more sense, and were given even more value when watched with commentary by Chan-wook Park. A fair few of the scenes are extended versions, and whilst some can easily understood as to their omission most are of interest, providing other unique ideas that appear good, but obviously were not up to the caliber of the rest of the film.

The other extra on the first disc is the (presumably international) theatrical trailer which runs for 1 minute 31 seconds. Whilst I know of many people who disliked this trailer, personally I thought it was very good. The lack of dialogue and the emphasis on the music hopefully attracted a wider audience, getting them interested enough to see the film before they make a decision based on the language it is in.

DISC TWO:

"Behind-the-Scenes" contains five featurettes - "Making the Film: The Cast Remembers" (10:58), "Production Design" (13:14), "The Music Score" (16:50), "CGI" (7:10) and "Flashback" (22:57). All of these are fairly informative, including more behind-the-scenes clips that most releases do, minimizing showing clips from the film itself. The titles are pretty self-explanatory and they were all a treat to watch. Particularly fascinating to me was "The Music Score", as the soundtrack of "Oldboy" is one of the most prominent features of this film that has stayed in my mind.

Interviews was a rather lengthy section of this release, including 63 minutes 33 seconds of interviews with Chan-wook Park, Garon Tsuchiya, Min-sik Choi, Ji-tae Yu, Hye-jeong Kang, Jin-seo Yun, Dae-han Ji, Byeong-ok Kim, Dal-su Oh, Kwang-rok Oh and Seung-shin Lee, with one of the Chan-wook Park interviews being a Tartan exclusive. I found these interviews to be very interesting indeed, although was slightly put off the Tartan exclusive by the lack of any subtitles due to the fact a translator was employed. Whilst I can appreciate the interviewer does not speak Korean it was a little bit irritating hearing Chan-wook Park say something dramatically (sometimes at length) and then have it all said again. I thought that whilst this could be the method of interviewing that the translator could simply have created some subtitles for Chan-wook Park, gotten himself a nice mention at the beginning or end or both, and cut out the duplicated parts with him in - especially since the interviewer himself is neither shown nor speaks, instead using title cards for the questions. Despite these annoyances, however, this interview had some good questions and answers in it.

"Le Grand Prix at Cannes" is another featurette (8:51) which shows the key cast and crew at the Cannes Film Festival presentations of the film and reaction.

Another theatrical trailer is presented and runs for 1 minute 39 seconds, it's the same as featured on the first only it has a bumper at the start advertising the various releases of this film on DVD and Blu-ray.

Finally a series of bonus trailers are also included for:

- "Tartan Asia Extreme" spot (1:16)
- "Lady Vengeance" (1:51)
- "Sympathy for Mr. Vengeance" (1:25)
- "Election" (1:47)
- "Triad Election" (2:17)


Overall


"OldBoy" is a stunningly fantastic and original film and is a welcome addition to any film fan's collection. The commentaries are worth a listen and the extras are definitely worth a watch. Whilst not containing as many extras as some of the other editions available it certainly contains the best soundtrack of all.

This film and extras has been reviewed by Rob Hunt. The Technical specs has been reviewed by Noor Razzak.
| | | | | |
| --- | --- | --- | --- | --- |
| The Film: A+ | Video: C+ | Audio: A+ | Extras: A- | Overall: B+ |