The Film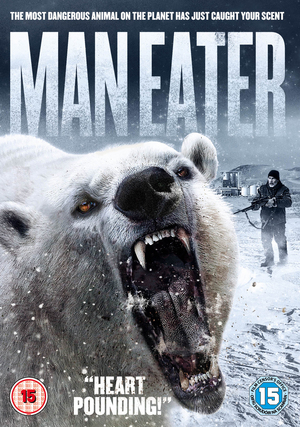 ***This is an A/V and Extras review only. For reviews on the movie from various critics, we recommend visiting HERE.***

The most dangerous animal on the planet has just caught your scent.

A photographer and his group set out in the dead of winter for the Alaskan wilderness to take advantage of the limited, but beautiful daylight. They are met by an experienced hunter and local lodge owner who instills fear within the group by telling them the legend of Maneater, a huge polar bear that has fangs and claws sharper than steel.

This epic tall tale quickly becomes a real living nightmare, as the group is unaware that a bear experiment has gone wrong. The bioengineering company, Clobirch Industries, has genetically altered a polar bear so it can better survive climate change, but the end result is a relentless, deadly, man-eating, killing machine.

It is up to our lodge owner and his native guide to protect the group from harm, but this bear proves to be more than he or anyone else ever expected.

Video


Independent British distributor 101 Films have released the first film from 2015's After Dark Horror range in the original aspect ratio of 2.35:1. As to be expected, the transfer is anamorphic and doesn't exhibit any major problems. Overall, the feature looks fine, but typical of this sort of fare.

The opening scenes of a polar bear and the landscape from a helicopter showcase the better elements of the transfer. The fur of the polar bear shows minute details whilst the landscape includes some impressive details in the environment from a distance. Unfortunately, the film only manages to look this good during daytime external shots, and as soon as we get to darker and/or internal scenes we do see some small issues pop up, all of which appear to be carried over from production. First of all, the skin tones in these scenes can look a little waxy and overly warm, feeling unnatural. There is also a drop in details in darker scenes and although this is to be expected to a point, the blacks have a tendency to crush, rendering some shadow details invisible. Most notable however, is the slight lack of definition and clarity in some general close shots. There is a little banding in some of the landscape shots, but surprisingly hardly any issues with blooming which can happen often in some of these snow-filled environments in films. I didn't note any obvious authoring or compression issues, and whilst one or two scenes do seem to have some digital noise, it was only briefly and not to the point of distraction. As far as creature features go, this looks adequate and as good as those from more established studios who produce similar films in this budget range.

The feature is uncut and runs 85:43 PAL.

Audio


There are two audio options available:
- English Dolby Digital 5.1
- English Dolby Digital 2.0 Stereo

For my viewing, I made the obvious choice of selecting the English Dolby Digital 5.1 track, which was surprisingly lacklustre. The surrounds were used rather sparingly, and mainly for the formulaic score by Edwin Wendler (I Spit on Your Grave: Vengeance Is Mine) or for the occasional robust jump scare. Dialogue is clear at all times, but can sound a little flat and clunky. The smaller subtle effects that could have really added to the atmosphere seem to be subdued and kept rather central, though some footsteps through the snow are well directed, particularly from one side to the other at the front of the sound stage. It should come as no revelation that there are no problems with the track such as drop outs, crackles, or background hiss. Overall, the track is okay, but misses out on some good opportunities to to immerse the viewer.

No subtitles are included.

Extras


Unfortunately there are no extras included.

Overall


Simply put, if you like low budget creature features, you'll find enough to enjoy here to warrant a purchase. The A/V is far from reference quality, but is certainly acceptable and average for the genre and budget combination on DVD.
| | | | | |
| --- | --- | --- | --- | --- |
| The Film: C | Video: C | Audio: C+ | Extras: F | Overall: C |