White Shadow
R1 - America - indiepix
Review written by and copyright: Eric Cotenas (11th November 2015).
The Film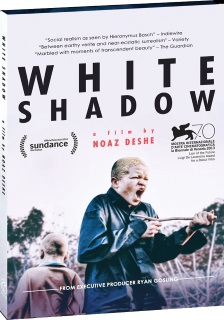 Grand Jury Prize: Noaz Deshe (nominated) - Annonay International Festival of First Films 2015
Audience Award: Noaz Deshe (won) and Young Adults Jury Award: Noaz Deshe (won) - Black Movie Film Festival 2014
Best Direction: Noaz Deshe (won) - Durban International Film Festival 2014
EEFF's Best Film Award (Best Feature): Noaz Deshe (won) - East End Film Festival, UK 2014
FIPRESCI Prize (International First Film): Noaz Deshe (nominated) - Jerusalem Film Festival 2014
CineVision Award (Honorable Mention): Noaz Deshe (won) - Munich Film Festival 2014
Grand Jury Prize (New Directors Competition): Noaz Deshe (nominated) - Nashville Film Festival 2014
New Directors Prize (Special Jury Recognition): Noaz Deshe (won) and New Directors Prize: Noaz Deshe (nominated)- San Francisco International Film Festival 2014
Grand Jury Prize (World Cinema - Domestic): Noaz Deshe (nominated) - Sundance Film Festival 2014
Audience Award (T-Mobile New Horizons International Film Festival): Noaz Deshe (won) and Grand Prix (International Competition): Noaz Deshe (won) - T-Mobile New Horizons International Film Festival, Poland 2014
Special Jury Mention (International Feature Competition): Noaz Deshe (won) - Transylvania International Film Festival 2014
Luigi De Laurentiis Award: Noaz Deshe (won) - Venice Film Festival 2013

Alias (Hamisi Bazili) is a young Albino living in a remote Tanzanian village where Albinos are hunted down for their body parts which fetch high prices (an Albino heart nets as much as five thousand dollars) with witch doctors who use them for spells. When his Albino father (Tito D. Ntanga) is brutally murdered by hunters, Alias' mother (Riziki Ally) fears for his safety and sends him to the Dar Es Salaam where his uncle Kosmos (James Gayo) can take him to one of the hidden safe houses for Albino children. Kosmos instead puts him to work along with his daughter Antoinette (Glory Mbayuwayu) selling bootleg DVDs and sunglasses in the city's congested traffic and salvaging E-Waste. Alias hopes that the city is free from the superstitions that ruled his home, but he is ostracized by kids his age and treated like a good luck charm by adults. Having skimmed some money for himself off each day's take, Alias demands Kosmos take him to one of the safe houses where he finds Salum (Salum Abdallah), an imaginative Albino child who claims to be a witch doctor himself (although he claims that others steal his customers) who has followed him to the city. Alias is attracted to Antoinette so Salum suggests that he pretend to have a girlfriend in order to attract her interest. The ploy works but Kosmos angrily intervenes, and Alias wanders the city trying to find a livelihood and see Antoinette in secret. Alias is unaware that village witch doctor Anulla ( John S. Mwakipunda) has had his license to practice witchcraft revoked and has also made his way to the city. Although the local priest (James P. Salala) has destroyed Anulla's shrine, the witch doctor believes the spirit has followed him to the city and is pressing him to resume his practices.


Although promoted as hailing from executive producer Ryan Gosling, the Tanzanian/German/Italian co-production White Shadow is narrative film debut of Israeli cameraman and documentarian Noaz Deshe. Rather than presenting the scenario as an outcry against human rights violations, the film presents it as Alias' devastating coming-of-age into a world where superstition and modernity co-exist. Both offer chances for escapism as Alias and Salum recite stories to each other and interpret events in terms of magic and Alias' "exoticism" garners a certain interest as he aimlessly wanders the city in anonymity; but both worlds are ultimately indifferent to his plight (with police intervention an ineffectual alternative to mob justice). The narrative seems to take place at least partially in Alias' mind with Salum possibly an imaginary friend (at least as he is present in the city) and Anulla's seeming involvement with the loan sharks harassing Kosmos (who has descended further into alcoholism after discovering that his late wife's grave has been moved) may be a paranoid projection since the witch doctor ends up back in the village upon Alias' return. The conclusion is brutal and leaves even the vengeance-driven Alias disillusioned. The child actors give compelling turns and are ably supported by the adults in more naturalistic performances. Deshe and co-cinematographer Armin Dierolf (who also moved to narrative features from documentaries and shorts) alternate between striking compositions of the Tanzanian outback and the city with verité handheld camerawork, natural lighting, and deep shadows (with Alias' subjective scenes rendered in invasive close-ups and wandering focus).

Video


Although the film runs just under two hours, indiepix's single-layer progressive, anamorphic encode seems to adequately represent the film's cinematography (with more than a bit of the softness coming from the heavy use of lens flare) in SD with some minor edge enhancement.

Audio


The Swahili audio is rendered in Dolby Digital 2.0 stereo. I'm not sure if this was a surround film, but the two-channel mix effectively conveys the sound design which alternates between active environments and more muffled and quiet passages symbolizing Alias' alienation and introspection.

Extras


The extras consist of a handful of behind the scenes video segments with no contextual framing. "Before Casting" (1:27) is some milling about and signing in but "The Day Before We Found Hamisi" (2:18) is interesting in that it features the young actor not only reading a scene but singing a song about the Albino plight in Tanzania. "Dar Es Salaam" (1:41) is a montage of video around the city while "Tandika Center" (1:21) is a visit to a compound housing and educating Albino students. "Outside the Vilage" (0:48) and "Keyboard Scene" (1:10) are deleted scenes, with Alias explicitly telling Antoinette that he likes her in the latter.

Overall

---
DVD Compare is a participant in the Amazon Services LLC Associates Program and the Amazon Europe S.a.r.l. Associates Programme, an affiliate advertising program designed to provide a means for sites to earn advertising fees by advertising and linking to amazon.co.uk, amazon.com, amazon.ca, amazon.fr, and amazon.de.