The Show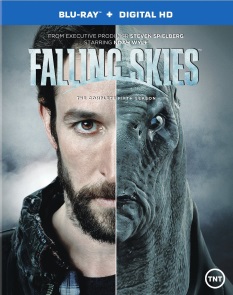 In the final season of Falling Skies, the "2nd Mass" (2nd Massachusetts Militia Regiment) made up of civilians and soldiers, have tipped the balance in the fight against the Espheni overlords who use telepathic control to control armies of mutated human "skitters" and hornets to wipe out the human resistance. Believing husband Tom Mason (ER's Noah Wyle), once a Boston university history professor who spoke for the civilian contingent of the 2nd Mass, and daughter Lexi (played by Harry Potter and the Half-Blood Prince's Scarlett Byrne in season three and four) to have perished while destroying the Espheni power core, medic Anne Glass (Terminator Salvation's Moon Bloodgood) has to put aside her mourning and act with the militia's retired United States Army Captain Dan Weaver (Desperately Seeking Susan's Will Patton) to find and destroy the overlords and their insectoid soldiers before the Espheni get their power core running again. Tom has managed to survive, and as his beamer hurtles back towards Earth he experiences a vivid dream/memory of his first wife Rebecca (As the World Turns's Jennifer Ferrin) – mother of his sons Ben (Secretariat's Drew Roy), Hal (American Crime's Connor Jessup), and Matt (Slaughter's Maxim Knight) – when she revealed the recurrence of her breast cancer and tries to convince him to tap into his "primal rage" with her in order to fight it. Emerging from the ocean, Tom carries that message with him and returns to the 2nd Mass, rallying the survivors – including the Espheni's longtime enemies the Volm, represented in the 2nd Mass by Cochise (Pan's Labyrinth's Doug Jones) – to get angry and strike while the Espheni are vulnerable.

Anticipating a turkey shoot, Tom and Dan lead teams – among them Ben's ex and Hal's crush Maggie (Final Destination 2's Sarah Carter), felon turned munitions consultant Pope (The 6th Day's Colin Cunningham), loner Sara (Mimic's Mira Sorvino), policeman turned 2nd Mass commander Anthony (Saw III's Mpho Koaho) – into the woods where they first discover feral skitters feeding on each other before being ambushed by organized skitters seemingly controlled by a rogue overlord. As a seemingly endless amount of skitters assault the compound walls, the group realize that even without the power core, the Espheni are still on the offensive and are still developing technology and weaponry to use against them. When imagery from Tom's dream provides clues for how to find the overlords and warnings about coming problems, he is even more convinced that his militant and merciless approach is the right way; but the group's channeled rage is leading to recklessness (the militia's food supply is destroyed not by a skitter but by stray gunfire), callousness (a grieving Anthony and other men making sport of trying to kill a skitter with their bare hands), and inhumanity with Hal and Dan worried that Tom is getting lost in his rage. Hope comes from Volm Cochise's revelation that there more militias exist around the world and that he and his kind are able to communicate with them, while South African Espheni Ghetto escapee Dingaan (Black Hawk Down's Treva Etienne) and Matt are finding success with reengineering Espheni technology; but the source behind Rebecca's dream guidance may not be as benevolent as it appears and Tom may be undergoing a transformation that is not entirely psychological.


Created by executive producer Robert Rodat (Saving Private Ryan), Falling Skies feels more than a bit indebted to The Walking Dead with rather derivative aural and visual stylistics too common to most recent science fiction film and television, partially due to the cycling of identikit episodic sci-fi/thriller/procedural TV and film directors including The Fourth Kind's Olatunde Osunsanmi, Haven's Robert Lieberman, Under the Dome's Peter Leto, Star Trek: The Next Generation actor-turned-director Jonathan Frakes, and 24's Brad Turner among others. Central performances are quite good despite unexceptional characterization while the creatures are technically well-rendered but innovate nothing in terms of sub- H.R. Giger (Alien) by way of Patrick Tatopoulos (Stargate) design. The protagonist's dream visions to move the story along are as tiresome as the teenage love triangle, but the season does wring some moving drama out of both the loss of human life (and alien in a couple cases) and humanity (be it due to anger and hatred or being taken over by alien forces), including the deaths of both series regulars and a couple characters more recently introduced. The series is perhaps best taken in as binge-viewing along with the previous seasons (or at least a selection of episodes from each episodes thanks to their current free availability for Amazon Prime users). Taken on its own, season five may just feel blandly derivative for viewers of more than a few science fiction shows.

Video


Although the back cover of the Blu-ray edition states a 2.40:1 aspect ratio (and the DVD sports Warner's usual disclaimer about preserving the "scope" aspect ratio), season five (as the seasons before it) is actually framed at 1.78:1 in this MPEG-4 AVC widescreen encode and that appears to be the intended aspect ratio since the sides of static compositions never seem inordinately cropped nor does the vertical framing seem like it could sustain matting. The season's ten episodes are split between two BD50 discs. If there are any compression issues, they are well-hidden in the aggressive color correction that largely reduces the scheme to an interplay of grays and blues with earthy greens and browns (apart from the warmer and more colorful flashbacks/dreams and Tom's brief stay at an idyllic farm).

Audio


The sole audio option is a Dolby TrueHD 5.1 track with plenty of directional effects and bass during the action sequences as well as clear definition of dialogue during the talkier scenes. Subtitle options come in English HoH, Danish, Dutch, Finnish, French, Norwegian, Spanish (Latino), and Swedish.

Extras


Extras are rather spare for this season. "Farewell to the Skies" (12:12) is a series of separately playable farewell remarks by Wyle, Cunningham, Jones, Carter, Jessup, Roy, and a skitter, along with another brief "Cast Goodbyes" (1:06) piece and "A Look Back" (2:31) in which the cast members reflect on the series ending. The most substantive extra is the 2015 WonderCon Panel (48:59) where TV Guide's Rich Sands moderates a panel featuring Roy, Carter, Cunningham, and Jones.

Overall


Falling Skies is perhaps best taken in as binge-viewing along with the previous seasons (or at least a selection of episodes from each episodes thanks to their current free availability for Amazon Prime users). Taken on its own, season five may just feel blandly derivative for viewers of more than a few science fiction shows.

| | | | | |
| --- | --- | --- | --- | --- |
| The Show: C+ | Video: A | Audio: A | Extras: C+ | Overall: B |