12 Rounds 3: Lockdown [Blu-ray]
Blu-ray A - America - Lions Gate Home Entertainment
Review written by and copyright: Abraham Phillips (30th January 2016).
The Film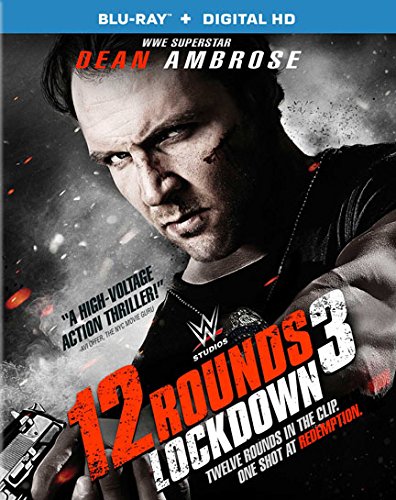 "12 Rounds 3: Lockdown" is another in a line of WWE franchise films. Like the "The Marine" series (2006-2015), the "12 Rounds" series stars a wrestler in the main role. In this one Dean Ambrose takes over the role in part 3 vacated by Randy Orton from the second film and John Cena who kickstarted the series with the first film in the series.

All three films are standalone films. "12 Rounds 3: Lockdown" is about a police officer named John Shaw (Dean Ambrose) that has been off duty recovering from being shot. After his recovery he returns to the job. He discovers that many officers inside his unit are dealing with illegal stuff. He collects the evidence on a hard drive and while attempting to take that evidence to the Captain, he finds himself stuck in a cat-and-mouse game of survival as his fellow officers that he works with try to stop Shaw at all cost. There main focus is to protect themselves from the truth of their criminal ways getting out. Shaw has 12 rounds in his gun. 12 rounds of survival. The cat-and-mouse game of action, fights, killing all come full force in this sequel. This has everything you would expect in an low budget direct to video action film with equal parts Drive-In B-grade entertainment.

This is Dean Ambroseís first acting job unless you count his acting in the wrestling ring. The film also stars Roger Cross, Daniel Cudmore, Lochlyn Munro, Ty Olsson, Sarah Smyth. Directed by a relative newcomer Stephen Reynolds. He seems to be capable of capturing the basic cheesy set up of the Drive-In B-grade action film.

The plot that has been done a thousand times before. This is nothing more than a "Die Hard" (1988) rip off. It has some really cheesy one liners mixed with an onslaught of action, explosions and an indestructible hero. The gun play and fights are over-the-top with moments of violence. Reynolds brings the third installment to life for fans of low budget WWE fodder, who will grab a hold of this and probably enjoy it for itís action.

Video


Presented in an aspect ratio of 1.78:1 mastered in HD 1080p 24/fps using AVC MPEG-4 compression. Lionsgate delivers another flawless transfer. The picture features vibrant colors. Excellent skin tones, black levels are solid. The image is crisp and nicely detailed.

Audio


A single audio track is in English DTS-HD Master Audio 5.1 surround (48kHz/24-bit). There is no failing in this department. The audio is perfect. It's crisp and aggressive in the sound effects department. The gun shots, explosions and fights, all are an experience in themselves. Optional subtitles are included in English, English HoH, and Spanish.

Extras


Lionsgate has included two very short featurettes and a handful of bonus trailers below is a closer look:

"Resourceful Adversary" is a featurette which runs for 4 minutes 55 seconds. Basically talks about the plot of the film.

"Filming a Firefight" is the second featurette with a runtime 6 minutes and 10 seconds. This clip covers a specific firefight and how it was filmed.

Closing out the extras are a collection of bonus trailers and an insert with a code to redeem a digital copy of the film.

Packaging


This disc is packaged in a standard single disc Blu-ray case. First pressings include a glossy slip-cover.

Overall


"12 Rounds 3: Lockdown" is a low budget B-grade action film. It's a movie that is geared toward DTV action fans. The audio and video quality is perfect. The extras, however, are a letdown. The overall film is what it is, simple, rehash of other films. It stars a wrestler, that should sum it up. Worth a rental.
| | | | | |
| --- | --- | --- | --- | --- |
| The Film: C | Video: A | Audio: A | Extras: D | Overall: C+ |

---
DVD Compare is a participant in the Amazon Services LLC Associates Program and the Amazon Europe S.a.r.l. Associates Programme, an affiliate advertising program designed to provide a means for sites to earn advertising fees by advertising and linking to amazon.co.uk, amazon.com, amazon.ca, amazon.fr, amazon.de, amazon.it, amazon.es and amazon.se.