The Film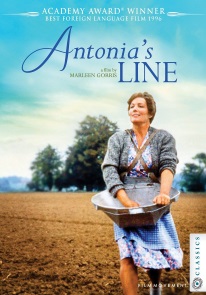 Oscar (Best Foreign Language Film): Antonia's Line (won) - Academy Awards, 1996
BAFTA Film Award (Best Film Not in the English Language): Hans de Weers and Marleen Gorris (nominated) - BAFTA Awards, 1997
Silver Condor (Best Foreign Film): Marleen Gorris (nominated) - Argentinean Film Critics Association Awards, 1997
ACCA (Best Foreign Language Film): Antonia's Line (Nominated) - Awards Circuit Community Awards, 1995
Audience Choice Award (Gold Plaque) and Silver Hugo (Best Screenplay): Marleen Gorris (won) - Chicago International Film Festival, 1995
GLAAD Media Award (Outstanding Film): Antonia's Line (nominated) - GLAAD Media Awards, 1997
Joseph Plateau Award (Best Belgian Actress): Els Dottermans (won) - Joseph Plateau Awards, 1996
Golden Calf (Best Director of a Feature Film): Marleen Gorris (won), Golden Calf (Best Actress): Willeke van Ammelrooy (won), Golden Calf (Best Film): Hans de Weers and Hans de Wolf (nominated), and Golden Calf (Best Actor): Jan Decleir (nominated) - Nederlands Film Festival, 1995
People's Choice Award: People's Choice Award (won) - Toronto International Film Festival, 1995
Golden Spike: Marleen Gorris (nominated) - Valladolid International Film Festival, 1995
Audience Award (Feature Film): Marleen Gorris (nominated) - Warsaw International Film Festival, 1996

One day, Antonia (The Lake House's Willeke van Ammelrooy) wakes up and realizes that she will soon draw her last breath. While awaiting the gathering of her family and friends, Antonia reflects on the last fifty years of her life. Returning to "the cradle of their ancestors" at the end of World War II as the prodigal daughter (having departed twenty years before), Antonia and her teenage daughter Danielle (The Memory of a Killer's Els Dottermans) arrive just in time to bury her dotty mother (Bride Flight's Petra Laseur) who sticks around just long enough to tell her daughter that she is "late as usual." The funeral and the wake at Russian Olga's (Fran Waller Zeper) pub afterward allow for Antonia to acquaint Danielle with the locals and prove to her that nothing has changed since she has been gone. Farmer Daan (Ben X's Jakob Beks ) is still a loudmouth drunk and has raised a bully in Piite (Loft's Filip Peeters), a drunk in middle child Janne (Nymphomaniac: Vol. II's Michael Pas), and a victim in retarded daughter Deedee (Mysteries' Marina de Graaf). The Protestant (Character's Paul Kooij) is driven to distraction in more ways than one by his upstairs neighbor The Mad Madonna (A Thousand Kisses's Catherine ten Bruggencate) who bays at the full moon, their respective faiths still keeping them apart. The village priest (Leo Hogenboom) who refused to give Last Rites to a friend of Antonia's who was shot for hiding a Jewish family in his attic is still inflexible as ever, although the good-natured Curate (The Deflowering of Eva Van End's Flip Filz) is finding it increasingly hard to "reconcile his enjoyment of life with the Church's enjoyment of death." As such, while restoring the family home and farming the land, Antonia and Danielle have little to do with the village apart from visits to philosophical recluse Crooked Finger (The Wall's Mil Seghers), the brood of farmer Bas (Jan Decleir) – who first introduces himself to Antonia by proposing to her – considered a newcomer (having only been I the village for twenty years), and other marginalized souls like farmhand Loony Lips (Jan Steen) who abandons Daan when Antonia stands up to the children tormenting him, Deedee who Danielle discovers being raped by Piite (to whom she deals a very intimate injury with a pitchfork), and Letta (Black Book's Wimie Wilhelm) the thrice-pregnant resident of a home for fallen women who assists Danielle in her quest to have a baby without a husband. The years pass and Antonia's combined biological/makeshift family thrives, but time takes no choice of death or life, decay or growth, and love, hate or jealousy" and the fair share of tragedies that befall Antonia's line devastates them while also forcing them to find ways of moving on after Antonia's example.


The 1996 Academy Award winner for Best Foreign Language Film, Antonia's Line could be likened more so to a less melodramatic, less maudlin version of Fried Green Tomatoes than Jane Campion's intensely romantic gothic period piece of a chick flick The Piano which had a shot at Best Picture. The fourth feature effort of Marleen Gorris is a departure from her militantly feminist earlier works Game of Silence – in which the murder of a store proprietor by a female shoplifter and two other female customers is deemed an extreme reaction to patriarchal society – and The Last Island which contrasts the behavior of male and female characters marooned on a desert island. Described by the director herself as "a family chronicle", Antonia's Line (or simply Antonia) is earthy without being vulgar and sweet without being saccharine, interjecting humorous touches of magic realism to suggesting those in the great beyond are kindred spirits to the self-possessed Antonia and Danielle (the latter's grandmother sits up in her coffin and sings "My Blue Heaven" to the accompaniment of Gregorian chant while crucified Jesus nods rhythmically and the priest is knocked off his feet by the wing of an angel statue). Antonia and Danielle live apart from the village, participating in village life while refusing to bow down to social and moral conventions, disregarding those who disapprove and endearing themselves to those who are interested in more than breeding sons and can "see further than the back end of a cow" including Lara ( Elsie de Brauw ), dedicated teacher of Danielle's prodigy daughter Therese – played at different points by Loft's Carolien Spoor , Esther Vriesendorp, and Veerle van Overloop – who Danielle first envisions as a recreation of Boticelli's Venus. The film's more unpleasant bits of violence last long just enough to make their point, and the successive deaths in the final third of the film are similarly quick tableaux that are nevertheless moving. Perhaps the only death (other than that of Piite) not to be mourned is Antonia herself, for her soul departs her "formidable body" with the knowledge that her line – which includes a daughter, granddaughter, great-grandaughter, a suitor and his children, beloved friends and their children, and marginalized souls – continues on since "Nothing dies forever. Something always remains from which something new grows" and that living life is the only way to forget the mechanism of time passing. Where the dying Antonia seemed alone and waiting to die until her family gather around, we see at the end that they were never very far off. The cinematography of Willy Stassen (The Count Of Monte Cristo) is as unfussy as the art direction of Harry Ammerlaan (The Johnsons) and costume design of Jany Temime (Skyfall) in setting the scene of a period village that changes very little over a half-century while the score of Ilona Sekacz (Under the Skin) turns an accordion-dominated main theme into an ethereal piece of romantic longing and loss and commenting symphonically on the film's magical and surrealistic moments (including the shared apex of several couples' emotional and sexual bliss that Gorris has described as a "cosmic orgasm").

Video


First Look gave this award-winning movie very disrespectful treatment back in 2002 with a non-anamorphic 1.78:1 letterboxed DVD that positioned the image higher up on the screen with burnt-in subtitles on the lower matte. The film's bright and colorful cinematography was given a drab and hazy transfer; as such, Film Movement's 1080p24 MPEG-4 AVC 1.78:1 widescreen transfer is refreshing to tired eyes even though it does not appear to be a brand new master. Some noisy film grain remains in a few underexposed scenes and the glossy image has some nice depth, but rustic textures lack the fine detail one would hope for. The opening credits may have been digitally recreated but the end credits are definitely sourced from standard definition with the 1.78:1 image becoming pillarboxed 1.33:1 during the end crawl and the black background becoming a tad washed out (it does seem to be an improvement on the German German Blu-ray which is either a shorter cut or derived from a 1080i50 master with a 98 minute running time).

Audio


The Dolby Stereo track has been encoded in lossy Dolby Digital 2.0 stereo with clear dialogue, effects, and Sekacz's score coming through with nice depth. The English subtitles are optional and do not have the issue seen on earlier Film Movement Blu-rays where the subtitles lagged between lines on some players (Philips and Oppo confirmed).

Extras


Past Film Movement Classics Blu-rays have been rather stingy in terms of extras. While Antonia's Line's sole extra is a short vintage TV interview with director Marleen Gorris (8:52), but it is actually quite informative as the director reveals that editing is her favorite part of filmmaking, discusses the use of music in her films (contrasting a workprint clip of the "cosmic orgasm" scene with the Verdi music she had in mind with the finished version score differently by Sekacz), as well as reflecting on directorial errors. The disc comes with a booklet by Thelma Adams in which she discusses the film's magical realism, its award pedigree, and critical reception by male writers who highlighted the film's feminist tone (although the aforementioned TV interview suggests the film has no explicit feminist message compared to her earlier works) and their comments on the looks of its heroine.

Overall


Despite winning an Academy Award for Best Foreign Film, Antonia's Line has become something of an unsung classic of the nineties resurgence of foreign art films in America and is definitely worth discovering or revisiting.
| | | | | |
| --- | --- | --- | --- | --- |
| The Film: A | Video: B- | Audio: A | Extras: B+ | Overall: B+ |