The Film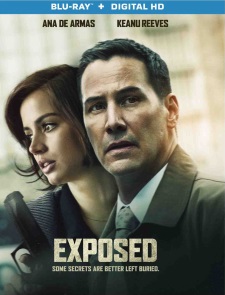 With her husband Jose (White Alligator's Ismael Cruz Cordova) away in Iraq, after school caregiver Isabel de la Cruz (Knock Knock's Ana de Armas) feels isolated living with her husband's family unable to speak English. After spending the night as a wallflower at a nightclub with her brother-in-law "Rocky" (Gabe Vargas) – just out of prison and turning his life around – and his girlfriend Yesenia (All the Beautiful Things's Sandy Tejada), Isabel heads home alone and has a strange vision on the subway platform that she believes to be an angel. Her husband's family is willing to indulge her since she believes it to be a sign that Jose will come home safe. When Jose is killed in action and Isabel discovers that she is pregnant, she believes it to be a miracle; but even the most traditional of her relatives and church friends – including psychically-inclined elder Olga (Hortencia Colorado) – believe the worst of the widow. Kicked out of her husband's home and shunned to the point that she gives up her school job, Isabel moves back in with her parents and takes a job as a waitress. As the angelic visions take on a more sinister tone, the only person Isabel can confide in is little girl Elisa (Venus Ariel), a former pupil who always wanted to go home with her who she now suspects is being abused by her mother's boyfriend. Meanwhile, widowed detective Galban (John Wick's Keanu Reeves) and Ramirez (Melissa Linton) are investigating the murder of his partner Cullen (We Own the Night's Danny Hoch), stabbed in the back and left on the subway tracks. Although his chief (The Collection's Christopher McDonald) urges caution in his investigation lest rumors of Cullen being a dirty cop prove true and affect not only the department's reputation but also Cullen's pension, Galban is guilted into continuing his investigation by his partner's widoe Janine (Mimic's Mira Sorvino) who saw him through the worst of the aftermath of his wife's death. Developing pictures from a camera among Cullen's belongings at the scene, Galban discovers that his partner was doing some off-hours surveillance on some apparent gang activity. Beating his way through Cullen's informants, Galban discovers a suspect in Black (The Meteor Man's Big Daddy Kane) who does not identify the people in the photographs to Galban but recognizes associate Naldo (Ariel Pacheco) who tells him that the other is Rocky who Cullen put away (but not before he sodomized the kid with a stick). With Cullen's informants being murdered one by one, Galban becomes convinced of a cover-up within the department. With his search for Rocky – also being hunted by Black who wants the heat off of him – turning up no leads, Galban believes that Isabel (also in the photograph with Rocky, Naldo, and Yesenia taken outside the club) must know something but may be targeted if he tries to contact her as a person of interest.

A hopelessly muddled mix of drama and cop thriller, it should come as no surprise that LionsGate and/or the film's producers did some Miramax/Dimension Films-esque tinkering before release; but what has become well-publicized since the film's appearance on VOD platforms and physical media is that Exposed actually represents a thorough gutting of a dramatic film titled Daughter of God and that credited director Declan Dale is actually an Alan Smithee-esque disavowal of the recut/reshoot by original director Gee Malik Linton. An online petition has appeared online for LionsGate to release the original director's cut with links to articles in which critics have changed their opinions on the film – British critic Mark Kermode (The Fear of God: 25 Years of 'The Exorcist') has posted the video Exposing 'Exposed' with his thoughts on the two versions – after having a chance to see the director's cut. The reshoot footage tries hard to make the connections between the two "parallel" stories with Reeves' detective – a role originally written for the late Philip Seymour Hoffman (Doubt)– insisting that Isabel must know something about the murder simply on the basis of a single photograph of her (without placing her at the murder scene or discovering that the wedding ring in evidence belongs to her until extremely late in the film) but putting off meeting her until the end (the only scene they share) because other witnesses have been killed. The usually dependable Sorvino is particularly terrible, with her character changing tone and motivations depending the scene. While there is much praise in the extras for de Armas, the film – at least in its recut version – does not demand much of her, casting her in a passive light as she wanders the city with either beatific or bewildered until the rather obvious "twist" ending (followed by eight-and-a-half minutes of end credits which has one wondering how much of the original was cut and how much was reshot). While I am certainly intrigued by this director's cut, I do not have to see it to imagine it is better since I cannot imaging Exposed being any worse.

Video


LionsGate's 1080p24 MPEG-4 AVC 2.40:1 transfer is technically fine with the inconsistencies stemming from the differences in approaches to the original shoot and reshoot, with the former looking more naturalistic and favoring warmer tones while the latter favors the cooler more contrasty action/thriller palette.

Audio


Like the video, the audio (DTS-HD Master Audio 5.1) is technically well-rendered but undistinguished. Optional English, English SDH, and Spanish subtitles are also included.

Extras


The extras of course do not make any mention of the film's gutting, with the featurette "Making Exposed" (12:08) using a selection of talking head interviews with the actors to try to reconcile the film's "parallel" narratives and the resulting tone shifts. As with other LionsGate/Grindstone Blu-rays, the cast interviews from which the featurette excerpts were derived are included in their entirety - Keanu Reeves (8:04), Mira Sorvino (6:16), Ana De Armas (3:30), Chris McDonald (4:01), Michael Rispoli (3:29), and Big Daddy Kane (3:57) - and the spin is even more evident here with poor Sorvino and Rispoli trying to make more of characters than the film. The film's theatrical trailer (2:08) is also included and consists of almost entirely reshoot footage, making the roles played by Sorvino and McDonald seem bigger than they actually are.

Overall


A hopelessly muddled mix of drama and cop thriller, it should come as no surprise that LionsGate and/or the film's producers did some Miramax/Dimension Films-esque tinkering before release.
| | | | | |
| --- | --- | --- | --- | --- |
| The Film: F | Video: A | Audio: A | Extras: F | Overall: C |