Flight 7500
R1 - America - Lions Gate Home Entertainment
Review written by and copyright: Eric Cotenas (20th April 2016).
The Film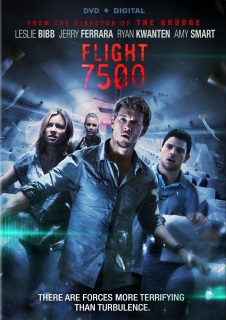 The disaster movie meets J-Horror when a diverse group of passengers board Vista Pacific Flight 7500 from Los Angeles to Tokyo. Paramedic Brad (True Blood's Ryan Kwanten) and his wife Pia (The Butterfly Effect's Amy Smart) are reluctantly accompanying friends Jack (Alien Abduction's Ben Sharples) and Christine (Allison McCurdy) on a three week vacation and are not looking forward to telling them they are divorcing when they get back. The "better half" of honeymooners Jerry (Entourage's Jerry Ferrara) and Liz (Hall Pass' Nicky Whelan) is already alienating the other passengers by oversharing their wedding photos and making snippy remarks about their seatmates. Goth chick Jacinta (Rob Zombie's Halloween's Scout Taylor-Compton) is looking forward to some turbulence, douchey surfer Jake (Elephant's Alex Frost) is looking out for anything he can steal to finance his freewheeling lifestyle, and Raquel (Twilight's Christian Serratos) fears that she is pregnant. Flight attendant Laura (Law Abiding Citizen's Leslie Bibb) is sure she can get captain Pete (The Doom Generation's Johnathon Schaech) to leave his wife during their three day layover in Tokyo, and fellow flight attendant Suzy (The Hangover: Part II's Jamie Chung) is having doubts about her long engagement after her sister's more impulsive union. A little turbulence two hours into the flight suddenly becomes the least of their immediate problems when fellow passenger Morrell (Trumbo's Rick Kelly) – who has brought aboard as carry-on a sinister-looking chest – suddenly starts convulsing and coughing up blood, dying before Brad and the flight attendants are able to treat him. Soon after, the passengers experience a rapid loss of cabin pressure as the plane apparently caused by a broken seal. The two brushes with death soon have the passengers pondering their life choices and wasted time; it soon becomes apparent, however, that something unnatural has made its way onto the plane as Brad, Laura, Liz, and Jacinta each have strange phenomena and resolve to discover the connection between the dead man and the current threat to their own lives.

Finished in 2012 and then shelved until 2014 whereupon it was released in most non-English speaking territories, Flight 7500 finally makes its stateside debut four years after it was finished dragging with it a both the speculation that comes with shelved productions and two years' worth of generally word-of-mouth reviews. The film itself dashes hopes some of us may have had for an English-language film for Takashi Shimizu that was not a bland remake of his wonderfully creepy Ju-on series, but a screenplay by Craig Rosenberg – he of the A Tale of Two Sisters remake The Uninvited and the dreadful Hammer pic The Quiet Ones – should have been a warning (although it is difficult to determine how much one can blame on the usual studio inference that the sub-eighty minute running time suggests or a streamlined script). That the Asian horror clichés do not crop up until half-way into the film allows for a leisurely set-up, but the characters are so one-note, solely defined by their issues which are conveyed without nuance either as straight exposition or gestures heavily underlined by cues from WWE studio favorite Tyler Bates (See No Evil). In this period of post-Sixth Sense period of genre filmmaking, a twist is expected and the introduction of the film's introduction of the Shinigami doll (familiar to manga readers from the Death Note books), which helps (not always gently) souls violently ripped from life to let go of their ties to world of the living, points rather obviously towards the very ending viewers will have been anticipating from the pre-credits teaser onwards. The film's attempts to elucidate what all of the characters have in common through a monologue simultaneously relevant to the character and non-specific enough to be beat it into the heads of the audience comes across as cloying rather than profound. Performances are largely non-committal but not really to blame, nor is the cinematography of David Tattersall (The Green Mile) which is cheapened only for the terrible CGI plane exteriors and the overfamiliarity of the film's apparitions. A co-production of CBS Films – which presumably allowed or inspired the use of too prescient clip from The Twilight Zone episode Nightmare at 20,000 Feet – Flight 7500 might indeed have been better off to more forgiving TV audiences amidst the derivativeness of much recent genre-based programming, but it's ultimately a groaner for horror fans.

Video


LionsGate's single-layer DVD offers a serviceable progressive, anamorphic 1.78:1 widescreen transfer with fair detail in close-ups but the film's overall dark look, "edgy" color correction, and drab settings does not lend itself to the appreciation of fine detail and textures.

Audio


The Dolby Digital 5.1 track has the usual surround sound and sub-woofer business of voices and amorphous noises mixed in with the plan atmospheres along with music stings and jump scare noises, but don't expect anything as unnerving as the film's J-Horror forbears. Subtitles are available in English SDH and Spanish along with English Closed Captioning.

Extras


The sole extra - apart from the usual start-up trailers/previews - is the short talking head featurette "Inside Flight 7500" (4:39), but it's better than nothing for this abandoned film (competing DVD releases offer the film's trailer at the most).

Overall


Flight 7500 might indeed have been better off to more forgiving TV audiences amidst the derivativeness of much recent genre-based programming, but it's ultimately a groaner for horror fans.

| | | | | |
| --- | --- | --- | --- | --- |
| The Film: D+ | Video: B+ | Audio: B+ | Extras: D+ | Overall: C+ |

---
DVD Compare is a participant in the Amazon Services LLC Associates Program and the Amazon Europe S.a.r.l. Associates Programme, an affiliate advertising program designed to provide a means for sites to earn advertising fees by advertising and linking to amazon.co.uk, amazon.com, amazon.ca, amazon.fr, and amazon.de.