The Film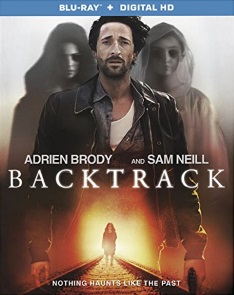 After losing his daughter Evie (Emma O'Farrell) in a road accident, psychologist Peter Bower (Giallo's Adrien Brody) moves back to Sydney and attempts to revive his practice. While his wife Carol (The 4400's Jenni Baird) treats her depression with medications that have her barely able to get out of bed, Peter has agreed to therapy from his mentor Duncan (The Piano's Sam Neill) but is still unwilling to fully recall the details of the accident. Peter's patients are a diverse but unsetting bunch, and he finds himself unable to relate to them personally or professionally. After high school student Elizabeth (Chloe Bayliss) – whom he has diagnosed with "selective mutism" – mysteriously disappears from his office after seeming to die right in front of him of asphyxiation, Peter tries to find her and traces her bus pass to a local private school where he learns that there is no student there under that name and that the type of pass has not been used since the eighties. Looking for information on the girl online, he discovers that she died in 1987. Researching his other patients, he realizes that musician Felix (The Road Warrior's Bruce Spence) is not an amnesiac who thinks it is still 1987, and that single mother Erica (Animal Kingdom's Anna Lise Phillips) has not been holding off on committing suicide for so many years; they have actually been dead for nearly thirty years. Peter at first assumes that it is more likely that he is having a breakdown than the idea that he is being haunted until he recalls that all of these patients had been referred to him by Duncan who presses Peter further for repressed memories rather than ease his anxiety by confirming that he is among the living. Discovering that the patients had all died on the same day back in 1987, and that they all lived along a train route that stopped at his home town of False Creek, Peter comes home in order to lay old ghosts to rest only to discover something considerably more sinister behind what he thought was the cause of a decades old tragedy that still haunts the town.

With virtually every post-Sixth Sense ghost story in which the protagonist sees dead people, audiences anticipate and usually a twist, but few are truly satisfying. Backtrack director Michael Petroni (Till Human Voices Wake Us) and the producers are aware of this and gets the supernatural twist out of the way pretty early on. Thanks to a naturalistic performance devoid of his usual acting ticks, Brody is a sympathetic and relatable protagonist; which is a good thing since he is the only character given much in the way of depth. Neill is in special guest star territory while George Shevtsov (Dead Calm) as Peter's retired police officer father, Malcolm Kennard (My Mistress) as Peter's guilt-ridden childhood friend, and Robin McLeavy (The Loved Ones) as the constable daughter of one of his ghost patients are given enough screentime to effect plot turns; although this seems to be more a matter of a script stripped down to essentials rather than a film cut down to the bone. The ghostly manifestations are occasionally chilling but overfamiliar after tons of Asian horror films (although there is a nod to Mario Bava with a ghost taking a Kill, Baby... Kill!-esque turn on a swing) and the action climax is fairly predictable, but Backtrack ends up novel enough making an attempt to explore the ways in which people can haunt themselves as a subconscious means of dealing with loss, grief, and guilt.

Video


LionsGate provides a satisfying 1080p24 MPEG-4 AVC 2.40:1 encode of this handsomely-lensed feature, conveying an almost tactile sense of texture in the fine details of hair, facial lines, chilled skin, and clothing that draws the viewer into the chilly environments of the film's first half.

Audio


The DTS-HD Master Audio 5.1 mix is your standard horror film surround treatment, drawing the ear towards soft-spoken conversations and the pattering of raindrops on windows before jolting with passing trains, sudden voices, and musical stings. Nothing new but still effective. Optional English, English SDH, and Spanish subtitles are also included.

Extras


Whereas Arrow Films' UK release offered an audio commentary by writer/director Petroni and cinematographer Stefan Duscio, short sound byte interviews with Brody, Neill, McLeavy, Shevtsov, and Petroni, a behind the scenes segment, and deleted scenes, LionsGate's Blu-ray release offers only the featurette "The Psychology of Backtrack" (5:25) utilizing the aforementioned interviews.

Packaging


LionsGate's slipcover and cover artwork is typically nondescript.

Overall


While Backtrack does not reinvent the "I see dead people" subgenre of vengeful ghost films, it does provide a pleasant diversion.

| | | | | |
| --- | --- | --- | --- | --- |
| The Film: B+ | Video: A | Audio: A | Extras: D+ | Overall: B |