The Film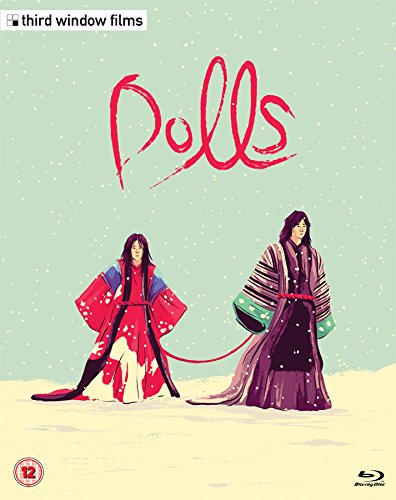 "Dolls" (2002)

Three stories of love, regret, and sacrifice are presented in an intertwined yet detached story.

1. Matsumoto (played by Hidetoshi Nishijima) decides to break off plans for marriage to the girl he loved, Sawako (played by Miho Kanno), in order to further himself in the workplace, financially, and socially. Prepared to marry his company president's daughter, Matsumoto learns on the wedding day that Sawako tried to kill herself and is being taken care of at a hospital. Without hesitation, he leaves the altar and drives to be with Sawako who has completely lost her mind. Sacrificing everything, he takes Sawako with him to prove his love to her. Whether she will remember or regain the memories of their past happiness is uncertain…

2. An aged Yakuza boss Hiro (played by Tatsuya Mihashi) is quietly living the good life with loyal men under his wing, but also lives a lonely life. He was not always so lonely - in his youth (played by Kanji Tsuda) there was a girl named Ryoko (played by Yuko Daike) that he fell in love with. Every Saturday he met with her at a park bench, but one day he tells her that he is leaving his job at the factory to find new work and they may not be able to see each other any more. Ryoko cries out that she will be waiting for him every Saturday until he can return. But many years pass by, with Hiro suddenly wondering about the love that he abandoned. He requests his men to drive up to Saitama to the said park on a Saturday - to see if by chance she is still waiting for him. Lo and behold the now aged Ryoko (played by Chieko Matsubara) is waiting on the bench, carrying two lunchboxes - one for her and one for him - in case he shows. Will Hiro be able to redeem himself and regain her heart, or are the emotions too ancient and heavy to make a leap forward?

3. Haruna Yamaguchi (played by Kyoko Fukada) is a pop idol worshipped by countless male fans, including Nukui (played by Tsutomu Takeshige) - a young man who worships her. With posters plastered on his walls, being able to sing to all her songs, waiting outside her management's office to be able to catch a glimpse of her, he is one of her ultimate fans. Stalker to some, but an idolizer in his own heart cheering her on close by but still distant at heart. But when Haruna is involved in a car accident, it causes not only a downfall in her life and career, but in Nukui's as well.

"Dolls" was written, directed, and edited by Takeshi Kitano in 2002. Kitano's previous film "Brother" (2000) was his first to be shot outside Japan with Hollywood financing. Unfortunately the film was a mixed blessing, with too many compromises to try to make it more commercially appealing for a mainstream English audience. For his follow-up "Dolls", Kitano went against commercial appeal with no strings attached… or should I say strings completely attached. The film opens with the traditional Japanese art form - Bunraku, a puppet theater with poetic storytelling and instrumentation. "The Courier for Hell", a play written in 1711 by famed Bunraku writer Chikamatsu Monzaemon is performed in part, with the film's story partially referencing the play. In Bunraku, there are no strings on the puppets - but interestingly in the film the two main characters of Matsumoto and Sawako are tied together by a thick red rope - bound together for much of the course of the film. The purpose at the start is for Matsumoto to make sure she doesn't suddenly wander off and get in physical trouble as she had in instances. Later the red rope bound between them becomes a physical symbol - his undying love for her and his promise to never leave her again.

Trademarks of Kitano's previously directed films are there such as a lot of scenes lacking dialogue completely, with shots lingering on and on letting the audience feel rather than just watch the scene. Also is the non-linear editing, with shots jumping forward to reveal shocking outcomes before the events occur - Matsumoto's car suddenly becoming dirtied up over time, the blood stained car which Haruna was a passenger. Flashbacks are also shown, of the announcement of Matsumoto and Sawako's engagement, as well as Hiro and Ryoko's youth. With three different stories with no particular overlap, Kitano was at one point considering the film as an omnibus piece. But rather it was reconstructed with the characters passing each other by, jumping from story to story. Some effort is made to bridge the three stories to intertwine, but this is not the film's strongest point. Sometimes it is awkwardly transitioned, making the audience wonder why they are suddenly watching a completely different person and setting. There are Japanese films in which directors worked in a multi-part omnibus such as "Kwaidan" by director Masaki Kobayashi and "Dreams" by director Akira Kurosawa which by many are considered masterpieces but some consider them as pretentious mini-features strung together. It may have been interesting to see "Dolls" completely divided in three parts with the Bunraku play bridging the stories together, but the film's construction is still fascinating as it is.

"Dolls" was taking on the subject of love, which some critics have said was the second "love story" directed by Kitano following "A Scene at the Sea" (1991), but that is debatable. "Kids Return" (1996) was a bromance story that could easily fit that category. "Hana-bi" (1997) dealt with a policeman's undying love to his terminally ill wife. But with a straightforward love story being boring without a few bumps along the way, "Dolls" adds craters. From heartbreak that leads to depression and attempted suicide, a woman that turns into Miss Havisham from "Oliver Twist" waiting years for her man to return, the woman who can no longer face herself after physical trauma and disfigurement. Kitano has mentioned that on the surface when looking at the characters they are shallow and stupid - but anyone who has fallen in and out of love know that love can make the smartest and most logical people to do the stupidest things. Instead of just observing the characters on screen, it is identifying with them that bring the viewers' personal feelings out.

One cannot overlook the visual aspect of the film. The colors are vibrant and beautiful, with the amazing costume designs by famed fashion designer Yohji Yamamoto who was the subject in director Wim Wenders' documentary "Notebook on Cities and Clothes" and also worked with Kitano on his previous film "Brother". The changing of the four seasons are reflected in the color palate of the various scenes - the cherry blossoms of spring, the blue of the sea and sky of summer, the reds of the leaves in autumn, the pure white snow of winter. "Dolls" was truly an art film by Kitano, very different from the commercially accessible "Brother" and "Kikujiro" the two which he directed previously. But "art film" usually doesn't translate to "box office tickets". The film underperformed commercially in Japan. It wasn't picked up for distribution in the United States until two years later in 2004. It was nominated for 4 Japanese Academy Awards, though it won none and Kitano was not nominated for writing, directing, or editing. In a more positive note, the film did win a few international awards, was acclaimed by many critics, and in Russia it somehow stayed in the cinema circuit for a two-year run. It may not have been a major game changer in Kitano's career but it still was a beautiful experimental art film, flaws and all.

Note this is a region B Blu-ray which can only be played back on region B and region free Blu-ray players

Video


Third Window Films present the film in 1080p in the theatrical aspect ratio of 1.85:1 in the AVC MPEG-4 codec. The transfer is properly framed and looks pretty good overall but flaws remain. For the good points, the stylized color palate is there, with deep reds for the autumn leaves as well as the bloodstains. Blacks are pitch black and the whites are pure white. Some shots seem to have an overly contrasty blown out look but that seems to be intentional. There are no signs of damage like scratches or dust coming from a very clean looking print. As for negatives, the picture is slightly wobbly, jittering ever so slightly, being highly noticeable in static composed shots, which Kitano is quite known for. Skin tones can differ from scene to scene and at points depth is lacking. Another point that seems to be of trouble is around 9 minutes in the film when Matsumoto's friends played by Nao Omori and Yoshitaka Otsuka are conversing, it looks very stuttered. I am unsure whether the original film looked like this. But a message will be forwarded to Third Window Films about the issue. The film is not yet available in Japan on Blu-ray though it was released in Germany on Blu-ray last year, with apparently the same transfer.

Update on the problematic stuttering scene
The stuttering scene 9 minutes in was due to a problematic HD transfer made by Office Kitano which Third Window Films were given. Due to the lack of time and financial cost, the minor faults were left as is. Apparently the Office Kitano HD transfers for "Hana-bi" and "Kikujiro" that were initially to be used for the Third Window Films Blu-rays had so many problems that Third Window Films themselves took extra time and effort to correct for their recently released Blu-rays.
Thank you Third Window Films for the update and clarification.

The film's runtime on the Blu-ray is 113:45.

Audio


Japanese DTS-HD Master Audio 5.1
Dialogue is almost entirely center based, and sounds very good with no problems with droupouts or unclear passages. The music is a highlight, especially with any film scored by famed composer Joe Hisaishi in lossless 5.1 surround sound. The score is beautiful and comes in clear throughout the surround speakers ever so subtly. It is not a heavy soundtrack but the sound design is quite important with the environment, like the wind and insects heard in the scenes of nature and the gunshots in the violent Yakuza flashback.

There are optional English subtitles in a white font. There are no troubles with spelling or grammar in the translation.

Extras


Third Window Films has curated the following extras for the Blu-ray release. Though there are no newly created exclusives, these are the available extras:

Interview with Director Takeshi Kitano - Part 1 (15:04)
In this interview, Kitano talks about inspirations of characters, making a Bunraku play but with people instead of puppets, and much more. Interestingly he mentions that his late grandmother was a Bunraku narrator many years ago which helped his appreciation for the art form.
in 720p, in 1.33:1, in Japanese DTS-HD Master Audio 2.0 with optional English subtitles

Interview with Director Takeshi Kitano - Part 2 (14:25)
In a differing later interview session with Kitano sporting blonde hair, question are asked about past loves, the symbolism of the rope, his childhood, love and relationships, and other deeper questions. Probably a little more difficult to answer so he gets a little help with the aid of cigarettes.
in 720p, in 1.78:1, in Japanese DTS-HD Master Audio 2.0 with optional English subtitles

Interview with Costume Designer Yohji Yamamoto (10:01)
In this English interview, famed designer Yamamoto talks about working with Kitano on the costumes, how surprised he was for Kitano to use Bunraku in the film, and how he felt he had to compete with his look on modern fashion against the traditional Bunraku dolls.
in 720p, in 1.33:1, in English DTS-HD Master Audio 2.0

Interview with Miho Kanno (3:55)
Kanno talks about how awestruck she was with working with Kitano, how Kitano helped develop her role as an internal one, and the beautiful costume choices. With less than 4 minutes, it is way too short.
in 720p, in 1.33:1, in Japanese DTS-HD Master Audio 2.0 with optional English subtitles

Interview with Hidetoshi Nishijima (3:39)
Nishijima talks about the filming, the director, and the difficulty of being bound to Kanno the entire time - not in a bad way about her but with the physical problems it caused. Again, less than 4 minutes is way too short to get much across.
in 720p, in 1.33:1, in Japanese DTS-HD Master Audio 2.0 with optional English subtitles

"Scenes From the Shoot Footage" featurette (18:04)
Raw footage from the set is presented here with on-set sound. There is no narration, no captions to explain further.
in 720p, in 1.33:1, in Japanese DTS-HD Master Audio with no subtitles

"Venice Film Festival 2002" featurette (8:02)
More raw footage, this time in Venice with Kitano, Kanno, and Nishijima from press photo shoots to the screening.
in 720p, in 1.33:1, in English/Japanese DTS-HD Master Audio with no subtitles

Original Japanese Trailer (1:40)
A dialogue-free trailer featuring Joe Hisaishi's gorgeous piano theme. A bit jittery in the transfer.
in 720p, in 1.85:1, Music DTS-HD Master Audio with burned-in English subtitles

Sadly all the extras presented are vintage materials coming from vintage sources, so the picture quality is reflected. Even on the menu it states all extras taken from available sources at time of release - so not to our usual high standard. All the interviews were previously on the Artificial Eye DVD edition, but the featurettes make their UK debut. (They were previously available on various other countries' DVD releases.) The Third Window Films Blu-ray of "Hana-bi" had an exclusive new commentary (which actually was not as in depth as I had hoped) and "Kikujiro" had an excellent rarely-seen 90 minute documentary on the making of the film. I wish Third Window Films would have commissioned something exclusive for this release. Hopefully their forthcoming Kitano Blu-ray releases will have some new extras.

Packaging


Packaged in a standard Blu-ray case with newly created artwork mirroring those for Third Window Films' releases of "Hana-bi" and "Kikujiro". The first 1000 copies are packaged with a slipcover featuring identical artwork.

Overall


When I first saw "Dolls" years ago, it certainly left a mark on me that I couldn't explain well but it was deeply affecting. Probably because I was still young, going through ups and downs in relationships with a future uncertain in love. Rewatching it again after a more stable life with experiences of great love and also devastating heartbreak over time, the film resonates in a different way. From an artistic standpoint it is an amazing piece of work that even if flawed, is a beautiful piece. Third Window Films' Blu-ray gives great audio and very good video for the most part with good extras, though nothing new. Very recommended.
| | | | | |
| --- | --- | --- | --- | --- |
| The Film: A- | Video: B+ | Audio: A | Extras: C | Overall: B+ |