The Film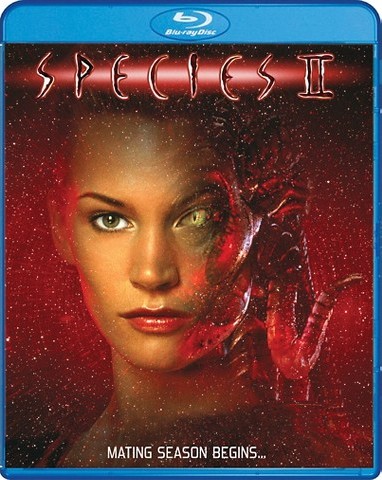 Given the modest box office success, inspired concept, creature design and – maybe most important of all – rampant sex appeal of its lead there isn't much wonder as to why a "Species" (1995) sequel was commissioned. Released three years after the first, "Species II" (1998) is a reverse retread of its predecessor, saved almost entirely by the grace of FX legend Steven Johnson's incredible work. Aiding in keeping this sequel on almost level footing with the first film is a returning cast that includes Natasha Henstridge, Michael Madsen, and Marg Helgenberger, each reprising their roles. The only survivor that didn't sign on for the sequel was Forest Whitaker. "Species" is a sci-fi horror film that oozes sex appeal, where Henstridge made a big debut as the H.R. Giger alien-in-disguise that is looking to mate with any viable partner she comes across. "Species II", on the other hand, has more of a rape-y element to it thanks to a creepy male lead and a lack of the sultry atmosphere that worked the first time around.

Although Sil (Natasha Henstridge) was killed at the end of the first film, a team of scientists led by Dr. Laura Baker (Marg Helgenberger) has created a clone, named Eve, who is identical to Sil, only more docile. Their intent is to find an effective method for fighting the aliens, should they ever choose to invade the planet. Meanwhile, an American space mission commanded by Patrick Ross (Justin Lazard) has just successfully landed on Mars, with Ross bringing aboard frozen soil samples to be studied back home. One of the samples inadvertently thaws and the crew is attacked by the slimy source before losing contact with mission control for seven minutes. After awakening, none of the crew remembers anything. The group arrives back on Earth and all of the astronauts are ordered to refrain from engaging in sex for ten days due to quarantine restrictions.

But Patrick decides to forego that order, using the night of his welcoming reception as a good opportunity to knock boots with a couple of sisters. Almost immediately after sex each of the women swells with pregnancy before erupting in a gory birth. During this time Eve has a strong physiological reaction, suggesting there is a link between her and Patrick. Patrick takes off with the two kids, who grow at the expectedly rapid rate, and begins to assemble his brood at a shed off the beaten path. The government brings in Press Lincoln (Michael Madsen) since he's had experience hunting these aliens before, though it's a job he isn't very eager to take. It's also a job he isn't able to do, leading to Dr. Baker having to "awaken" Eve's alien DNA so that she can assist in hunting down Patrick. The plan works, but the problem is Eve wants to mate with Patrick, not kill him. Eventually Dr. Baker, Press and Dennis (Mykelti Williamson), one of the astronauts who avoided infection on the Mars trip, find Patrick's shed and his cocooned brood. The trio goes to work on eliminating all of the gestating aliens, while Eve finally makes her way to Patrick for an uncertain showdown.

The only plot element that distinguishes this film from the first is the idea of Sil being cloned and experimented on, so that the government can identify weaknesses possessed by the species. Otherwise, this is a romp through the same field, only this time Patrick is the one banging every fertile body within an arm's length. Because the first film was only a minor success it would have been unrealistic to expect this sequel to go bigger, rather than repeat what worked the first time around, but I think it might've been cooler to see a group of astronauts wind up on a planet filled with these aliens. Watching another alien – and not a sexy alien that looks like Natasha Henstridge – run around banging and raping hookers and non-hookers alike with rapid frequency just doesn't work as well.

What does work well are Steven Johnson's FX. The design for Eve was kept the same as that used for Sil, which was of course designed by H.R. Giger. It's just as elegant, menacing and innately sexual as anything Giger has conceptualized. It's a shame the creature doesn't get more screen time in its full form because it really is a beauty to behold, although it's often best to "leave them wanting more" so I can understand why it is used sparingly. The design for Patrick's mutated form is equally as impressive, with the beast appearing as a monstrous alien the size of a bear and sporting some questionable dreadlocks. Other than that hairdo blunder, the creature is imposing and deadly. Well, ok, one more blunder: movement. There is absolutely zero weight to its actions, looking more like a dog trying to swim in space than a huge, heavy organic alien.

Despite a yawning repeat of a plot, I still dig this movie. It's darker than the first, features more nasty deaths, and the FX work gets two beasts with which to show off instead of just a single alien. Having most of the surviving cast return really helps tie the two films together, and having Natasha Henstridge back on board was crucial. Sure, she's not the greatest actress in the world but, man, is she ever easy on the eyes. I remember when this came out in theaters and I rushed out to see it because I had the hugest crush on her. As viewers can see from the bonus features, time has treated her well. And, I suppose, it's been mostly kind to this sequel, too.

Video


Chalk it up to film stock, then-current production values, or some other unknown anomaly but it seems like 90's genre films are never incredibly impressive in hi-def. This film's 1.85:1 1080p 24/fps AVC MPEG-4 encoded picture is emblematic of the time period, featuring a reasonably saturated color palette, a healthy layer of film grain, just-barely-passable CGI effects and flat cinematography. Early CGI moments, like the Mars landing, looks good enough, though some of the later effects, such as Patrick's head reconstruction, look downright terrible. The picture is decently sharp but hardly crisp. The temp of the colors is a little warm at times. Black levels are stable.

Audio


Per usual, Scream Factory offers viewers the choice of an English DTS-HD Master Audio surround sound track in 5.1 (48kHz/24-bit) or English DTS-HD Master Audio 2.0 stereo. The track has a powerful low end, with strong bass response right from the opening moments during the Mars landing. The action is big and enveloping, creating an immersive sound field. Dialogue sounds balanced and clean. Ed Shearmur's score is a highlight. Subtitles are available in English SDH.

Extras


It's not a collector's edition but that still didn't stop Scream Factory from loading this disc up with bonus features. Expect to find an audio commentary, featurettes, outtakes, promotional materials and more.

Director Peter Medak delivers a soothing audio commentary, filled with lots of detailed information. The guy sounds like Werner Herzog, who has such a pleasant voice I could listen to him recite the phone book.

"From SIL to EVE – Interview with actress Natasha Henstridge" (1080p) featurette runs for 16 minutes and 21 seconds. The actress, who still looks flawless, talks about how she got into the movie business, being typecast, stunt work, and more.

"Creature Creations" (1080p) is a featurette that runs for 28 minutes and 48 seconds. FX guru Steven Johnson and his cohorts on this film discuss the free rein they were given on this picture, which allowed for all of the gruesome gags to be so memorable. The team goes over nearly every FX piece from the film.

"Alien Evolutions – Interview with screenwriter Chris Brancato" (1080p) featurette runs for 19 minutes. There's some great information to be heard here, such as how Brancato got the gig, his original ideas that never came to fruition, studio politics, and how much he hates that damn ending.

"Special Effects Outtakes & Behind-the-Scenes Footage" (SD) featurette runs for 13 minutes and 32 seconds, featuring a look at the FX team doing what they do best.

"Species II: Eve of Destruction" featurette (SD) runs for 11 minutes and 53 seconds, this is a vintage EPK.

"Uncut Footage Not Shown in Theaters" reel (1080p) runs for 8 minutes and 2 seconds, this is very rough, presented in full-frame and looking awfully poor.

A theatrical trailer (1080p) runs for 2 minutes and 15 seconds.

There is a stills gallery (1080p) that runs for 7 minutes and 24 seconds, containing 89 images.

A "Special Makeup Effects" gallery (1080p) runs for 6 minutes and 19 seconds, with 76 images available.

Packaging


The single disc comes housed in a standard Blu-ray keep case. The cover art is reversible.

Overall


Although not as good as the first film, I've always enjoyed watching this sequel because it ties in nicely with the first. Does it tend to feel contrived? Of course, but thanks to some killer FX work and a returning cast of competent actors it makes for a great double feature with its predecessor.
| | | | | |
| --- | --- | --- | --- | --- |
| The Film: B- | Video: B | Audio: B+ | Extras: A- | Overall: B |