The Film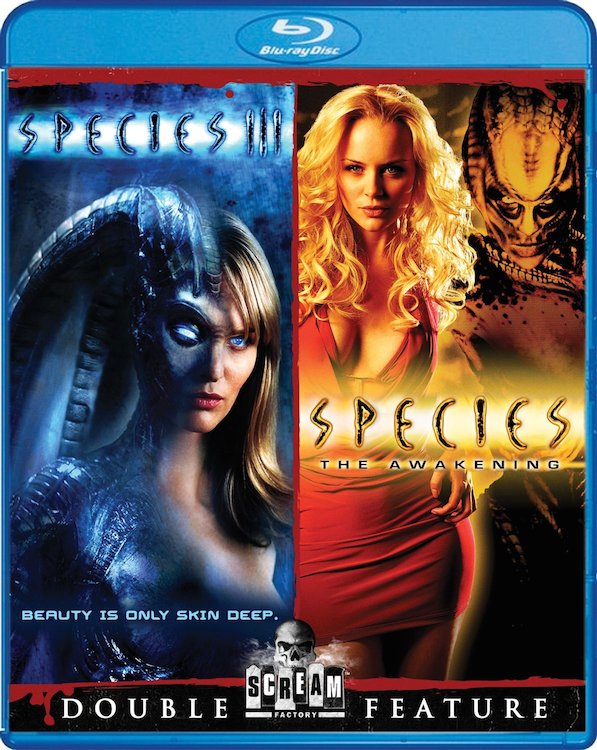 When a film works and its subsequent sequel is even moderately successful, very little will stop producers from milking the franchise cow for as long as possible. With regard to the "Species" (1995-2007) series, that teat should have run dry after the second outing. And it did. But that didn't prevent producer Frank Mancuso Jr. from squeezing out two more completely unnecessary entries, neither of which was given much of a reception. The two films included on this double feature disc fall into the same camp as latter sequels to "Pumpkinhead" (1988) and "The Return of the Living Dead" (1985); you know, those third and fourth entries where even the most dialed-in horror fans say "Wait, they made more of those?" In the case of "Species III" (2004) and "Species: The Awakening" (2007) fans of the first two films would only have known additional entries were forthcoming if they subscribed to the Sci-Fi Channel, where both premiered. If that sentence isn't enough to scare you off of watching either of these, allow this review to nudge you back to reality.

Picking up immediately following the events of "Species II" (1998), the third entry starts off somewhat promising. Natasha Henstridge returns as Eve – not a major surprise considering this franchise was just about all she had – seen just as she was during the prior film's conclusion: pregnant and seemingly dead. Only she isn't really dead, and now she's awake and pushing out her latest spawn. One problem: Patrick's kid, the one who was hiding with her in the ambulance during the last film's conclusion, has decided to kill Eve as she's giving birth. She dies (way too easily) and Dr. Abbott (Robert Knepper), one of the soldiers transporting her body, absconds with the child. The baby quickly grows into a young girl, whom he has named Sara (Sunny Mabrey). Sara is a purebred alien, but there are still half-breeds out there. One of them visits Dr. Abbott but quickly dies, the victim of human diseases from which other half-breeds are suffering, too. Dean (Robin Dunne), a protégé of Dr. Abbott, tries to help Sara save her species despite the very real, clear threat they possess.

Dean's roommate, Hastings (John Paul Pitoc), finds a gorgeous woman on an online dating forum who is looking for biochemists. The ad is like one of those "Find Hot Single Moms Who Want to Have Sex Now!" types, and Hastings falls for it without even a second thought. The ad leads to Amelia (Amelia Cooke), leader of the half-breeds who is on a quest to find Sara so she can preserve their species and possibly save her suffering brethren. This all leads to a conflict between the four, with Sara finding herself on both sides of the battle between humans and aliens.

If it wasn't for a few tied-in plot threads, viewers could easily see this film as a young adult remake of the first film. The concept hasn't changed a lick: alien gets naked and looks for suitable partners to assist in procreation of its species. That's it; nothing new to see here. The movie gets some credit for wrangling Henstridge into the fold for one final performance as an alien, even if she's only in human form and spends most of her screen time as a corpse; otherwise this is a snoozer entry. There isn't a single recognizable face in the cast either, unless you count Robert Knepper, which I don't. With a weak story, a total lack of acting gravitas, and a changed alien design (it looks generic compared to the first two) this entry can easily be skipped. It isn't offensively bad, just incredibly bland.

What is offensively bad is "Species: The Awakening", a total turd of a movie that should never have been "awakened" in the first place. I hated this movie so much I don't even want to talk about it. Another absurdly attractive blonde finds out she's a half-breed alien, made in a lab, and her "father" takes her down to Mexico so they can find his former lab buddy who may be able to "cure" her. The two cross the border and come across plenty of half-breeds who try to stop them from achieving these goals.

Did I mention I hated this movie? Because I hated this movie. I hated every single thing about this movie. Nothing works, not even remotely. This is the worst of what Sci-Fi Channel original movies have to offer. A repeated concept populated with flat actors, poor special effects, cheap production values and a total lack of the polish that makes feature films look like movies and not cheap TV. This one was barely able to hold my attention for the running time. The highlight of my viewing experience: the two times I dozed off while trying to power through this cure for insomnia.

Kudos to Scream Factory for throwing completists a bone by tossing these two unwanted sequels onto blu-ray, even if nobody asked for it. I can't for the life of me recommend their purchase, even if you're a fan of the first two, but those who are less discerning of quality and/or those who simply want to have all of the films from the franchise collected on hi-def home video (assuming you've got the MGM Blu-ray of the first film) may find some semblance of value here.

Video


Since both films here look equally inept, these comments should suffice. Expect to see a 1.78:1 1080p 24/fps AVC MPEG-4 encoded image for each, with the results looking a lot like bad made-for-TV movies; fitting, since that's what both of them are. The digital photography is pleasing enough, with just enough detail and coloration present to confirm these are, in fact, high definition. The abundant CGI looks expectedly terrible. Black levels are frequently weak, contrast is average, and the picture is flat. Zzzzzzz.

Audio


Again, the English DTS-HD Master Audio 5.1 surround sound (48kHz/24-bit) and English DTS-HD Master Audio 2.0 stereo tracks included here are nearly identical. The multi-channel doesn't offer a greater sonic experience than the stereo track, likely because each was mixed for television and thus rear activity was kept to a minimum. These are serviceable tracks and nothing more. Subtitles are available in English SDH on both titles.

Extras


For some strange reason both of these films have some decent bonus features. Hell, some of Scream's better titles never even got a trailer, but these two manage to score a nice booty.

DISC ONE: BLU-RAY

"Species III" bonus features:

Director Brad Turner delivers an audio commentary, along with screenwriter Ben Ripley and actor Robin Dunne. The three participants have plenty to say, filling the track with technical details, reasoning behind certain shots and the threads that connect this third film to the first two.

"Alien Odyssey: Evolution" (1080p) is a featurette that runs for 13 minutes and 38 seconds. This is essentially an EPK, giving an overview of the film and its characters.

"Alien Odyssey: Species DNA" (1080p) is a featurette that runs for 6 minutes and 18 seconds. This piece discusses the look of the film and set design.

"Alien Odyssey: Alien Technology" (1080p) is a featurette that runs for 5 minutes and 37 seconds. This looks at the use of CGI and how it has been integrated into the film.

"Alien Odyssey: Intelligent Lifeforms" (1080p) is a featurette that runs for 9 minutes and 54 seconds. Learn about the process of designing the film's creatures.

"Genesis" (SD) is a featurette that runs for 8 minutes and 50 seconds, this looks at the evolution of the film franchise.

A theatrical trailer (1080p) runs for 2 minutes and 3 seconds.

DISC TWO: BLU-RAY

"Species: The Awakening" bonus features:

"Alien Awakenings: Interview with director Nick Lyons" (1080p) featurette runs for 15 minutes and 36 seconds.

"Miranda's Memories: Interview with actress Helena Mattson" (1080p) featurette runs for 9 minutes and 50 seconds.

Packaging


The two-disc set comes housed in a standard Blu-ray keep case. Each disc is housed on a hub opposite the other.

Overall


This "species" should have gone extinct after the second entry. I found nothing of value in either of these two films and I find it highly unlikely fans of the series will, either.
| | | | | |
| --- | --- | --- | --- | --- |
| The Film: D+ | Video: B | Audio: B- | Extras: C+ | Overall: C- |