The Film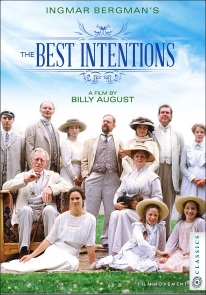 Whereas Ingmar Bergman's miniseries/farewell theatrical film Fanny and Alexander possessed autobiographical elements, the miniseries The Best Intentions – also cut down to a three-hour "feature" version for international release – tells the story of Bergman's parents before his birth as gleaned by the filmmaker from letters and family remembrances. Although Bergman would direct several television plays and stage productions in between Fanny and Alexander and his farewell film Saraband (which was directed for television but ended up his most widely-distributed work internationally since the former film), he entrusted direction of his four-hundred-plus page script to Danish director Bille August (Smilla's Sense of Snow) who had won the Palme d'Or, the Golden Globe, and the Academy Award for his previous theatrical feature Pelle the Conqueror in 1987. Introduced as he refuses his grandmother's deathbed request of forgiveness for the family's abandonment of him and his mother Alma (After the Wedding's Mona Malm) following his father's death, the unforgiving nature of "frightfully poor but handsome" theology student Henrik Bergman (Pure's Samuel Fröler) goes unnoticed by nursing student Anna Åkerblom (Star Wars: Episode I - The Phantom Menace's Pernilla August) when her brother Ernst (30 Degrees in February's Björn Kjellman) invites him into the "alien world" of the wealthy Åkerblom household for dinner. Despite Henrik's engagement to waitress Frida (The Girl with the Dragon Tattoo's Lena Endre) and the family's expectation that Anna will marry family friend Torsten Bohlin (Brüno's Gustaf Hammarsten), Henrik and Anna are drawn to each other, voicing their mutual attraction and the impediments to their union when they spend the night together with Ernst in the Åkerblom home while the rest of the family is summering in the country.

When the housekeeper appraises Anna's mother Karin (Babette's Feast's Ghita Nørby) of Anna entertaining a male visitor alone in their home, she rushes back to Uppsala to castigate the "blackguard and seducer" only for defiant Anna to state that she seduced Henrik and she will get pregnant by him if her mother interferes. Ernst suggests that Karin invite Henrik down to the country where she can keep an eye on the two (although the two manage to consummate their love during a stolen afternoon in a lakeside shed). Karin hopes that Anna's father Johan (Hour of the Wolf's Max von Sydow) may be able to dissuade Henrik by reminding him that he will not be ordained for two years and a small country parish is no means on which to start a family; but the dying man finds himself shaken by Henrik's faith and his own pondering of "eternal questions" in the face of his mortality. Karin's own attempt at a talk with Henrik is a much more candid and adversarial affair as Henrik voices his resentment at being invited there yet made to feel unwelcome and Karin states that she believes a union between Henrik and her daughter would be catastrophic. To her, Anna is "spoilt […] willful, headstrong, emotional, tender-hearted" and that Henrik has "deep and early wounds beyond healing or consolation." She also reveals that she is aware that his engagement with Frida is still ongoing and that she is living with him; and that there will be heartbreak whether he chooses to end things with Frida or Anna. Henrik chooses at first to honor his engagement and Anna rebuffs his subsequent attempts to see her when the family return from the country and she returns to nursing school. Although Anna believes Henrik is being "pretentious" when he tells her that he cannot live without her, his fiancée Frida herself asks Anna to take him back rather than the three of them be miserable. When Anna's persistent cold turns out to be tuberculosis, she is safely sent away to recover in Switzerland and Henrik told through her half-brother Carl (I am Curious (Yellow)'s Börje Ahlstedt) that she does not wish to see or hear from him again. A year passes and Anna recovers while Henrik is ordained. When Johan intercepts a letter addressed to Henrik hidden in a letter to Ernst, he is too ashamed to read it and but Karin has no such inhibitions about reading and destroying it before deciding on a lengthy detour from Switzerland to Amalfi to keep recovered Anna away from Henrik. When the vacationing mother and daughter receive word of Johan's death, a remorseful Karin tells Anna about destroying the letter and promises not to interfere (despite her misgivings) when they return to Uppsala and Karin reunited with Henrik.


The second half of the film finds the ill-fated couple becoming that they "had a certain amount of love, and now we've squandered that on a trifle." Their first big disagreement comes during their visit to the parsonage in Forsboda when Henrik thinks they should make a new start by getting married there with senior pastor Gransjö (Pig Hunt's Hans Alfredson) officiating, and Anna puts her foot down and insists on a big Uppsala cathedral wedding (accusing him of trying to humiliate her mother by calling off the festivities befitting an Åkerblom wedding). Henrik relents but Anna – who busies herself working as a nurse treating the many ailments cropping up among the local striking workers and their malnourished wives and children as well as taking in trouble child Petrus (Elias Ringquist) who she slowly starts to resent – soon comes to believe that Henrik's loyalty to his flock is more important than his loyalty to her and their first born son Dag. Henrik's choice to stand with the workers against factory owner Nordenson (Evil's Lennart Hjulström) – including opening up the chapel to worker meetings – as well as agreeing at Nordenson's wife's (Mother of Mine's Marie Göranzon) insistence that her daughters be confirmed against their father's wishes leads to a public confrontation that has some of the workers' families afraid to attend church and be branded socialists. Henrik's refusal of a prominent posting as parson of a hospital funded by Queen Victoria (Miss Julie's Miss Julie Anita Björk) not only infuriates Anna but also alienates more of the flock who resent the young couple's "sacrifice." The pair proves to be never more honest or insightful about each other's faults than when they are at their worst, with Anna pointing out Henrik's flaunting of his poverty and wretched childhood as a manipulative act while Henrik decries her snobbish behavior and maliciousness. In the aftermath of one fight, Anna asks: "Do you think we'll be any wiser after this?" and Henrik responds: "Yes, more careful, perhaps." This cycle is destined to repeat itself throughout the births of subsequent children as father become emotionally distant and cold to his them while mother's excessive devotion to them is as much an act of exclusion. It is difficult to assess just how the feature version may suffer from the loss of approximately two-and-a-half hours from the four-part original – Anna's intended Torsten is introduced in one shot and then pretty much disappears apart from the mention of his name in a later scene – but presumably there were more scenes with agitator Arvid Fredin (Mikael Bengtsson) who is introduced being beaten up and fired from the steel works for his socialist activities and then never seen again despite his pivotal role in the workers' subsequent efforts. The ending may not be dramatically satisfying but that presumably has more to do with the chronology than any cutting. However handsomely mounted by August with subsequent regular collaborators Fanny and Alexander art director Anna Asp (Arn: The Knight Templar) and cinematographer Jörgen Persson (My Life as a Dog) – whose frequently gorgeous work suffers only in comparison to the exquisitely delicate work of Sven Nykvist for Bergman – the film's emotional core may not resonate so strongly with characters who are from the start so deeply flawed and ill-matched as to be delusional. The episodic work, seemingly regardless of whether it is seen in its feature or miniseries form, is composed of great moments of imagery and performance but cannot help but feel parodic, but at least not slavishly imitative, of Bergman who haunts this work as its authorial voice even if it is technically biographical rather than autobiographical.

Video


Whereas Criterion brought Bergman's earlier miniseries Fanny and Alexander and Scenes from a Marriage to home video stateside in both their miniseries and feature versions, The Best Intentions comes to Blu-ray (its American home video debut in any format) in its feature version (181:10 with Film Movement and Film 4 logos). The 1080p24 MPEG-4 AVC 1.78:1 widescreen transfer appears to come from a dated HD master – possibly the one struck circa 2006 that first appeared on Park Circus' anamorphic widescreen UK DVD – that looks pretty on the surface in the photography's dreamy rendering of the gorgeous sets, costumes, and lighting. There is fine detail in the textures of period linens but also some moire in some fine patterns (like Petrus' vest late in the film) despite a relatively high bitrate. The reel change marks have not been entirely painted out.

Audio


The sole audio option is a lossy Dolby Digital 2.0 mono track that is nevertheless effective in its clear rendering of dialogue, the prominent musical score, and the enveloping use of nature sound effects to underline some of the film's most dramatic moments. Subtitles are included in both English and French (which may make the all-region disc more attractive for importing to Canadian and French customers). The only point of contention with the subtitles are the translation of the word "katastrof" when uttered by Karin as "disaster" but later when uttered by Anna as "catastrophe" robbing the latter of its resonance for the audience.

Extras


The sole video extra is Ingmar Bergman's 1984 short "Karin's Face" (14:12) which tells the story of his mother's life through photographs from family albums as well as the passport she applied for a few months before she died. In the included booklet, Peter Cowie's brief essay provides some biographical information on Bergman and his parents.

Overall


The episodic The Best Intentions is composed of great moments of imagery and performance but cannot help but feel parodic of Bergman who haunts this work as its authorial voice even if it is technically biographical rather than autobiographical.