The Film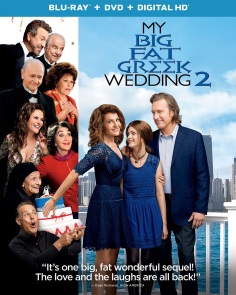 Fourteen years after the hit comedy My Big Fat Greek Wedding – and thirteen after the short-lived TV series My Big Fat Greek Life – Nia Vardalos (Helicopter Mom) brings the Portokalos family back for a bigger, fatter (somewhat desperate) Greek wedding. The sequel finds protagonist Toula (Vardalos) at a crossroads. Just as her seventeen-year-old daughter Paris (The Cobbler's Elena Kampouris) is aggressively pulling away, Toula's aging parents Gus (The Hustler's Michael Constanine) and Maria (Beaches' Lainie Kazan) need here more than ever. Laid off from her job as a travel agent due to the economic downturn, Toula not only drives her father around to his doctor's appointments and physical therapy but also works in the family restaurant with only her parents and the grudging help of Paris since both brother Nickos (The Quest's Louis Mandylor) and sister Athena (Stavroula Logothettis) still have small children… or, rather, they have continued to produce more while her father blames the vegetarianism of her xeno (non-Greek) husband Ian (Northern Exposure's John Corbett) for slow sperm and a girl as firstborn. It turns out that her father being the principal of her high school and her mother volunteering for every school even is just the tip of the iceberg for Paris' frustrations with a family who are always in one another's business; and Toula only makes things worse when she attempts to smooth things over when Gus resolves to find the high schooler a Greek boyfriend since she is not getting any younger ("Don't waste your eggs!"). After the entire extended family – including spanakopita-bearing great grandmother Mana-Yiayia (Daddy Day Care's Bess Meisler) – embarrass her at the career fair by trying alternately butter up and intimidate a Northwestern University recruiter (The Hangover's Rob Riggle), Paris resolves to apply to colleges as far away from the family as possible. Toula once again finds herself torn between dealing with daughter and parents when Gus – attempting to prove through an ancestry DNA website that he is a direct descendent of Alexander the Great – discovers that the priest never signed his and Maria's wedding certificate and that they have been living in sin for fifty years. Maria takes the revelation with good humor ("I'm a hippie!") but Gus insists that they must be formally married. She balks at his refusal to re-propose to her but goes on strike as wife as well as restaurant employee when he alienates Paris with his boyfriend search and lectures Toula and Ian on the indecency of their sex life when the couple tries to recapture the magic after so many years as parents and caregivers. When Gus finally gives in – after his hip locks up in the bathtub and attempts to shift him result in both physical injuries and emotional trauma for Ian, Nick, and cousin Angelo (NSYNC's Joey Fatone) and Yanni (Peter Tharos) – Maria wants to go all-out this time around. Gus is quietly having a breakdown over the skyrocketing costs of the affair. When Maria's wedding planner fires her over too many gaudy choices, the family must rally to create an affair to remember. Meanwhile, Paris – having softened a little towards her family upon seeing her mother overwhelmed and her grandmother vulnerable in light of Gus' accident – had chosen local Northwestern University over NYU in order to please her parents, but her realization that she actually comes from a long line of strong Greek women has her eager to spread her wings: starting with working up the courage to ask longtime crush Bennett (The Sitter's Alex Wolff) to prom.


Not so much overflowing as hopelessly cluttered with characters and underdeveloped story threads, My Big Fat Greek Wedding 2 is not quite as fresh as the first film. As offputtingly as any moody teenager as Paris can be, her family are almost antagonistically overbearing in the first half of the film as well as seemingly so tone deaf to their obnoxiousness in public places as to be alien. The mother-daughter relationship however gets relegated to the background in favor of Toula's and Ian's marital strife as he seemingly still has a hard time being second to his in-laws, Gus' obsession with proving his relation to Alexander the Great, and Maria realizing that there must be more to life than what she has had for half of a century. While Andrea Martin (Black Christmas) is able to thrust herself into the foreground of all of her scenes as the lovably pushy Aunt Voula, and extended cameos by Rita Wilson (Sleepless in Seattle) and John Stamos (Full House) seem entirely superfluous, given short shrift are cousin Angelo's sexuality, Gus' long estrangement from brother Panos (Black Swan's Mark Margolis), and appearances by countless other relatives one feels we are supposed to recall from the first film: among them, Vardalos' husband Ian Gomez from Cougar Town as one of her cousins and Gia Carides (Strictly Ballroom) as hairdressing cousin Nikki. Grandpa Gus' uses of Windex fall flat this time around, but the script does amuse with the character's attempts to explain the Greek roots not only of just about any word but the rest of the world's culture, which is further mimicked by his grandson Costa (Michael Sofos) who traces the Tex-Mex chimichanga to Greek words meaning "meat purse." There are some sweet moments in between musical montages set to a novel Greek cover of Billy Idol's "White Wedding" and another tiresome use of Sister Sledge's "We Are Family", but the film ultimately feels like Vardalos trying to cram several ideas she might have had for the TV series into a sequel without the guarantee or likelihood of another installment. The converted may enjoy the film, but anyone else might see it as a mishmash of broad stereotypes (minus the plate throwing and only a moderate amount of bouzouki) draped over otherwise ordinary story elements.

Video


Slickly-lensed with the Red Epic Dragon camera (with Toronto subbing for Chicago), Universal's 1080p24 MPEG-4 AVC 2.35:1 widescreen presentation is given a typically high quality encode on a BD50. Faces, hair, clothing and layers of spanakopita have nice texture and reds really pop against pastel but no less gaudy and exaggerated examples of Greek decor.

Audio


Audio options consist of an English DTS-HD Master Audio 5.1 track along with DTS 5.1 French and Spanish dubs and an English Dolby Digital 2.0 stereo Descriptive Audio track. The film is dialogue-driven with mostly subtle background atmosphere and loud scoring and source music reaching the surrounds. Besides optional English SDH, French, and Spanish subtitles, French and Spanish subtitles for onscreen text also appear when the respective audio tracks are selected.

Extras


Extras are rather slim, starting with a gag reel (4:05) which consists of the actors clowning around, multiple takes of Vardalos' pratfalls, some dialogue flubs, and Constantine's pants falling down during an exterior dialogue scene. We also get to see just how much well-disguised greenscreen was used in the film. In "My Big Fat Greek Dinner" (14:34), Vardalos, Corbett, Mandylor (using his real Australian accent), and Fatone discuss the success of the first film and its timely release, and why it took so long to follow it up with a sequel (she had to become a mother to realize what it was like to be a mother). "Making the Greekquel" (11:40) is a series of talking heads with most of the cast - along with director Kirk Jones (Waking Ned Devine) - and behind the scenes video discussing the sequel as well as just how much aspects of the film mirror their own family lives.

Overall


The converted may find much to enjoy in My Big Fat Greek Wedding 2, but anyone else might see it as a mishmash of broad stereotypes (minus the plate throwing and only a moderate amount of bouzouki) draped over otherwise ordinary story elements.