The Film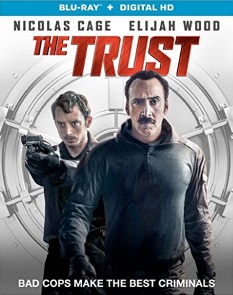 Las Vegas Police Department Lieutenant Jim Stone (Moonstruck's Nicolas Cage) and Sergeant David Waters (Cooties's Elijah Wood) have little to do with one another as partners. Living with his Alzheimer's-afflicted father (The Nutty Professor's Jerry Lewis) – a retired cop providing a vision of his future – Jim is always on the take while widowed David is trying to kill himself with booze, drugs, and prostitutes and is at that point in his grief where he uses his wife's once-treasured clothes two pick up cat shit off his kitchen floor. Sent to Evidence Management to lay claim to a ridable lawn mower up for auction that his captain (Kenna James) wants earmarked for his son-in-law, Jim happens upon technician Roy (Clerks II's Kevin Weisman) processing a car in which the hollowed-out engine block cylinders conceal cocaine. Jim takes the paperwork for the arrest to David, pointing out that the nobody of a drug dealer (Carl Windom Carlito) was bailed out immediately by someone with two hundred thousand dollars cash at hand. Jim bullies David into using his vacation time to tail the dealer, leading them to a casino restaurant where he works at the bar five nights a week with no sign of suspicious activity. Reckoning that the dealer is being punished for getting caught, Jim decides to use his vacation time for some unauthorized undercover work as a busboy while David is assigned to Evidence Management. Jim discovers among the restaurant's shipments a truck that takes rather than delivers stock and follows it back to an empty grocery store that happens to have a meat locker with a maximum security lock and thirty-six inches of steel-enforced concrete. Jim decides that whatever is in there is worth risking it all for a small-scale, high-return heist and badgers David to partner with him for it. Jim mortgages his father's home to pay German-imported industrial drill with diamond-tipped drill bits and David turns to a psychopathic, Russian Roulette-playing detective (My Name is Earl's Ethan Suplee) to secure a "loan" for the rest of their necessities in order to break into the vault's door from the apartment above it. Although they planned on taking the apartment's addict tenant (Eric Heister) temporarily out of commission, they did not count on him having a guest (The Green Inferno's Sky Ferreira), and David discovers how quickly Jim turns into a loose cannon, killing the man in an apparent struggle and nearly killing the woman if not for David's intervention. Drilling through the floor so that Jim can see the tumblers as David turns the combination from below. Upon discovering the contents of the vault, David becomes fearful of the people who it belongs to, and also grows suspicious of just how much Jim knew about the vault and if he is being set up to take the fall.

A low-key, would-be film noir, The Trust is economically scripted and staged but seems to steer wrong either in the casting or in the quirky touches. The banter between the deliberately mismatched Cage (hardly The Bad Lieutenant here) and Wood is unengaging, with both seeming to talk past each other and never quite finding a rhythm (the still-boyish Wood is also hard to believe as a burned out cop and Cage seems to be the one who is perpetually high even though the former is the one seen taking drugs in just about every other scene). Had the film's scripting been more straightforward and deadpan or more quirky with different actors, the end result might have been a more modest success. Ferrera, Lewis, and Suplee are sorely underused in roles that might have been pared down to the bone or just undemanding enough for the pay (21 Jump Street's Steven Williams also has a throwaway role as a security guard who narrowly avoids getting a bullet from Cage for his good-natured curiosity). It is difficult to tell is cinematographer Sean Porter (Green Room) is riffing on the look Michael Mann's Thief (it would make a nice change from the many low-budget heist films trying to emulate Heat) or just aping the current trends in action/sci-fi color correction.

Video


LionsGate give their usual professional 1080p24 MPEG-4 AVC 1.85:1 widescreen encoding to a source with deliberately skewed color correction, lighting, and contrast. The film's backlit interiors and top-lit night exteriors are not as crisp as the Vegas strip sequences as well as some of the more conventionally-lit scenes, but the photography is more about mood than definition (partially, it seems, to flatter the heavily made-up Cage's features).

Audio


The DTS-HD Master Audio 5.1 track surprises in its mostly laid-back ambience of the Las Vegas flatlands, bursting to life with score and source music as well as gunfire and the grinding of the drill but muffling one explosion against expectations of the character witnessing it from a distance. Optional English, English SDH, and Spanish subtitles are available.

Extras


The most substantive extra is an audio commentary by directors Alex Brewer and Benjamin Brewer who get off to a slow start when discussing aspects of story but pick up as they discuss references in the photography, art direction, and locations to various films from Robert Downey Sr.'s Putney Swope to Martin Scorcese's Casino. Two brief featurettes are also included. In The Dynamics of a Duo (5:38), the directors discuss the casting of the intentionally mismatched and awkward duo while the producer parallels the onscreen duo with the director siblings. In Visuals of Vegas (5:27), the director's their visual homages to seventies films and the choice of certain Vegas locations to lend a timeless quality to the setting even as the film is firmly set in modern day.

Overall


A low-key, would-be film noir, The Trust is economically scripted and staged but seems to steer wrong either in the casting or in the quirky touches.