The Film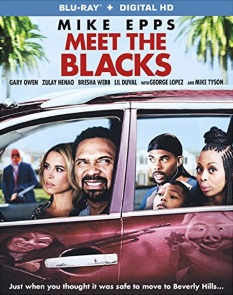 When drug dealer Key Flo (Norbit's Charlie Murphy) is sent to prison, small time electrician Carl Black (The Hangover's Mike Epps) of "Don't Hate Wiring" sees his chance to get out of Chicago and make a better life for his family. Getting to Key Flo's money and drugs stashes before the police, he whisks family – wife Lorena (Fighting's Zulay Henao), spoiled daughter Allie (At the Devil's Door's Bresha Webb), son Carl's Jr. (Creed's Alex Henderson) who thinks he is a vampire, and cousin Cronut (Scary Movie 5's Lil Duval) who thinks he is a gangsta after going to jail for two years for parking tickets – across the country and into a Beverly Hills McMansion. Although the yearly Purge is coming up, Carl believes that his family is safe as the only black family in the gated community of Blanco Cielo since rich people have no reason to purge; but his ultra-white neighbors have accessorized themselves have taken advantage of pre-Purge deals to arm themselves to the teeth against the "suspicious black family" (or "Bone Thugs-n-Harmony and Kim Kardashian") strolling through the neighborhood and Carl picks Purge night to blow off his wife's manicurist (Kathrien Ahn) and an African immigrant (Tooken's Michael Blackson) serving him with a summons after the family restaurant he wired back in Chicago blew up, ignores a threatening call from his "crazy bitch" ex Shoranda (T.I. & Tiny's Tameka 'Tiny' Cottle), and tosses Cronut out on the street when he discovers his cousin has been skimming off the stash he appropriated from Key Flo. Things are not so blissful at home with Carl feeding Lorena stories about signing a big contract to explain their sudden affluence but not doing any actual work, Lorena believing that the step-kids do not accept her, she is creeped out by Cronut's inappropriate behavior, the kids are unhappy being uprooted one too many times, and Allie's crazy boyfriend Freezee (Fifty Shades of Black's Andrew Bachelor) is planning to take advantage of Purge night to remove Carl as an impediment. When the Purgers lay siege on the Black home, the family must band together against the disgruntled likes of racist neighbors ("We enjoy watching your kind on the football field, the basketball courts, and the boxing ring. But we pay for cable TV to see you on our television, not to live in our neighborhood"), bill collectors, repo men, jilted lovers, , as well as Key Flo who has killed all the witnesses in the case against him and has come to collect his stash and his cash.

After a nice departure from his attempts to become the Central Valley's go-to guy for indie horror with the slick and suspenseful racially-charged home invasion thriller Supremacy, director Deon Taylor (The Chain Letter) follows that work up with an unimaginative and supremely unfunny parody of The Purge series in the Scary Movie mold (both of film cycles of diminishing returns). The notion of all of a flimflammer's chickens coming home to roost on Purge night is ripe for comedy, but is handled in such a haphazard fashion with vignettes that rush through attempts at suspense and then become drawn out by the endless improvisations of Epps and Gary Owen (Ride Along) as the racist president of the Home Owner's Association that usually leave others in the scenes dumbfounded. The peopling of the Purgers with comedians and reality TV performers – among them blogger Perez Hilton, Lavell Crawford (American Ultra), Paul Mooney (Bamboozled), and boxer Mike Tyson himself as a birthday clown not so much funny as show that he is still a good sport. Surprisngly , George Lopez (Spare Parts) does a decent enough turn as President El Bama peppering his monologue about his preferred Purge subjects of the Purge with references to his beefs with Jay Leno ("…you got a lot of cars. Pick a fast one, motherfucker!") and Erik Estrada. It does not seem like it would have taken that much more effort to makes us care about the characters since Epps is energetic and Henao, Webb, and Henderson are pretty engaging in their scripted scenes without Epps' and Duvall's random asides. Although Meet the Blacks is a dud, the surprise appearance by Jason Voorhees in the coda suggests a sequel might be a little more diverting. Executive producer Snoop Dogg (Training Day) makes an uncredited appearance introducing the concept of the Purge and does guest vocals on the film's end title song "Hit the Gas" with Raven Felix and Nef Pharaoh.

Video


LionsGate's 1080p24 MPEG-4 AVC 2.40:1 widescreen encode only looks as good as the film's uneven photography. Day exteriors are bright, crisp, and colorful (with Placerville standing in for Beverly Hills) while the image quality varies in the moodier dark interiors during the Purge scenes with lighting and color correction adjustments not always as deftly executed as one would expect from a studio film.

Audio


The English DTS-HD Master Audio 5.1 track fares better in giving depth and breadth to the score and source music early on along with clear rendering of the dialogue while gunplay and jump scare sound effects and Purge ambience (distant screams, gunfire, explosions, screeching tires, breaking glass, etc.) are prominent in the second half.

Extras


Extras are not plentiful but more than sufficient for this film. The behind the scenes (14:52) not only features the usual talking head bits with the director and cast remarking on what a pleasure it was to work together (the opportunity to work with Epps being the draw for more than a few of the actors), but also has director Taylor and some of the supporting actors providing some context from other films for one of two recurring characters for which there is no other explanation as to their presences in the film. Also included is the "Hit the Gas" music video (6:00) and a behind the scenes (5:01) segment for it, as well as a deliberately lame but nevertheless unfunny "Don't Hate Wiring" Parody Commercial (0:38) not seen in the film, and a short outtakes segment (0:50).

Overall


An unimaginative and supremely unfunny parody of The Purge series in the Scary Movie mold.