The Film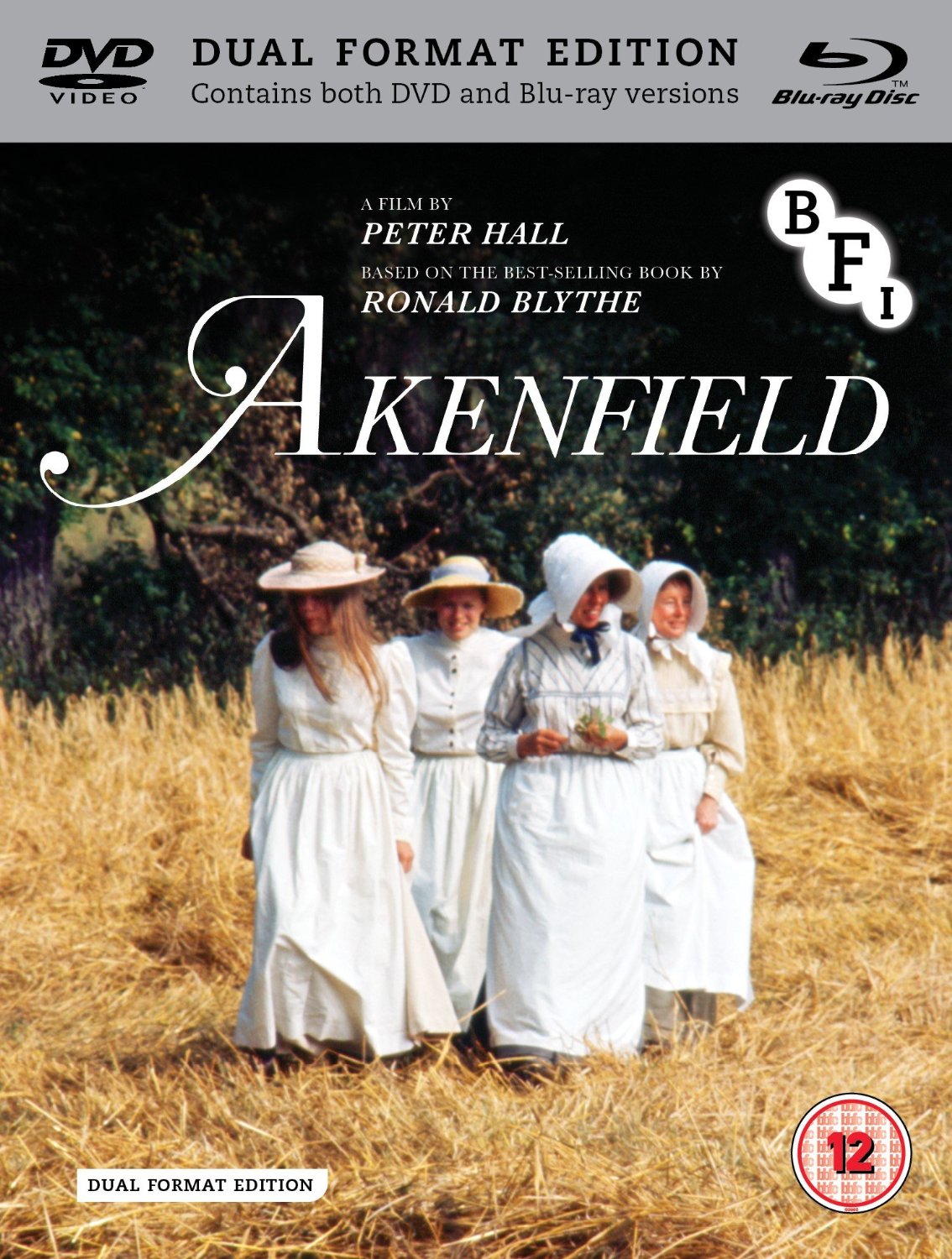 "Akenfield" (1974)

Tom Rouse (played by Garrow Shand) is a young man who was born and raised in the rural English farming town of Akenfield in Suffolk. Today is a special yet sad day for Tom and the townspeople as it is the day of Tom's grandfather's funeral. A veteran of World War I, the grandfather fought in France and was one of the few lucky soldiers in his battalion to survive the horror. As for Tom's father, he also became a soldier but was not as fortunate, losing his life on the front lines in World War II. Tom has always had a longing for leaving the town of Akenfield, but has always been conflicted with the stories told. The war stories aside, the grandfather once walked miles to the town of Newmarket for a job, only to return to Akenfield as a failure. Will Tom ever be able to leave the only place he knows or will he carry on in the rural town of Akenfield?

Writer Ronald Blythe had an idea to write a story about rural English life and came up with a name for a fictional town as "Akenfield". Interviewing various people from around Suffolk towns both young and old to get a sense of generational gaps and differences between then and now, Blythe's used the stories to create one character looking at his own town through his own eyes and also through the eyes of his own father and grandfather. The book was published by Penguin Books in 1969. Theater and film director Peter Hall read the book and had an immediate connection. He was born and raised in Suffolk and yearned to leave when he was young. The book made him want to return. Hall contacted Blythe about turning the book into a feature film but knew it would be very difficult to do.

For the filmed adaptation they would choose these points:
- To be filmed in Suffolk, with local people who knew the lifestyle and dialect.
- To be filmed throughout the seasons - spring, summer, autumn, winter would be captured on film.
- To not follow the book, but closely follow the stories and actions of the actual people, with improvised dialogue.
- To not have a script but a basic outline of the story following Tom's character.

Blythe and Hall had a 20 page outline of the film done and was shopped around to various producers, and they were turned down by many. The book may have been successful, but the film version did not seem financially reasonable. Producer Rex Pyke became a supporter and they introduced the synopsis to London Weekend Television for an unusual idea - that London Weekend Television would pay for the TV broadcast rights, and that the film would be simultaneously open in theaters the day it would first air on television. Although the constraints would make it unlikely for any production company to help finance the project, it was finally made through talks with London Weekend Television and Equity in 1972. Locations were then scouted, local people auditioned, and the production commenced with photography to be done over weekends throughout the year of 1973 as not to interrupt the lives of the locals.

Garrow Shand was chosen to play the main part of Tom, as well as flashbacks of his grandfather and father. He was not an actor but still proved himself to be a natural in the part, as was many of the supporting parts including his mother played by Peggy Cole and schoolteacher girlfriend played by Barbara Tilney, who was a schoolteacher in real life. The locals were themselves and there was not a script given to actors to have lines memorized. Instead they were given direction to "make sure you fall down here" and "laugh and say some comments when he falls". Period set pieces were recreated with the bare minimum of costuming and making sure there were no modern cars or planes flying overhead - as they were only in the "modern" scenes. Some criticized if a full narrative feature could be created with non-professional actors and mostly "real" reactions from people rather than scripted dialogue. Hall and Blythe argued back with "The Bicycle Thieves" and Robert Flaherty features being prime examples of it being possible.

"Akenfield" was completed in October of 1973 and was shown first to the cast and crew at the Ipswich Theater on October 6th. The reactions were unanimously positive with the locals seeing themselves on screen and watching the story unfold - one that most were not familiar with since they didn't have scripts. As worked out with London Weekend Television, the film would premiere on January 20th 1974 in theaters and also be broadcast on television the same day. Since the film was shot in the wide 2.35:1 aspect ratio and the television version would be a cropped pan and scan 1.33:1 ratio, according to the filmmakers they would be two differing experiences. If people liked the story on TV and then wanted to see it in widescreen, they could. If word of mouth went well, the people who saw it on TV would recommend it to people who would then watch it in theaters. The original high set bar for the broadcast viewership was 5 million people. The television broadcast was seen by an unprecedented 14 million viewers and was a critical hit.

The book itself was already a bestseller not only in the UK but in other countries as well, and the film was praised even if it was different. The poetic dialogue of the narration with the naturalistic conversations and naturalistic performances were highly praised and proved that without stars, without a script, and with a small budget, a production could have more viewers than the latest James Bond movie - which had less than 14 million viewers during the Christmas weekend TV broadcast. Following the film's success, almost all of the performers in the film did not continue in the film world and stayed in their Suffolk homes. Whether or not they decided to stay or leave Suffolk, the performers in the film can always proudly say "Yes, we were part of Akenfield".

Note this is a region ALL Blu-ray which can be played back on any Blu-ray player worldwide

Video


BFI presents the film in 1080p in the original theatrical aspect ratio of 2.35:1 in the AVC MPEG-4 codec. Surprisingly "Akenfield" was not available on DVD or Blu-ray before, so this truly is a landmark release. The film was originally shot in Techniscope - a method which was a slightly cheaper way of filming in the widescreen ratio, dividing a single 35mm frame into two frames of widescreen. The process was chosen as a cost saving measure and also to make sure the theatrical version would look significantly different from the televised version. The unfortunate downside of Techniscope is that is is much grainier than a standard 35mm Cinemascope process. The BFI's 2K transfer of elements from the East Anglican Film Archive looks outstanding. Browns, yellows, and greens look great with stabilized colors and the dreamlike lighting is reproduced very well. Grain is obviously prominent and thankfully not removed or reduced, though scratches and damage were removed. The image is always stable and there are no significant errors to be found on this new transfer which was supervised by producer Rex Pyke and cinematographer Ivan Strasburg.

The film runs uncut with a runtime of 97:56.

Audio


English LPCM 1.0
The original mono track is presented in lossless LPCM. Remastered from the original 35mm elements, pops and hisses were removed and sounds pristine. There was one section of sound missing from the original elements, but the section was replaced from a differing source. Where the particular section was, I could not tell. The music by Suffolk native Michael Tippet sounds wonderful, with "Fantasia Concertante on a Theme of Corelli" playing a major recurring theme.

There are optional English HoH subtitles for the main feature in a white font.

Extras


BFI presents "Akenfield" in a dual format Blu-ray + DVD set, with identical content on both discs.

DISC ONE (Blu-ray)

* The Film

"Akenfield Revisited" 2004 documentary (39:01)
In this BBC 2004 documentary directed by "Akenfield" producer Rex Pyke, the cast and crew from the original production are reunited on location in Suffolk for the 30th anniversary. Blythe and Hall return, the cast members reminisce about the production, talk about life following the production, and more. Interesting stories come from the young children 30 years later, like the crying schoolboy - whose tears were real since he didn't know what was going on and the child who played the young Tom that had to trip and fall in the mud in one take since the budget didn't call for extra clothes. Also covered are the reactions from the television viewing and the theatrical distribution.
in 1080i 60hz AVC MPEG-4, in 1.78:1, in English Dolby Digital 2.0 with no subtitles

"Akenfield on Location" 1973 featurette (19:26)
This raw footage taken in 1973 was from the first day of shooting, with cast and crew interviews and random shots of behind the scenes. The footage has not been edited so the sound and picture are as is. There is inherent damage on both the sound and picture.
in 1080p AVC MPEG-4, in 1.33:1, in English Dolby Digital 2.0 with no subtitles

"Akenfield Cast and Crew Interview at the National Film Theatre" (26:23)
Presented here is audio of the on stage interview with Ronald Blythe, Garrow Shand, Rex Pyke, and Sir Peter Hall from the 30th anniversary screening in 2004 at the National Film Theatre. For picture, 16mm silent footage shot by producer Rex Pyke during the production of the film is presented. Unlike the previous featurette, the picture looks astonishingly good. Very beautiful colors, very clean picture, and minimal damage.
in 1080p AVC MPEG-4, in 1.33:1, in English Dolby Digital 2.0 with no subtitles

On Set Interview with Ronald Blythe (2:47)
This short interview was shot on the first day of shooting on location. Coming from the same source as the "On Location" featurette, it is presented unedited with scratches and damage on the image and hissy audio.
in 1080p AVC MPEG-4, in 1.33:1, in English Dolby Digital 2.0 with no subtitles

An Interview with Ronald Blythe (14:22)
This interview was shot at Blythe' home in 2004 to be edited for use in the 30th anniversary documentary. The interview has been reedited for this Blu-ray release with some overlapping comments from the documentary. He talks about the locations scouted, the partially autobiographical nature of the story, and more.
in 1080i 60hz AVC MPEG-4, in 1.78:1, in English Dolby Digital 2.0 with no subtitles

An Interview with Garrow Shand (11:26)
Like the Blythe interview, this is a newly reedited interview with Shand that was originally shot for the 30th anniversary documentary. He talks about how he got the part of Tom, how he stayed in agriculture following the film's completion, and how he met his wife on the set on "Akenfield" and four children later, they are still happily married.
in 1080p AVC MPEG-4, in 1.78:1, in English Dolby Digital 2.0 with no subtitles

An Interview with Sir Peter Hall (12:38)
Again, this is an interview from 2004 which portions were used for the 30th anniversary documentary. Hall talks about his first impression reading the book, how he wanted to make a film version with no script, no actors, work in a natural environment authentically in Suffolk, and more.
in 1080p AVC MPEG-4, in 1.78:1, in English Dolby Digital 2.0 with no subtitles

An Interview with Rex Pike (36:37)
This is a new 2016 interview with the producer. He talks about his early days working for great directors such as Michael Powell and Nicholas Ray, how he got involved with the production of "Akenfield" and more. Interestingly he talks about creating the two different versions: the Techniscope 2.35:1 version for cinemas, and a pan and scan 1.33:1 version for television. The pan and scan version was carefully constructed with different cuts and framing to the theatrical version, but unfortunately the 1.33:1 version in not available to see on this disc for comparison.
in 1080p AVC MPEG-4, in 1.78:1, in English Dolby Digital 2.0 with no subtitles

Production Stills Gallery (3:36)
These amazing stills taken by Rex Pyke look incredible and the music score presented in lossless LPCM 2.0 stereo is also beautiful. Photo gallery extras usually are a throw-away extra, but this is one worth looking at and listening to. Only drawback is how short it is.
in 1080p AVC MPEG-4, in LPCM 2.0 with no subtitles

Original Trailer (2:07)
The narrated original trailer set to music has no film dialogue at all. The picture is very grainy, scratchy, and damaged.
in 1080p AVC MPEG-4, in 1.78:1, in English Dolby Digital 2.0 with no subtitles

Easter Egg
"Ronald Blythe's Garden" featurette (1:43)
There is one easter egg on the disc and to access it: on the extras menu, highlight "Akenfield Revisited", press up to highlight a question mark, press enter. The featurette is an outtake of the Ronald Blythe 2004 interview in which he talks about his garden that was designed by artist John Nash.
in 1080p AVC MPEG-4, in 1.78:1, in English Dolby Digital 2.0 with no subtitles

DISC TWO (DVD Copy)
The DVD includes all the content above on a region 0 PAL format disc.

28-Page Booklet
As usual with BFI releases, an informative booklet is included. Included is "Return of the Native" an essay by Peter Hall which includes his personal diary entries during the pre-production through production of the film. Next is "Filming Akenfield" written by Ronald Blythe originally published in 1975, followed by film credits, special features credits, transfer information, and acknowledgements.

With the amount of informative extras, seems quite full. Though there is no commentary track - whether from the filmmakers or a scholar, and probably the most missed extra would be the pan-and-scan 1.33:1 version. Usually a cropped version would NOT be considered an extra but a waste of disc space, but for the case of "Akenfield", both ratios are original as it was theatrically screened and broadcast on TV simultaneously. As stated by Pyke, the 1.33:1 version is a differing experience and was carefully panned and scanned rather than the automatic way for most TV transfers. No info whether BFI or EAFA have a 1.33:1 TV version in their archives. Another great extra would have been a copy of the original novel, but regardless of these points BFI did an excellent job curating the extras for this release.

Overall


"Akenfield" is required reading in many schools in English-speaking countries, and the film version stands completely on its own as an artistic and creative production. The film's history is just as interesting as the film itself, and this BFI release gives the film a great presentation with very informative extras. Finally available on Blu-ray and DVD, this release comes highly recommended.
| | | | | |
| --- | --- | --- | --- | --- |
| The Film: A | Video: A | Audio: A | Extras: B | Overall: A- |