The Film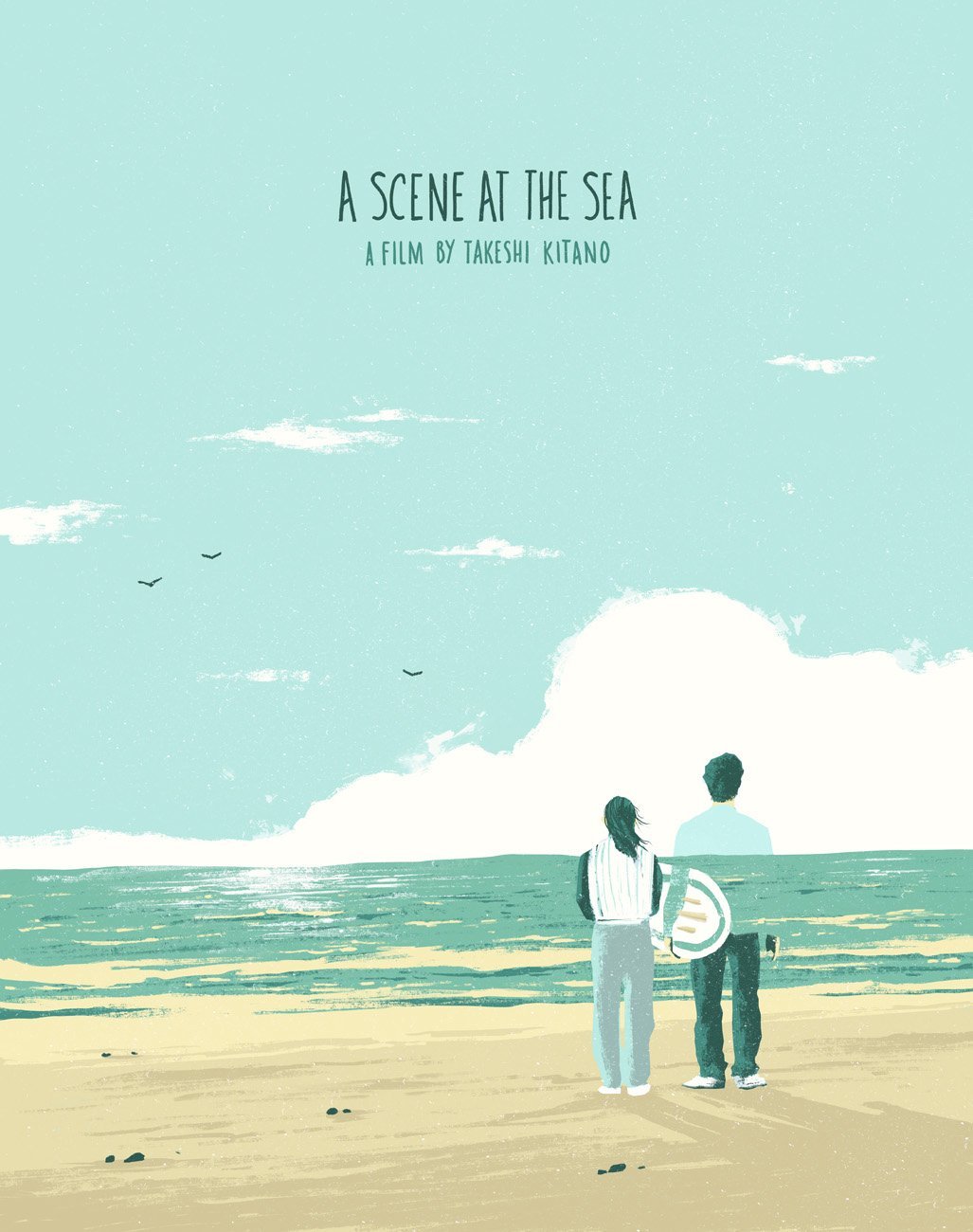 "A Scene at the Sea" 「あの夏、いちばん静かな海。」(1991)

Shigeru (played by Claude Maki) is a deaf and mute 20 year old working as a waste collector in a shoreline town in Japan. During a morning collection run with his boss (played by Meijin Serizawa), he discovers a damaged surfboard which sparks interest in a desire to learn how to surf. He takes the broken board, repairs it with foam, and takes it to the beach while his girlfriend Takako (played by Hiroko Ohshima) who is also deaf and mute, watches on the beach. The local kids make fun of Shigeru's inept surfing skills and his lack of having a wetsuit, but gradually he starts getting better and better, putting in more time at surfing rather than his job. The others that were making fun of him start to support him and watch him more for inspiration rather than ridicule. The biggest supporter besides his girlfriend comes from local surf shop owner Nakajima (played by Toshizo Fujiwara) who sells him a new board, gives him tips, and encourages him to join an amateur competition in Chiba. Things start to move to a positive light for the summer of Shigeru, but there are dramatic consequences along the way.

Written, directed, and edited by Takeshi Kitano, "A Scene at the Sea" was a surprisingly different third film from the director, whose previous films "Violent Cop" (1989) and "Boiling Point" (1990) were exercises in brutal violence. "Violent Cop" had Kitano also starring in the title role and "Boiling Point" in a minor role, but for "A Scene at the Sea", Kitano does not appear in the film at all and there are no scenes of violence. Tonally a "Seishun" (youth) film rather than a "Yakuza/Cop" genre film like his previous two, "A Scene at the Sea" is a huge shift with its youthful cast, the underlying love story, and (literally) a very quiet tone. As the two leads of the film are deaf and mute, dialogue is very sparse, mostly relying on the visuals to tell the story. Unlike a silent film which the performers overdo their reactions, the characters are extremely subtle in performances, with barely a lift in the eyebrows or other body language gestures.

There is heavy inspiration from 4 panel comics, an example being these successive four cuts:

1) Shigeru buying a surfboard from Nakajima's shop.
2) Nakajima saying to his employee that he should've given a bit of a discount to Shigeru since a rival shop sells the same board cheaper at 98,000 yen.
3) A cut to a surfboard at the other store for 98,000 yen.
4) Shigeru and Takako looking through the rival shop's window to see the same surfboard they just bought for much cheaper.

The reactionary shots are like a comic, having barely any camera movement or enormous action from the performers while the visual cut speaks for itself. In essence this would be a Kitano style that would return in many of his comedy films later on such as "Getting Any?" and "Kikujiro". His background as a comedian - going by the stage name "Beat Takeshi", was a huge influence on the comical portions of his films, with his pranks and antics on Japanese television from the 1970s and continued to this day are wild, crazy, and sometimes controversial in nature. The TV game show "Takeshi's Castle" had regular people competing in games that were often dangerous, like accidentally getting hit in the face with soccer balls, falling off platforms into dirty ponds, and falling face-first into mudpiles. On live television he would try to pull other comedians' pants down or spray them with fire extinguishers, sing songs like "Chinpo wo hippare!" or in English would be "Pull the Dick!", and antics like these got Beat Takeshi into all sorts of trouble. Though those instances were funny, none was more troubling than in 1986 when he and his crew went to the offices of a gossip magazine to trash it and beat up the staff members, as they published scandalous photos of him with a younger woman. This led to his temporary ban from television. His popularity never dwindled and for over 30 years he has been a major fixture on television on a daily basis, appearing on as many as 10 television programs a week to this day. Back the early 1990s, audiences a little but not completely surprised that his first two films were violent genre films. The third film on the other hand completely surprised critics and audiences, both in a positive and negative way, as it was praised for its subtlety and beauty while confusing audiences who were expecting a violent or a comedy film.

Claude Maki who played Shigeru was actually an exceptional surfer so most of his actions in the film were quite poor compared to his actual style and skills. At 19 years old, "A Scene at the Sea" was his first film. He continued acting in television and films including appearing in Kitano's 2001 film "Brother", branched into music becoming a rapper, but his career never bumped to super-stardom. His role as Shigeru is basically restrained, flat, and quite empty - though that is really how the character was envisioned so it shouldn't be necessarily looked as "bad", but extremely restrained. Hiroko Ohshima was still a high school student when she made her debut on television appearing in various variety shows. At 18 years old she was cast as Takako and like Maki's role, played a very restrained performance. She expressed that she wanted to continue in film in the future, but "A Scene at the Sea" was her only film role as she disappeared from the entertainment world soonafter. Little if nothing is known of her life after her retirement. For the supporting characters, many of them would be recurring performers in the world of Kitano. Meijin Serizawa appeared in Kitano's two previous films "Violent Cop" and "Boiling Point" and also appeared in the director's wacky 1995 comedy film "Getting Any?" (1995). Susumu Terajima appeared in a large amount of Kitano's films including "Violent Cop", "Sonatine" (1993), "Getting Any", "Kids Return" (1996), "Hana-bi" (1998), "Brother" (2001), "Takeshis'" (2005), "Glory to the Filmmaker!" (2007) and is one of the most recognizable film actors working this day even if he always plays supporting roles. Tetsu Watanabe appeared in "Sonatine", "Hana-bi", "Takeshis'", and "Glory to the Filmmaker!". Kengakusha Akiyama appeared in the two previous films and was part of the "Takeshi Gundan" (Takeshi Army) and worked with Kitano on television on many programs. Taicho Tani AKA Koji Tanii was also a "Takeshi Gundan" member and appeared in the director's later film "Getting Any?"

The most significant collaboration came through the score which was composed by Joe Hisaishi. Known for his scores of all of Hayao Miyazaki's films from "Nausicaa of the Valley of the Wind" (1984) onward, "A Scene at the Sea" was the first time that Kitano and Hisaishi would collaborate together on, and would continue further with "Sonatine", "Hana-bi", "Kikujiro", "Brother", and "Dolls" (2002). The synthesizer plus live instrumentation and processed vocal score is one of Hisaishi's best, even if not as memorable as "My Neighbor Totoro" or "Kikujiro", it still stands out as a very effective and subtle score for the quiet film. Hisaishi won the Best Score award at the Japanese Academy Awards in 1992, but the award was presented for his work on all the films he worked on in the year, and not only for "A Scene at the Sea". It's a shame that the two of them haven't worked together since 2002 and hopefully will not be a forever dry spell.

The film was released on October 19th 1991 in Japan, and reactions were decidedly mixed. Audiences expecting a violent genre film like Kitano's previous films were confused. Critics on the other hand praised the film for what it was rather than what was to be expected. The simplistic linear story with periods of contemplation, lack of dialogue, emotional sympathy towards the characters, occasional humor, and most of all - heart, were all praised. Akira Kurosawa also praised the film very highly although he stated the ambiguous ending was unnecessary. (But what does he know?) At the Yokohama Film Festival the film took home numerous awards including Best Film, Best Director, Best New Actress, and Best Film Score. It also won Best Film and Best Director at the Blue Ribbon Awards. At the Japanese Academy Awards, it was nominated for Best Film, Best Director, Best Screenplay, and Best Editing but did not win any of them. Regardless, even though the film was not a financial success it secured Kitano's position as a bonafide filmmaker to watch out for. The film was screened at a festival in Turin, Italy in 1992 but it the end did not get a wide international release until after the critical success of "Hana-bi" in 1998 that his older films were sought out by people outside of Japan. Non-Japanese critics were able to see the film without the heavy baggage of "Beat Takeshi" the lewd prankster comedian but as something fresh and different - as early 1990s Japanese films were rarely exported. In Japan as of 2016 it is still one of Kitano's least known and least talked about films. But for people who have seen it and know about it, it is a small lost treasure - like the broken surf board that Shigeru finds at the start of the film.

Note this is a region B Blu-ray which can only be played on region B and region free Blu-ray players

Video


Third Window Films present the film in 1080p in the theatrical aspect ratio of 1.85:1 in the AVC MPEG-4 codec. The transfer is quite exceptional. The blues of the sea, the surfboard, the garbage trucks look great (The "Kitano Blue" color palate) as well as the colorful clothes of the other characters. Skin tones are a little on the "tanned" side, but it should make sense as most of it takes place in summertime at the seaside. Except for Takako. Why is her character so pale even though she is out in the sun so much? There are no major damage marks, colors and hues are stable, the framing is precise, dark portions have detail visible, and grain is minimal yet visible. Overall this is an excellent transfer, surpassing all the previous DVD versions available.

This Third Window Blu-ray marks the Blu-ray debut for the film worldwide. They have previously released Kitano's films "Hana-bi", "Kikujiro", and "Dolls" on Blu-ray and will be releasing "Kids Return" later this year.

The film's runtime on the Blu-ray is 100:32.

Audio


Japanese DTS-HD Master Audio 2.0 stereo
The original Japanese theatrical release was in Dolby Stereo, and this lossless DTS-HD Master Audio track presents the soundtrack in its original stereo form without any bump in audio channels to 5.1. Composer Joe Hisaishi's score sounds exceptional with stereo separation, the background noise and dialogue sounds completely clear with no damage or errors in the soundtrack. Also important is the quiet sounds of the deaf/mute characters, where the sound is very minimal in those scenes.

There are optional English subtitles for the main feature in a white font. Easy to read and perfectly timed, there are no errors in grammar or spelling to be found.

Extras


Audio commentary by film critic Jasper Sharp
Midnight Eye editor and founder Jasper Sharp gives a wordy commentary on this non-wordy film. For the commentary he probably talks directly about the film for less than half the time, deconstructing scenes, talking about Kitano's style, and also giving biographies to the actors and crewmembers. For the rest of the time, discussed are about Kitano's life, his career both prior to the movie and further on, Japanese cinema in the 1990s, and much more. It's a very well thought out commentary giving much insight to not only the film itself but around the film as well. Excellent stuff and well worth the time.
English DTS-HD Master Audio 2.0 with no subtitles

Note:
The inlay and the slipcase mistakenly state that the audio commentary is by Aaron Gerow, but this is false. The menus state "Jasper Sharp" and in the commentary he introduces himself. Gerow on the other hand will be doing the commentary for the upcoming "Kids Return" Blu-ray. This was a copyediting muckup on Sony DADC's part (stated by Third Window Films).

Sadly that is the only extra available. There are no interviews with the director or cast. It would have been interesting to hear what Kitano had to say about the film, or one with Claude Maki on his film debut (though it may have been hard to secure something after his arrest following a fight in May of 2016), or one with Hiroko Ohshima, but most likely she could not be tracked down. As for the Japanese DVD release, it had no extras at all so this new English commentary track is very thankful to have.

Packaging


Packaged in a standard Blu-ray case with newly created artwork mirroring those for Third Window Films' releases of "Hana-bi", "Kikujiro", and "Dolls". The first 1000 copies are packaged with a slipcover featuring identical artwork. The cover art is easily one of the best and most fitting Blu-ray covers of the year. The cover subtly spoils the ending if looked at carefully, but it is done extremely tastefully and I wouldn't want it changed. It easily surpasses the atrociously designed US Film Movement Blu-ray covers of the upcoming "Violent Cop" and "Boiling Point". If Third Window could do "The Complete Works of Takeshi Kitano" on Blu-ray that would be a dream collection, would it not?

Overall


"A Scene at the Sea" is one of the least talked about films in Takeshi Kitano's filmography both in Japan and abroad but it is easily a wonderful little film on its own. It doesn't break a lot of new ground cinematically speaking but from the level of Kitano's filmography it is an exception turning point to what he could do as a filmmaker. Third Window's presentation is great with audio and video with a very informative and pleasing to listen to commentary track. Very recommended.
| | | | | |
| --- | --- | --- | --- | --- |
| The Film: B+ | Video: A | Audio: A | Extras: B | Overall: B+ |