The Inhabitants
R0 - America - Filmrise / MVD Visual
Review written by and copyright: Eric Cotenas (10th October 2016).
The Film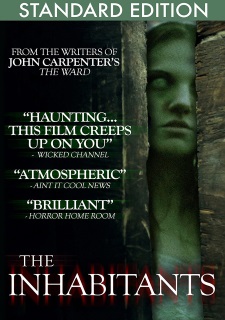 As in too many cinematic ghost stories since the superlative Don't Look Now and the sublimely eerie The Changeling, the loss of a child somehow attunes a bereaved parent to supernatural or psychic forces. Here, city-slickers Dan (Exhumed's Michael Reed) and Jessica (Heredity's Elise Couture) – who moons over a sonogram of a child of which we learn nothing more – decide to start anew with the purchase of the three-hundred-and-fifty-year-old March Carriage Inn from preternaturally silent nursing home-bound widowed current owner Rose (Judith Chaffee) and her daughter Gretchen (Rebecca Whitehurst). Deciding to look into the local history to entertain prospective guests, Jessica discovers that the March Carriage Inn was so named because it was built by carriage maker Arthur March whose wife Lydia was the colony's midwife and was hanged for witchcraft when an illness befell the children she delivered. Subsequent disappearances of more children had the villagers believing she still haunts the area. When Aunt Rose mysterious turns up at their bedside one night, she tells Jessica that "they" need to be fed before she is carted off back to the nursing home. Upon Dan's return from an unscheduled business trip, he notices a change in his wife who seems colder and more secretive, carrying on conversations behind the locked door of the east bedroom and disappearing from bed at night. Dan makes a disquieting discover in the attic where Rose's late husband had set up a bank of video monitors and recorders hooked up to hidden cameras in all of the inn's rooms. Dan initially resists the urge to make use of the still active live feed until Jessica becomes even more remote and her disappearances become more frequent; whereupon he discovers that Norman was also documenting a less salacious phenomenon that has him suspecting that someone or something is living in between the inn's walls and has some sort of hold on his wife.

As welcome as director John Carpenter's return to both the screen and low-budget feature filmmaking was, "From the writers of John Carpenter's The Ward" does not have quite the cachet The Inhabitants writing/directing sibling duo Michael Rasmussen (Dark Feed) and Shawn Rasmussen (Long Distance) would like. Well-acted in spite of the characterization and attractively-lensed in wonderfully chilly atmospheric locations, The Inhabitants is nevertheless an increasingly dull hodge-podge of overfamiliar ideas and situations that requires padding even to get to ninety minutes, shoehorning the explanation for the film's sole novel innovation into the last fifteen minutes. The filmmakers – billed as "The Rasmussen Brothers" – treat the shopworn elements respectably, but the entire middle becomes monotonous scene after scene of Jessica staring off into nothing and saying variations of "I'm fine" and "I'm okay" in a disquieting manner to her concerned and then annoyed husband. Scenes featuring a menacing trio of teenagers who break into the house seemingly with robbery in mind only to get killed actually does serve a purpose to the plot but feels obligatory since there is no way for audience-surrogate Dan to intuit anything that is going on in the house and his wife without a visit to dotty Rose and a third act side trip to Ye Olde Witch Museum before the climax and coda which unfolds exactly as expected.

Video


Although the mid-range bitrate is not high enough to make maximal use of the single-layer DVD's size, the progressive, anamorphic 1.78:1 widescreen encode nevertheless gets the job done when one takes into account the film's moody, low-lit settings and the attractive "film grain" effect likely created with one of those spinning ground glass "35mm adapters" rather than any software filter.

Audio


Audio options include a Dolby Digital 5.1 track goosed with the usual jump scare-anticipating noises in the surrounds and a clear dialogue track, as well a 2.0 stereo downmix and optional English SDH subtitles that look like they were converted from a Closed Captioning file.

Extras


There are no extras.

Overall


Well-acted in spite of the characterization and attractively-lensed in wonderfully chilly atmospheric locations, The Inhabitants is nevertheless an increasingly dull hodge-podge of overfamiliar ideas and situations.

---
Rewind DVDCompare is a participant in the Amazon Services LLC Associates Program and the Amazon Europe S.a.r.l. Associates Programme, an affiliate advertising program designed to provide a means for sites to earn advertising fees by advertising and linking to amazon.co.uk, amazon.com, amazon.ca, amazon.fr, amazon.de, amazon.it and amazon.es . As an Amazon Associate, we earn from qualifying purchases.