The Film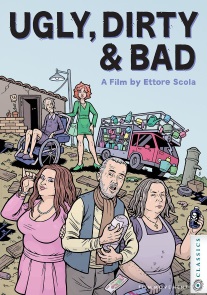 After losing an eye to quicklime in an industrial accident, Mazzatella patriarch Giacinto (Bread and Chocolate's Nino Manfredi) received a princely insurance payout which he how holds over the heads of his wife, dozen sons, their wives, children, and the other relatives who all live cramped together in the same shack in a shantytown on the outskirts of Rome. So paranoid is he that his wife and children are out to get his money that he sleeps with a rifle nightly and hides his stash in a different place every night. His long-suffering wife Matilde (Il Postino's Linda Moretti) longs for domestic creature comforts, his eldest son Camillo (Mamma Roma's Ettore Garofolo) wants to buy a salon, lazy Domizio (Little Italy's Francesco Anniballi) – who spends all day looking for a job and then prays to the Madonna that he doesn't find one – wants a softer bed, son-in-law Adolfo (Mario Santella) wants to take the shantytown's choir to perform at a festival – they are seen rehearing "The Slave's Chorus" from Verdi's "Nabucco" – and his daughter would rather drive forklift than work the scrap heap by hand, younger son Romolo (Luciano Pagliuca) wants a new motorcycle, and his elderly mother wants a better television. However much Giacinto plays the martyr to anyone that will listen, his family knows him a wife-beater and criminal who was once institutionalized but sent back to prison after he raped a hospital nun. When Giacinto finds his manhood restored by prostitute Iside (Maria Luisa Santella) and brings her into their overcrowded household, lavishing her with gifts and gourmet meals while the rest of the family subsist on offal, Matilde takes this as the ultimate offense and convenes the family to take decisive action against Giacinto and the whore.

As rich in wicked and earthy humor as it is in uncomfortable social truths, Ettore Scola's Ugly, Dirty & Bad is more of a Commedia all'italiana take on Italian neo-realism with the scenario facilitating a two-hour portrait of a disenfranchised way of life on the outskirts of Italian post-war prosperity. While Giacinto wanders the shantytown – with once modern apartment buildings and the basilica of St. Peter's on the horizon – drinking, dining, and lamenting the lack of respect his family gives him, Romolo snatches purses, his one-legged brother Tato (Giuseppe Paravati) panhandles, Domizio steals and sells, Matilde cooks and cleans, and the granddaughter Maria Libera (Marina Fasoli) – who corals the town's toddlers for the day into a locked makeshift cage of various pieces of fencing material – works as a maid in one of the nearby apartment buildings but seems destined either for early motherhood or prostitution. Neighbor girl Thomasina (Clarisse Monaco) is lauded by her mother (Towards Evening's Zoe Incrocci) for her work as a nude model (although she insists her daughter is not a prostitute) while Giacinto shouting's of homophobic epithets at Nando seems more out of resentment that he is not as financially dependent upon him as the others. One of the brothers' wives Maria (Sweet Teen's Maria Bosco) seems available to all of them, and even Giacinto takes advantage of her while chastising her for cuckolding her husband. The one seemingly well-adjusted son Paride (Giancarlo Fanelli), who lives in town with a wife and new child and works for the church, is the only one of which Giacinto is proud and yet it seems hypocritical of him to take credit. Manfredi manages to humanize such a repugnant character whose worst nightmare is seeing his wife and children happy and fulfilled by his money (the unstated question being of what need or want would they have for him if sated), while Santella – described in the Blu-ray release's liner notes by Ronald Bergan as "resembling one of Fellini's man-eating giantesses" – offers to help Matilde clean and cook and even more accessible to the brothers. For all of the veiled social commentary, Scola's comedy ultimately finds Giacinto and his relatives responsible for creating or at least compounding their own misery. The photography of Dario Di Palma (Fellini's Clowns) is well-composed yet also highly mobile as it explores the various nooks of the family shack or surveys and details the shantytown.

Video


Released theatrically in a subtitled version by a pre-A Nightmare on Elm Street New Line Cinema as Down and Dirty, Ugly, Dirty & Bad's fortieth anniversary release from Film Movement is an attractive 1080p24 MPEG-4 AVC 1.85:1 widescreen encode of a brand new restoration that premiered on Italian television earlier in the year. The rustic textures come through strongly apart from a couple softer shots that appear to be due to the zoom lenses while one particularly grainy night shot was either patched in from an inferior source or was perhaps underexposed and brightened in the lab. Manfredi's prosthetic make-up looks artificial in close-up, but this is due to the generally theatrical nature of Italian make-up design.

Audio


The sole audio option is a clean and crisp LPCM 2.0 mono track in which leaky taps, rat squeaks, and some of the subtler music cues have as much presence as the dialogue and more prominently-placed sections of the score by Armando Trovajoli (Yesterday, Today and Tomorrow).

Extras


Apart from a new trailer (3:12) for the film - it would have been nice to see how New Line promoted it - the sole extra is an audio commentary by film studies professor Richard Pena. He discusses the ways in which the film differs from the rest of Scola's works - as well as how Manfredi's role differs from his usual comic leads - and contextualizes it as a "late answer to the neorealism movement" that strips its urban poor of saintly suffering as portrayed in classic neorealism, as well as the overall move away from pop art and experimental styles in Italian cinema of the seventies. Pena is not as versed in exploitation cinema, referring to The Snake God's Beryl Cunningham who he refers to as "an African-American or an African-Italian actress" (she is Jamaican) and failing to catch the gag movie reference of "Asses High."

Overall


A Commedia all'italiana take on Italian neo-realism, Ugly, Dirty & Bad is as rich in uncomfortable social truths as it is in wicked and earthy humor.