Café Society [Blu-ray]
Blu-ray A - America - Lions Gate Home Entertainment
Review written by and copyright: Eric Cotenas (23rd October 2016).
The Film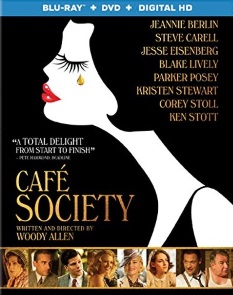 When Bobby Dorfman (American Ultra's Jesse Eisenberg) in Hollywood in search of more interesting work than apprenticing for jeweler father Marty (Shallow Grave's Ken Stott) in Brooklyn, he thinks he has it made thanks to "Uncle Phil"; that is, fast-talking Hollwyood agent Phil Stern(The Office's Steve Carrell) who holds court with the cream of the crop at all the big parties of Golden Age Hollywood. Bobby's attempts to get an appointment his uncle, however, are continually pushed back and he finds himself sightseeing and going stir-crazy in his hotel room. When Bobby finally gets to see Phil, he finds that there is not even room for him in the mailroom, but Phil soon has him running errands with secretary Vonnie ('s Kristen Stewart) showing him around the town. Wide-eyed Bobby soon finds himself drawn to Vonnie's world-weary "I wanted to be an actress, now I'm over it" persona only to be disappointed when she reveals that she is dating a traveling journalist. They maintain their friendship, however, and Bobby falls even deeper in love, confiding it to considerably more successful fellow Brooklynites modeling agency head Rad (Henry Fool's Parker Posey) and her attorney husband Steve (Parks and Recreation's Paul Schneider) who push him to persist in his interest. Little does Bobby know, however, that the other man in Vonnie's life is actually his own uncle who is wavering over finally leaving his wife Karen (Twin Peaks: Fire Walk With Me's Sheryl Lee).

As Allen intones over the opening shots, "When the sun starts to dip in the Hollywood Hills, the light often takes on the saturated loveliness of color by Technicolor," and the real draw of Café Society is the photography of Vittorio Storaro (The Last Emperor) – which demonstrates that his 2.00:1 Univisium aspect ratio can look great when shots are composed for it (rather than cropped and re-composed) – rich in Storaro's gorgeous blues, oranges, and magic hour exteriors, its recreation of old Hollywood as well as some of Allen's most beautiful views of Manhattan since Manhattan. However much star power the actors have now, they are unable to enliven the material – a simple love story of a "friend-zoned" schlemiel who grows and eventually learns that "Dreams are… dreams" – with cutaways to Bobby's dysfunctional Brooklyn family including clingy Jewish mother (Inherent Vice's Jeannie Berlin), schoolteacher elder sister Evelyn (A Serious Man's Sari Lennick) and her pacifist intellectual husband (Still Alice's Stephen Kunken), and electric chair-bound gangster brother Ben (Midnight in Paris's Corey Stoll) with whom Bobby founds a New York nightclub that later becomes Les Tropiques and caters to the titular "café society." It is during this second half that Bobby meets future wife and mother of his child Veronica (The Age of Adaline's Blake Lively) – another "Vonnie" in name if not manner – and it is only a matter of time before Vonnie comes back into his life. The usually enervating Stewart seems too naturalistic for the period while Eisenberg is uneven, seeming like himself in some shots, doing an entertaining Wood Allen impression in others (particularly in an amusing bit in which Bobby cannot have sex with an actress/first time hooker when he finds out that she is also Jewish); however, both do manage to light up the screen together in a few moments that remind us why Hollywood keeps casting them. Café Society is pleasing to look at, but that is about it.

Video


With little in the way of extras and no start-up materials, LionsGate's dual-layer 1080p24 MPEG-4 AVC 2.00:1 gets a maxxed-out encode and is absolutely stunning to behold. Although shot in 4K with Sony Cine Alta cameras, the image has a wonderfully filmic look that occasionally does convince us that we are watching an older Technicolor movie (minus the various "old movie" damage and grain filters we have come to expect).

Audio


Allen steadfastly stuck to releasing his films in mono with more recent works being mixed in three-channel (mono dialogue and effects and stereo music). Presumably the DTS-HD 5.1 mix was a concession to working with Amazon Studios, but the mix is still front-oriented with the score getting the most distribution. Subtitles are provided in English SDH, English, and Spanish.

Extras


Typical of Woody Allen studio releases, extras are limited to an uninteresting "On the Red Carpet" (2:13) and photo gallery.

Overall


Café Society is pleasing to look at, but that is about it.


---
Rewind DVDCompare is a participant in the Amazon Services LLC Associates Program and the Amazon Europe S.a.r.l. Associates Programme, an affiliate advertising program designed to provide a means for sites to earn advertising fees by advertising and linking to amazon.co.uk, amazon.com, amazon.ca, amazon.fr, amazon.de, amazon.it and amazon.es . As an Amazon Associate, we earn from qualifying purchases.