Violent Cop [Blu-ray]
Blu-ray A - America - Film Movement
Review written by and copyright: Eric Cotenas (28th October 2016).
The Film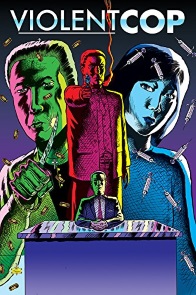 The titular Violent Cop of comedian Takeshi Kitano (Merry Christmas, Mr. Lawrence) directorial debut is Azuma (Kitano himself, billed as "Beat Takeshi"), a stoic, no-nonsense police officer who has no reservations about beating criminals (juvenile or adult) into turning themselves in. His new chief (Hiroyuki Katsube) outwardly promotes his officers living up the highest moral standards of their profession but secretly likes Azuma's style and warns him to be discreet. With his sister Akari (Maiko Kawakami) just out of the hospital after a nervous breakdown and an idealistic new trainee officer in Kikuchi (Boiling Point's Makoto Ashikawa), Azuma is busy privately and professionally dealing with lowlifes and teaching both tough life lessons. When Azuma and Kikuchi are called upon to investigate the murder of dope dealer Emoto (Visitor Q's Ken'ichi Endô), the likely suspect takes out three other officers before Azuma runs him down twice with his patrol car. Azuma's brutal interrogation of fellow dealer Hashizume (Ei Kawakami) results in the shocking revelation that his supplier is Vice officer Iwaki (The Eel's Sei Hiraizumi), an old friend whose recent disappearance becomes all the more suspicious. When Hashizume informs real boss Nito (13 Assassins' Ittoku Kishibe ), it is only a matter of time before Iwaki turns up hanging from a bridge as an apparent suicide. Although his chief accepts the verdict, Azuma drags Kakuchi along with him on further "interrogations," but Nito's chief henchman Kiyohiro (Fireworks's Hakuryű) is so fond of killing that even Nito is considering having him bumped off before he works his way through the entire network.

Video


Released direct to DVD stateside in 1998 in a dull transfer by Fox Lorber, Violent Cop has been the recipient of a recent HD restoration. The film for the most part has a rather nineties antiseptic TV movie look to it, but that is in keeping with the original photography.

Audio


The sole audio option is a lossless LPCM 2.0 Japanese stereo track that is generally subdued before jabbing the audience with loud and often directional effects. Optional English subtitles are included and free of errors.

Extras


Extras start off with "That Man Is Dangerous: The Birth of Takeshi Kitano" (20:20) in which producer Masayuki Mori (Brother) reveals that the film was originally to be directed by Kinji Fukasaku (Battle Royale) who withdrew from the production when Kitano could not accede to his requirement of two months of his schedule due to Kitano's busy schedule. Mori suggested Kitano direct the film himself because he was already heavily involved in writing, staging, and multi-camera editing on his television shows. He also reveals that Kitano so thoroughly "rewrote" the original comic script by Hisashi Nozawa that the author asked to have his name removed from the credits. Said rewriting consisted of improvising nearly ninety-percent of the film, retaining only names and settings, as co-star Ashikawa recalls. Recruited both as an actor and as a player on Kitano's amateur baseball team, Ashikawa recalls nervousness at Kitano's lack of direction for him only to realize that Kitano knew exactly where he was going with the character of Kikuchi from the start. Mori also recalls Kitano's conflicts with the crew, including the cinematographer with whom he disagreed on the framing and length of takes (Mori notes that the cinematography is thus a clash of styles between their two preferences). Other extras include the film's original Japanese trailer (2:16) and a new re-release trailer (1:22) created by Film Movement, along with previews for other releases. Included in the case is a collector's booklet by Tom Vick, the Asian film Curator for the Freer and Sackler Galleries (The Smithsonian's Museums of Asian Art).

Overall




---
DVD Compare is a participant in the Amazon Services LLC Associates Program and the Amazon Europe S.a.r.l. Associates Programme, an affiliate advertising program designed to provide a means for sites to earn advertising fees by advertising and linking to amazon.co.uk, amazon.com, amazon.ca, amazon.fr, and amazon.de.