The Show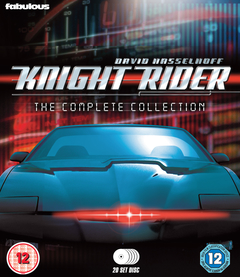 ***This is an A/V and Extras review only. For reviews on the show from various critics, we recommend visiting HERE.***

Gear up for action with superstar David Hasselhoff and his supercar, K.I.T.T., as they throttle crime in all 90 high-octane episodes of Knight Rider now fully restored and in hi-definition. The series follows the thrilling adventures of Michael Knight, a detective thought to be dead, who'd been given a new face and identity. His assignment to fight crime with the help of an artificially intelligent, talking car named K.I.T.T., a high-speed, futuristic weapon outfitted with high-tech gadgets and a personality of its own. Driven by justice, they set out to take- down criminals who operate above the law.

Video


Over the last few years we have been spoiled for choice on Blu-ray when it comes to vintage television appearing on the format from various countries around the world: The Persuaders (1970-71), Battlestar: Galactica (1978-80), Star Trek (1964-69), Space: 1999 (1974-76), The Prisoner (1967-68), The House of Cards Trilogy (1990-95), Miss Marple (1984-92), UFO (1969-70), Thunderbirds (1964-66), Buck Rogers in the 25th Century (1979-81), Columbo (1968-2003), Agatha Christie's Poirot (1988-2013), Star Trek: The Next Generation (1987-94), The X-Files (1993-2002) amongst others.

Fabulous Films in the UK have secured the rights to several classics from the Universal TV back catalogue: The A-Team (1982-86), Magnum P.I. (1980-88), Miami Vice (1984-90), The Incredible Hulk (1977-82) and perhaps one of the most eagerly awaited Knight Rider (1982-86). I know plenty of pals who'd normally be chuffed as hell that this has finally made the upgrade to HD and joined other fondly remembered gems from our childhood, unfortunately there are some fairly major caveats to these releases, but I'll discuss those further down. So how does this scifi / action favourite shape up on Blu-ray?

Knight Rider was shot on 35mm film and as such is a perfect fit straight out of the vault for HD; none of your standard definition videotape here, just high quality, high resolution film.....and I'm happy to report that it looks a peach! If anyone reading this has other US TV shows like Galactica and Buck Rogers on Blu-ray then you'll know what I mean. This was shot, assembled, edited and post-produced entirely on film and therefore doesn't require an expensive rebuild ala Star Trek: TNG with newly rendered CGI, or a rebuild with upscaled SPFX ala X-Files.

Bold, bright, colourful images that hold up nicely with bold colours, good black levels and plenty of detail, especially in well lit sequences. I checked every single episode (90 in all) both visually and aurally and they all look and sound great. I didn't see any signs of damage or artefacts; no crush, no mosquito noise, no aliasing and no evidence of poor encoding. These discs hold between 4-5 x 45-48 minute episodes each and are all BD50s with duel layers. The only downside is that these almost certainly are aged masters dating back some years, possibly 1-2K in resolution so some softness is to be expected. Picture perfectionists will probably pick fault with these transfers (don't they always online?) but for the vast majority of punters and fans these transfers will be the business. These are full 1080/24p and are superior to the currently available Japanese BD set which is 1080i.

Now to the caveat and it's sadly a biggie. Fabulous have consciously and deliberately made the choice to go with the edited 2-part versions of all of the feature-length episodes (3-6 minutes have been lost for each). The spurious reason given for this is that when these episodes debuted in the UK the edited US syndication masters were used. Now this completely fails to take into account that this is a US series and that the fans will only be interested in having - at least as a baseline expectation - the versions originally broadcast on the US network between 1982 and 1986.

Fabulous are apparently planning to release all of the feature-length episodes along with the two reunion TV movies (1991 and 2010) found on the Japanese BD set at some future date. This is guaranteed to annoy fans in the extreme because this set is very expensive at approximately £150. It should have everything for that money.

1.33:1 / 1080/24p / MPEG-4 AVC

Audio


Another major caveat, alas.

Seasons 1-3 are presented in the original English DTS-HD Master Audio 2.0 Mono. These tracks are loud, and robust but are obviously not going to have the explosive effect of a modern 5.1 track, but they are lossless and that is a good thing (the Japanese set is lossy Dolby Digital). You get plenty of bang for your buck with these and I found them so loud that I had to turn the volume down.

Season 4 according to fans on forums should be in stereo as it was apparently made that way, but sadly is also presented in English DTS-HD Master Audio 2.0 Mono. Yet another problem, although this one may not be Fabulous Film's fault as the Japanese set is also has mono tracks for this series. Not being an expert on this show I don't want to claim this as definitive, perhaps an expert out there can contact Rewind and let us know.

There are no subtitles.

Extras


Audio commentary on "Knight of the Phoenix, parts 1-2" with David Hasselhoff and Glen A. Larson. A decent yak track with the star and creator / executive producer. Plenty of interesting information to be had.

Knight Moves (2004) (6:08) - Interview with David Hasselhoff and Jack Gill the stunt coordinator discussing the stunt driving in the series. Some interesting anecdotes. There were several types of stunt car and a computer car and the trials and tribulations of using the different types. Apparently Hasselhoff became a pretty good driver as a result of working on the series. Plenty of trivia like the fact Gill met his wife on the series.

Knight Sounds (2004) (6:38) - Glen Larson, David Hasselhoff and composer Stu Phillips discussing the scoring of the series. The nature of the music which was inspired by German synthesiser music. As with other Larson series themes (see Battlestar: Galactica, Buck Rogers in the 25th Century) the producer had a hand in the main theme. Phillips also discusses the fact he was a novice to electronic music before he worked on Knight Rider.

Knight Rider: Under the Hood (2004) (15:52) - Glen Larson, David Hasselhoff discuss the series as a whole. The casting process and screen testing, how Hasselhoff was one of a number of actors to try out for it and what his thoughts on the pilot script, casting of KITT's voice, SPFX, Edward Mulhare etc. The car was based on a new Pontiac that had just come out and the first two cars off the assembly line were used for the pilot. Comments also from Joe Huth, co-author of Knight Rider Legacy (2004), composer Stu Philips and stunt coordinator Jack Gill.

Photo Gallery (2004) (2:54) - Slideshow set to the theme tune featuring publicity and behind the scenes stills.

Blueprints Gallery (2004) (3:09) - Slideshow dealing with The Car, The Jail, The Mansion and The Knight Truck designs; set to music from the series and bookended by short clips from the show.

The Great '80s TV Flashback (2005) (29:00) - Puff piece featuring interviews with various stars promoting Universal TV shows coming out on DVD.

Overall


Fabulous Films present the episodes well here but much of the goodwill is cancelled out by the fact they've chosen to go with the cut versions of the feature-length episodes. Knight Rider is a welcome addition to the HD TV cannon, but sadly isn't the definitive release for this series. At the minute that is the Japanese set which truly has everything (all 90 episodes uncut and the two reunion TV movies). Of what you do get there are 4-5 episodes per disc and the sound is very bouncy and robust lossless DTS-HD Master Audio.

This is a classic slice of TV of the kind that makes people who were there very happy with a warm glow of nostalgia and it's nice to see the series looking so good, like it was shot yesterday. Sadly, I can't fully endorse this release because it is so incomplete, and what is most galling is that the powers that be chose to make it so and are planning to "set things straight" by charging more for the missing material. Wait for the sales as it's not worth more than about £75 list price as it stands; definitely not the full £150.
| | | | | |
| --- | --- | --- | --- | --- |
| | Video: B+ | Audio: B | Extras: D+ | Overall: C+ |